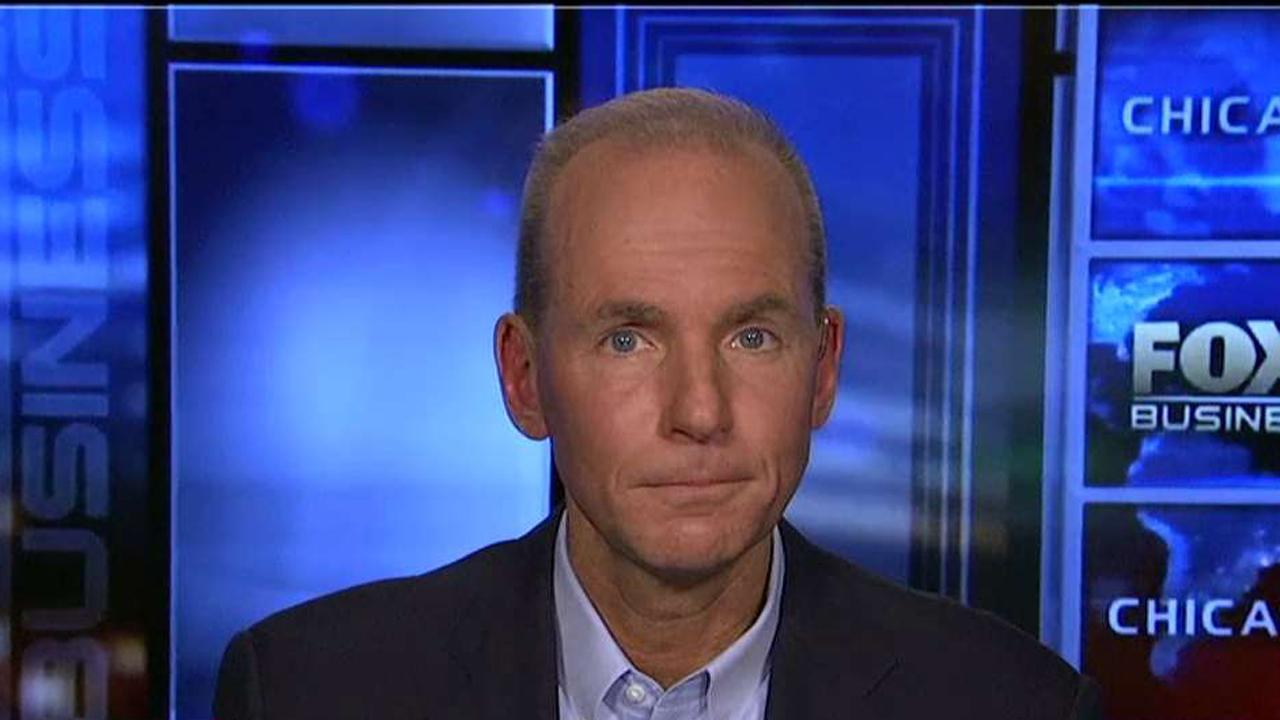 NEW YORK, Jan 31 (Reuters) - Boeing Co on Wednesday forecast full-year profit well above Wall Street estimates as it looks forward to its busiest year ever for plane deliveries, sending its shares up more than 5 percent.
The world's biggest planemaker said it aims to ship between 810 and 815 commercial aircraft in 2018, as much as 6.8 percent more than the industry-record 763 jets it delivered in 2017, putting it ahead of European rival Airbus.
Both companies are speeding up production at their factories to chip away at the large backlog of orders for new jetliners, created over the past few years as airlines want new, fuel-efficient planes to cope with a surge in demand for air travel.
Helped by the hunger for new jets, Boeing forecast core profit would rise to $13.80 to $14.00 a share in 2018, ahead of analysts' average estimate of $11.96, according to Thomson Reuters I/B/E/S.
For the fourth quarter ended Dec. 31, Boeing's core earnings nearly doubled to $4.80 per share from $2.47 a year earlier, buoyed by rising plane output and a gain from changes to the U.S. tax law.
Boeing shares, which have more than doubled in the past 12 months, rose 6.3 percent at $359.10 in morning trading on the New York Stock Exchange.
SETTING THE TABLE
Boeing also forecast at least $12.8 billion in free cash flow this year, encouraging Wall Street analysts, who generally view the company's early targets as conservative.
"Actual results could ultimately be higher," Seth Seifman, an analyst at JPMorgan, said in a note to clients. "As a result, we expect the stock to outperform despite its recent run now that management has set the table for a solid 2018."
By raising production while holding down costs, Boeing and Airbus generate more profit and cash. Despite the rising output, their order backlogs have kept growing. Boeing said its total backlog, which includes military aircraft and other products, rose to $488 billion at year-end, compared with $474 billion at the end of the third quarter.
Boeing's core earnings for the latest quarter included a one-time tax gain of $1.74 a share due to the lower U.S. corporate tax rate signed into law last month reducing its deferred tax liabilities in the future.
Excluding the gain, Boeing reported earnings of $3.06 a share. On that basis, Wall Street had been expecting $2.89 a share.
(Reporting by Alwyn Scott in New York and Ankit Ajmera in Bengaluru; Editing by Saumyadeb Chakrabarty and Bill Rigby)