Boeing Co. Is Ready to Soar: The Skeptics Aren't Paying Attention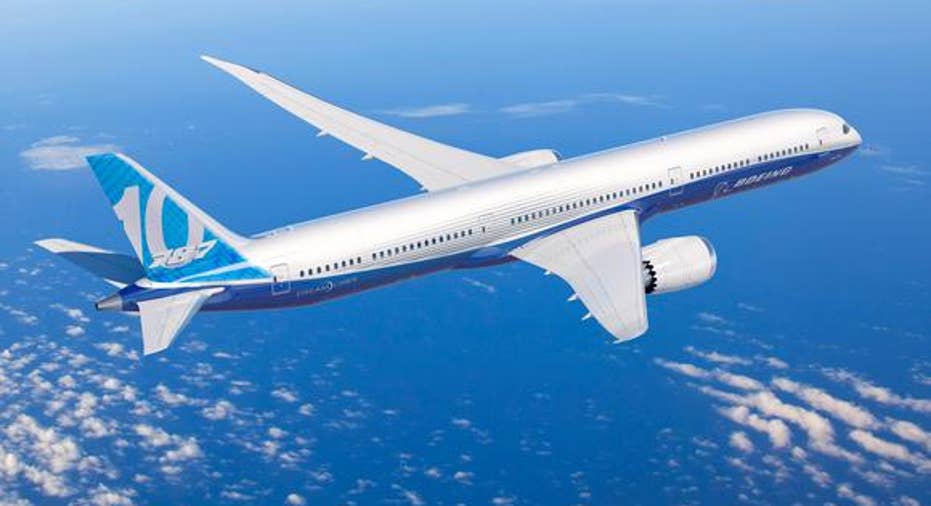 Boeing shareholders have had a bumpy ride over the past year. While the stock has rebounded about 20% since briefly plunging below $110 a few months ago, it's still down about 10% in 2016.
Boeing Stock Performance, data by YCharts
Every quarter, a host of skeptics seem to materialize, raising a variety of concerns ranging from accumulated production losses on the 787 Dreamliner program, to Airbus' larger order backlog, to looming production cuts for the cash-cow 777 program.
However, Boeing's performance over the past year and its near-term outlook imply that these concerns are overblown. The bear case for Boeing stock is weaker than ever -- yet Mr. Market doesn't seem to have noticed.
Dreamliner deferred production peaksThe profitability of Boeing's 787 Dreamliner -- or lack thereof -- has been a key concern for Boeing investors in recent years. Indeed, the 787 program's deferred production balance has ballooned to an eye-popping $28.7 billion. That figure essentially represents cash losses on the first 400 or so 787s produced, which Boeing hopes to make up over the next 900 deliveries.
However, those losses are sunk costs. Investors would do better to focus on Boeing's efforts to improve the 787 program's profitability.
There's good news on that front. The 787 deferred production balance increased just $141 million last quarter, compared to a $793 million increase in Q1 2015 and a $1.5 billion increase in Q1 2014. Boeing is roughly breaking even on the 787s it is building now, whereas it was racking up significant losses just a year ago.
Boeing is in the midst of raising the 787 production rate from 10 to 12 per month, which will reduce unit costs. Another increase to 14 per month is scheduled for later this decade. The product mix is shifting from the less-profitable 787-8 to the larger 787-9, providing another boost. Finally, as Boeing begins to deliver the even larger (and even more profitable) 787-10 in 2018, program profitability should improve further.
The largest Dreamliner model, the 787-10, will enter service in 2018. Image source: Boeing.
Investors had good reason to worry about the 787 program a few years ago, when it was racking up billions of dollars in cash losses every year. By contrast, within a few years the 787 program will be churning out billions of dollars of cash flow each and every year.
737 demand remains strong -- whatever the scoreAnother area of investor concern is Boeing's declining market share of single-aisle jet orders. Bears often point to the fact that Airbus' A320neo family has outsold Boeing's 737 MAX family of reengined jets by nearly 50%: 4,510 to 3,090 at last count.
However, that comparison is somewhat misleading, as Airbus is transitioning to its updated product line more than a year ahead of Boeing's schedule. Looking at the two companies' total narrowbody order backlogs, the gap is smaller: 5,479 to 4,380.
Even with its smaller backlog, Boeing produces roughly the same number of single-aisle jets as Airbus each year. It plans to raise 737 production about 36% over the next three years, building 57 per month by 2019. Even with a higher build rate, it has enough firm orders to keep its 737 production line running for seven years.
Boeing has seven years of 737 production locked in with firm orders. Image source: Boeing.
Despite the incredible number of airplanes that have been ordered in the past five years or so, demand remains very strong. Orders outpaced production for the 737 product line last year, and Boeing expects the same thing to occur in 2016.
Thus, while Airbus has done a phenomenal job with its A320neo product line, it isn't crimping demand for Boeing's 737. This cash-cow product is about to become even more lucrative for Boeing as it ramps up production over the next three years.
The 777X could arrive earlyInvestors have somewhat more reason to be concerned about demand for Boeing's aging 777 widebody jet. Boeing ended Q1 with just 205 outstanding orders for the current-generation 777, enough to cover only two years of production.
In January, Boeing announced that it will slow the production rate from 8.3 to seven per month in 2017 because of the shrinking backlog. Unless Boeing can bring in 40-50 orders annually for the next few years, it may need to slow production even further.
Boeing 777X development is ahead of schedule so far. Image source: Boeing.
But while this is a legitimate concern, it's a short-term issue. The next-generation 777X is scheduled to enter service in 2020, and Boeing has already secured more than 300 firm orders. Furthermore, development is ahead of schedule so far, which might allow Boeing to accelerate the first deliveries into 2019.
The substantial increase in cash flow from the 737 and 787 programs will more than offset the decline in cash flow from lower 777 production over the next few years. By the early 2020s, the 777X should be able to pick up the slack, with solid demand for this new model driving a return to the faster 8.3-per-month production rate.
A great stock for patient investorsIn short, the fundamental picture at Boeing is far better than many investors seem to think. The 787 program's profitability is improving rapidly, the 737 backlog is bulging despite Airbus' market share lead, and the 777X could be arriving in just three and a half years.
It's hard to know when the market will take notice of Boeing's strong trajectory -- but it will, sooner or later. And when it does, Boeing shares are likely to move significantly higher.
The article Boeing Co. Is Ready to Soar: The Skeptics Aren't Paying Attention originally appeared on Fool.com.
Adam Levine-Weinberg owns shares of The Boeing Company. The Motley Fool has no position in any of the stocks mentioned. Try any of our Foolish newsletter services free for 30 days. We Fools may not all hold the same opinions, but we all believe that considering a diverse range of insights makes us better investors. The Motley Fool has a disclosure policy.
Copyright 1995 - 2016 The Motley Fool, LLC. All rights reserved. The Motley Fool has a disclosure policy.