Boeing Books Its Biggest Order of 2016 (Sort Of)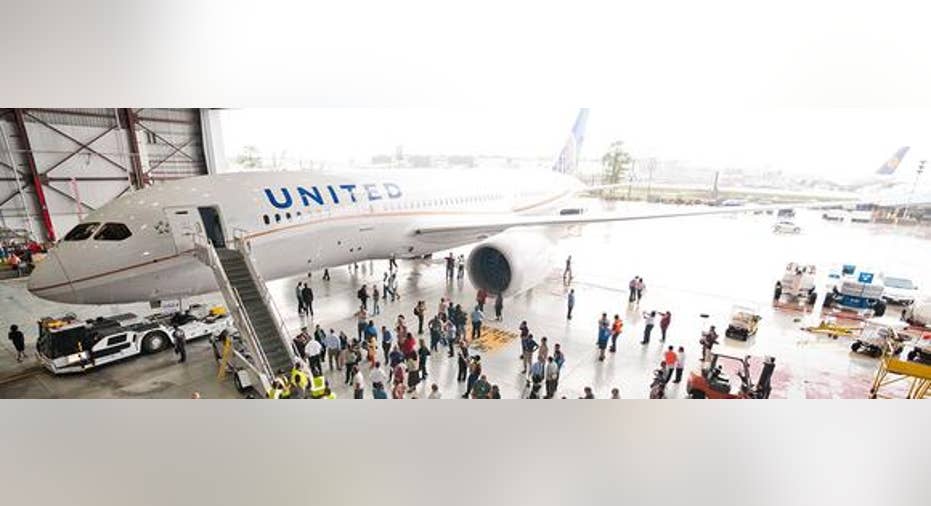 Meet Boeing's new best friend. So far this year, United Continental has placed orders for at least 65 Boeing 737s. Image source: Boeing.
And so it ends -- the winter of Boeing's discontent.
For one full month now, investors have greeted Boeing's weekly order reports with increasing levels of disappointment. For four long weeks, report after report has rotely recited, "Changes since last update: No Change." But no more. This week, as we all began preparing to "spring forward" out of winter and into sunnier months (by the way, check those clocks on Sunday), Boeing issued a sunny order update of its own:
Boeing just booked one of its best order weeks so far this year.
Specifically, Boeing says it sold one 767 to FedEx and four 777s to "unidentified customer(s)." Boeing also reported orders for 25 new 737s sold to "unidentified customer(s)." But seeing as United Airlines announced Tuesday that it will buy 25 737s from Boeing, I think we can guess who the buyer of the latter batch of planes is. (Either that or those two announcements constitute one of the biggest coincidences in airplane history).
For that matter, seeing as Boeing also announced the cancellation of four 787s... and United also announced that it is converting four Boeing 787 orders to 777s instead... that pretty much tells us that United is the "unidentified customer" behind the 777 order as well -- and also the party that canceled four 787 orders last week.
Order updateSo where does this leave Boeing now? As of the first week of March, Boeing has in its order book firm orders for the following aircraft:
88 orders for single-aisle Boeing 737s

10 orders for widebody 777s

One order for a Boeing 767

One order for a 787 widebody
That's an even 100 gross orders total. Minus six cancellations year-to-date, Boeing heads into March with net orders for 94 aircraft on its books.
Boeing's "biggest order"? Well, sort ofThis is all grand news for Boeing, of course, and a big relief for Boeing shareholders. But what investors really want to know is how it all plays out in dollars and cents on Boeing's income statement.
So here's how that works: Until today, Boeing's biggest order of the year was the one placed on Jan. 20, when United agreed to buy forty 737-700 aircraft. At a list price of $80.6 million each, that worked out to as much as $3.2 billion in potential revenue value for Boeing. (But probably less. Boeing is notorious for offering deep discounts to win big plane orders from commercial customers.)
By comparison, this week's news encompasses orders for twenty-five 737-700s ($2 billion at list price), four 777-300ERs ($1.4 billion for the batch), and one 767-300 freighter ($199 million). Altogether, that's $3.6 billion in potential revenue -- Boeing's single biggest weekly gross order for aircraft so far this year.
In fairness, to get the full picture, we probably have to dock Boeing for the value of the four 787s that got canceled last week as well -- presumably 787-9s worth $1.1 billion at list price. And that reduces the potential net revenue gain to $2.5 billion. But still, on balance this all works out to a pretty good week for Boeing.
The article Boeing Books Its Biggest Order of 2016 (Sort Of) originally appeared on Fool.com.
Rich Smithdoes not own shares of, nor is he short, any company named above. You can find him onMotley Fool CAPS, publicly pontificating under the handleTMFDitty, where he's currently ranked No. 282 out of more than 75,000 rated members.The Motley Fool has no position in any of the stocks mentioned. Try any of our Foolish newsletter services free for 30 days. We Fools may not all hold the same opinions, but we all believe that considering a diverse range of insights makes us better investors. The Motley Fool has a disclosure policy.
Copyright 1995 - 2016 The Motley Fool, LLC. All rights reserved. The Motley Fool has a disclosure policy.