Boeing Bags a $3.5 Billion Order -- for Helicopters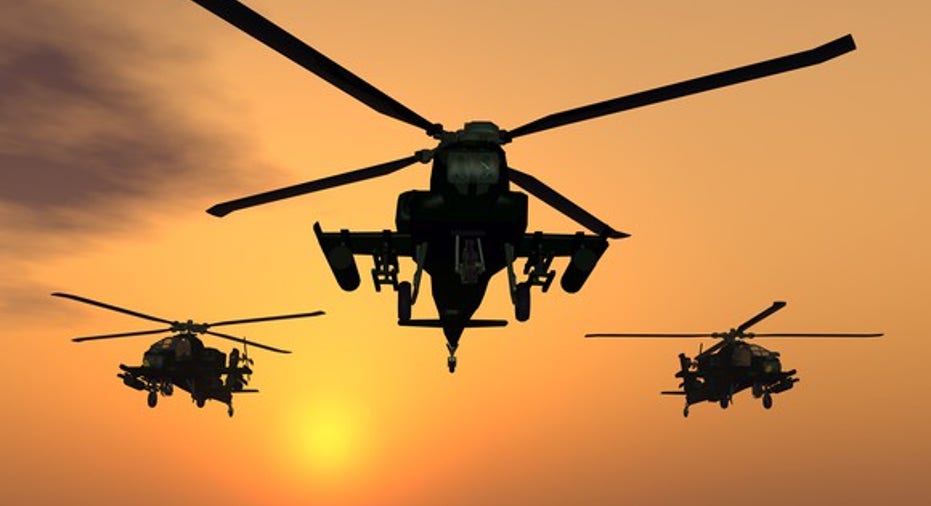 Boeing (NYSE: BA) is a big company -- the world's largest maker of airplanes, in fact. But did you know that Boeing also builds helicopters?
It's true. Within Boeing's massive defense business (40% bigger than Airbus (NASDAQOTH: EADSY) Defense) Boeing actually builds a whole lot of helicopters, including two of the most popular military helicopters in the world: the CH-47 Chinook transport and the AH-64 Apache attack helicopter. And as we learned last week, Boeing is going to be building a whole lot more Apaches pretty soon.
Delivery! Did somebody order three dozen Apache helicopters? Image source: Getty Images.
Fort Apache
In an official notification to Congress filed on Thursday, Dec. 8, the U.S. Defense Security Cooperation Agency revealed that the government of the United Arab Emirates had requested permission to buy nine new and 28 remanufactured AH-64E Boeing Apache attack helicopters from Boeing.
Boeing Stock

Market capitalization

$96.6 billion

Revenue

$94.9 billion

Net profit

$4.3 billion
Data source: Yahoo! Finance.
What it means to Boeing
Boeing will be the prime contractor on the $3.5 billion sale of the helicopters. It will have to share this revenue, however, with co-prime contractor Lockheed Martin (NYSE: LMT), which in cooperation with Northrop Grumman (NYSE: NOC) builds the Apache's Longbow fire-control radar and is responsible for integrating itinto the Apache system.
Even if Boeing must pass some of its revenue through to its subcontractors, however, this contract is obviously a big deal for Boeing, being worth roughly 3.7% of the company's entire revenue stream. At the 9.8% pre-tax profit margin that Boeing earns on its military aircraft, the sales should result in more than $342 million in profit for Boeing -- about $0.55 per share.
Should you buy Boeing stock?
Now, $0.55 sounds like a lot. It's a good chunk of the $6.54 per share in profits that Boeing has earned over the past 12 months. What's more, Boeing builds Apaches a whole lot faster than it does, say, F-15 fighter jets. (According to SEC filings, Boeing actually produced 61 new and remanufactured Apaches last year alone -- five times as many F-15s as it produced.) Accordingly, it's entirely possible that it could get UAE's Apache order filled in the course of just a year or two, and get an immediate boost to its bottom line from this contract.
But even so, this is just one contract. Before buying Boeing stock, it's worth taking at least a quick look at the valuation of the company as a whole -- so let's do that.
Boeing Stock

Price-to-earnings ratio

23.9

Price-to-free cash flow

11.8

Price-to-sales

1.0

Projected 5-year growth rate

15.5%

Dividend yield

2.8%
Data sources: Yahoo! Finance, S&P Global Market Intelligence.
Valued on its price-to-earnings divided by growth, Boeing stock looks kind of pricey, with a PEG ratio of 1.5. (Value investors prefer 1.0 and lower.) Factor in Boeing's 2.8% dividend yield, though, and the stock sells for a total return ratio closer to 1.3, which seems a bit more reasonable.
Where Boeing stock gets really interesting, though, is when you examine the actual cash profits that it is producing. Boeing's business generated free cash flow of $8.15 billion over the past 12 months -- nearly twice the amount of income the company was allowed to report under GAAP accounting procedures. As a result, the company's price-to-free cash flow ratio is a mere 11.8, which looks very attractive relative to Boeing's 15.5% projected growth rate. It's even more attractive when dividends are factored in, resulting in a price-to-free cash flow-to-growth ratio of just 0.64.
Based on these numbers, I'm almost convinced that Boeing is a stealth value candidate. Its apparently high P/E ratio is belied by the stock's ability to throw off piles and piles of cash -- scaring off some investors, even as it makes the stock look more attractive to bargain hunters. If you're looking for bargains in the aerospace and defense sector, I think Boeing is a good place to start.
10 stocks we like better than Boeing When investing geniuses David and Tom Gardner have a stock tip, it can pay to listen. After all, the newsletter they have run for over a decade, Motley Fool Stock Advisor, has tripled the market.*
David and Tom just revealed what they believe are the 10 best stocks for investors to buy right now... and Boeing wasn't one of them! That's right -- they think these 10 stocks are even better buys.
Click here to learn about these picks!
*Stock Advisor returns as of Nov. 7, 2016
Rich Smithdoes not own shares of, nor is he short, any company named above. You can find him onMotley Fool CAPS, publicly pontificating under the handleTMFDitty, where he's currently ranked No. 345 out of more than 75,000 rated members. Follow him on Facebookfor the latest in defense news.
The Motley Fool has no position in any of the stocks mentioned. Try any of our Foolish newsletter services free for 30 days. We Fools may not all hold the same opinions, but we all believe that considering a diverse range of insights makes us better investors. The Motley Fool has a disclosure policy.