Boeing and Lockheed Could Lose Billions of Dollars of Business This Year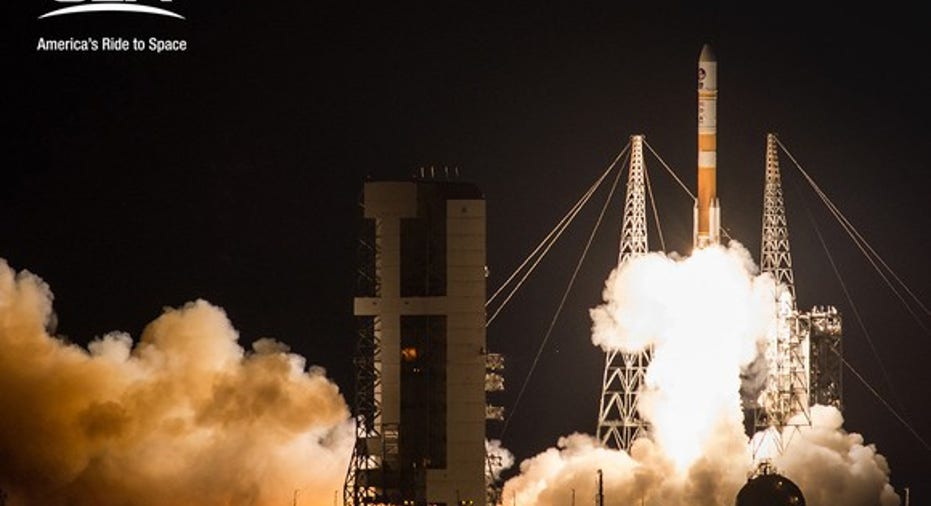 Last week, SpaceX beat out United Launch Alliance to win a $96.5 million satellite launch contract.
This March contract covered the third in a series of 10 planned missions to put GPS III global positioning satellites in orbit for the U.S. Air Force, set to begin launching in 2018. Before that, the Air Force had awarded one such GPS III contract to ULA, with SpaceX lacking "certification" and not allowed to bid, and a second contract to SpaceX, with ULA not able to bid because of a lack of engines.
But this was the first contract in which SpaceX bid head-to-head against the Boeing (NYSE: BA)-Lockheed Martin (NYSE: LMT) joint venture -- and won. It won't be the last.
Currently America's most powerful space rocket, ULA's Delta IV is also its most expensive. Image source: United Launch Alliance.
A busy schedule
Our friends at SpaceFlightNow.com laid out the facts that led us to this conclusion, in an article just a few days back. As SFN explains, the Air Force plans to run "as many as 15 competitions ... over the next year [minus the two that have already taken place] for rights to lift defense and intelligence-gathering payloads into orbit." These will include:
At least four more GPS III launches
A SBIRS GEO 5 missile warning satellite
An "AFSPC 9 mission"
A multi-payload launch called STP-3
Six "classified missions for the National Reconnaissance Office"
Air Force Space and Missile Systems Director of the Launch Enterprise Directorate Claire Leon told SFN that "technical" ability, the ability to launch satellites on "schedule," and with acceptable "risk criteria," will all play a role in awarding these contracts. What's more, Boeing and Lockheed are still under contract to launch three satellite missions under a 2014 "sole-source block buy" awarded ULA by the Air Force -- so chances are good that ULA can land at least three of the 13 missions described.
And for the rest? Well, just as in the most recent contract awarded, price could turn out to be "the determining factor," SFN says, in deciding who wins and who loses most of these contracts.
When price is the object
ULA won its first contract as part of the aforementioned $11 billion block buy of satellite launch services. Covering 36 launches, that put ULA's average launch cost at $305.6 million. That was nearly four times the $82.7 million SpaceX charged for its first GPS III contract. Even if you assume, though, that SpaceX lowballed that bid to get its foot in the door on the Air Force business, $305.6 million was still more than three times as expensive as SpaceX's more recent $96.5 million bid.
To beat SpaceX's prices on the 10 missions of the above 13 that we assume will pit SpaceX and ULA head-to-head, ULA may need to cut its prices by more than $200 million per launch -- a potential $2 billion revenue sacrifice.
Or more.
SFN advises that the Air Force has not yet certified SpaceX to carry its military satellites aboard reused Falcon 9s, or aboard its new Falcon Heavy lift vehicle, which has yet to make its first flight. But if those options become viable, SpaceX's own cost of launching satellites could drop. This would permit SpaceX to offer the Air Force even cheaper prices, widening the gulf between its prices and those offered by Boeing and Lockheed.
When things get really bad
SpaceX plans to launch its first "used" rocket and also conduct its first Falcon Heavy mission later this year. If those go well, Leon says that the Air Force "might use [these rockets] in the future." Granted, USAF will probably sit on the sidelines for a while, watching SpaceX launch its new rockets a few times to see if they explode. But if they don't, well, the Air Force clearly knows a good deal when it sees it -- that's why it's bought GPS missions from SpaceX twice already.
If SpaceX continues to grow its capability and drop its prices, and ULA cannot move to match, then Boeing and Lockheed could find themselves locked out of the space launch market forever.
The upshot for investors
So is there any hope for Boeing and Lockheed? Maybe not in satellite launch, not the way things are going. At the prices SpaceX is quoting, I simply don't see any way for Lockheed Martin and Boeing to compete.
But even if they can't launch satellites anymore, Lockheed and Boeing may still be able to build them. Already, Lockheed holds the Air Force contract to build the first 10 GPS III sats. A second round of satellite-building will be awarded soon, with each of Lockheed, Boeing, and Northrop Grummancompeting for the contract.
Lockheed and Boeing had better do all they can to win it.
10 stocks we like better than Lockheed MartinWhen investing geniuses David and Tom Gardner have a stock tip, it can pay to listen. After all, the newsletter they have run for over a decade, Motley Fool Stock Advisor, has tripled the market.*
David and Tom just revealed what they believe are the 10 best stocks for investors to buy right now... and Lockheed Martin wasn't one of them! That's right -- they think these 10 stocks are even better buys.
Click here to learn about these picks!
*Stock Advisor returns as of February 6, 2017
Rich Smith has no position in any stocks mentioned. The Motley Fool has no position in any of the stocks mentioned. The Motley Fool has a disclosure policy.