BoE stays on hold, hints again at 2018 rise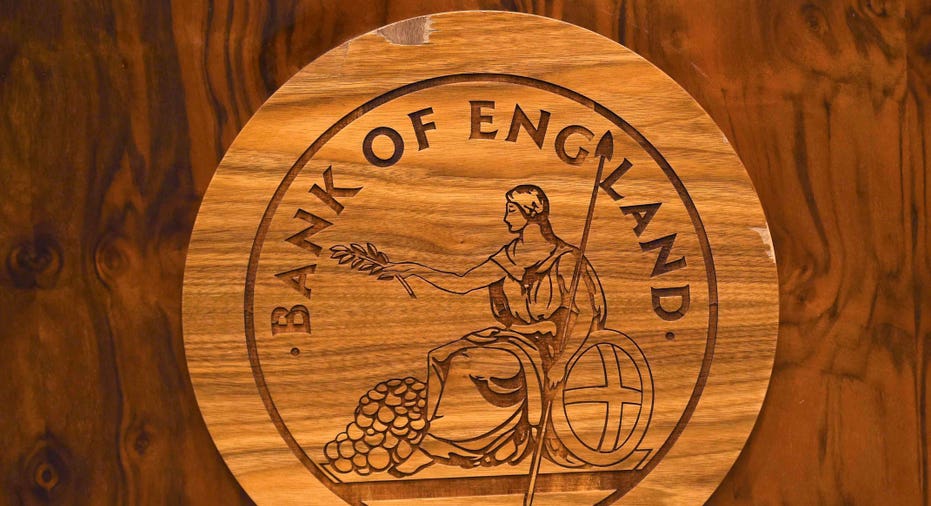 The Bank of England kept interest rates at a record low once again on Thursday and trimmed its forecasts for economic growth both this year and next.
It saw the impact of Brexit -- Britain's leaving the European Union -- weighing on households' spending power. The BoE said it now expects Britain's economy to grow by 1.7 percent this year, down from its May forecast of 1.9 percent. It also shaved its growth forecast for next year to 1.6 percent from 1.7 percent, but kept 2019 at 1.8 percent.
BoE Governor Mark Carney and his top officials reiterated their message to financial markets that they might raise borrowing costs by a bit more than investors expect over the next three years, possibly within a year.
But the pound fell by about half a cent against the U.S. dollar while shares and British government bond prices jumped as investors took the message from the BoE as a sign that it was in no hurry to raise interest rates.
"The door is still open to a hike, but it doesn't look imminent," Alan Clarke, a rate strategist with Scotiabank said. "It was more dovish than we had feared. The most striking thing is that they have downgraded the outlook for wages despite lower-than-expected unemployment, and the inflation profile is a bit lower, despite a weaker pound," he said.
Faced with uncertainty about the impact of Brexit, the BoE said its rate-setters voted 6-2 to keep Bank Rate at 0.25 percent, as expected by most economists taking part in a Reuters poll.
The Bank also kept its asset purchase programmes unchanged and said a bank lending scheme would end as previously scheduled in February 2018. A few weeks ago, investors had begun to price in the chance that the BoE might raise interest rates for the first time in a decade this month.
The speculation was triggered by an unexpectedly close 5-3 vote at the Monetary Policy Committee's last meeting in June when it kept rates on hold.
Since then one of the dissenters, Kristin Forbes, has left the central bank. At the August meeting, Michael Saunders and Ian McCafferty voted again for a 25 basis point increase in rates. But BoE Chief Economist Andy Haldane, who said in June that he was likely to back a rate hike in the second half of this year, decided to keep borrowing costs on hold for now.
Reflecting its difficult balancing act -- with inflation above its 2 percent target while growth is slowing - the BoE repeated its message that a rate hike was not off the table. It said "monetary policy could need to be tightened by a somewhat greater extent over the forecast period than the path implied by the yield curve underlying the August projections," echoing its previous language on rates.
The BoE pointed to expectations in financial markets that rates could start to rise in the third quarter of 2018.
BOE DILEMMA
The central bank's message on the economy was similar to the one it gave in May. The split on the MPC over what to do with interest rates highlights the dilemma facing the central bank. On the one hand, Britain has avoided the recession that many private sector analysts predicted after the shock referendum decision in June 2016 to leave the European Union, and unemployment is at a four-decade low.
But at the same time, data has shown the economy had its slowest growth since 2012 in the first half of this year and inflation, while still above the 2 percent target, unexpectedly fell in June.
A series of surveys of Britain's manufacturing, construction and services sectors published this week suggested the economy remained in a low gear in July. Furthermore, Brexit talks between London and Brussels have made little progress, raising concerns that a messy departure from the bloc in 2019 could hammer the economy.
In response to painfully slow increases in pay this year, the Bank cut its forecasts for wage growth in 2018 and 2019 to 3 and 3.25 percent, down by half a percent for each year.
It blamed the downgrade on the uncertain outlook for the economy as Brexit nears and Britain's stubbornly weak productivity. The BoE lowered by a fraction its forecasts for inflation which it now saw at just under 2.6 percent in a year's time after peaking at around 3 percent in October.
British inflation in June stood at 2.6 percent and the BoE's latest forecasts see it remaining above its 2 percent target throughout its three-year forecast period.
Helping to offset the squeeze on household spending power, exports were seen growing a bit more strongly than in the BoE's May forecasts. But investment was likely to be weaker than previously expected in 2018 and 2019. In a nod to the need to rein in some of the huge stimulus.
(Writing by William Schomberg Editing by Jeremy Gaunt.)