BMW's CEO: We'll Build More SUVs to Fund Electric Cars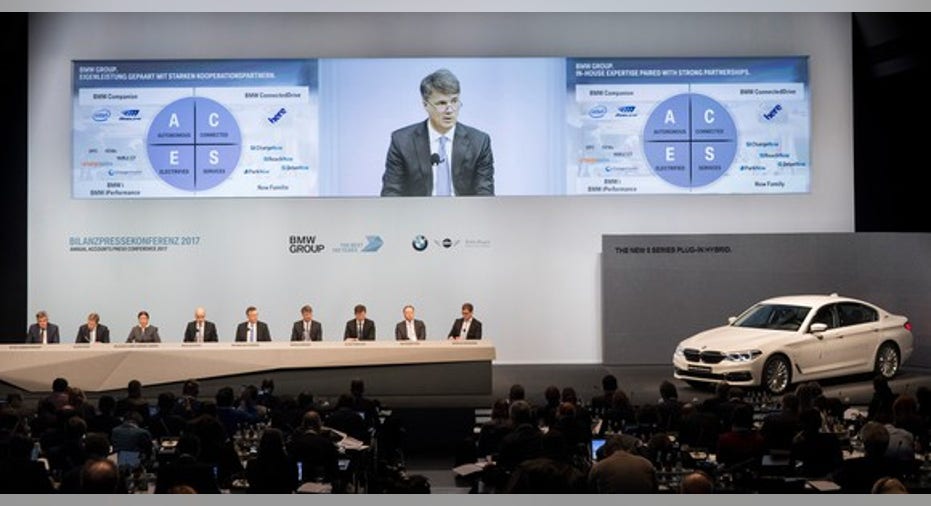 BMW says that it's going to fight back against surging rivals with a slew of new models -- and those new models will help pay for a coming wave of electric vehicles.
The German luxury-car giant, properly known as Bayerische Motoren Werke AG (NASDAQOTH: BAMXF), held its annual shareholders' meeting on March 21. Like many German companies, BMW uses its annual meeting as an opportunity to present its full-year results and to brief shareholders and the media on its plans and expectations for the future.
Here's what we learned.
BMW CEO Harald Krueger discussed the company's self-driving research effort at BMW's annual meeting on March 21 in Munich. Image source: BMW AG.
A new-model surge in a bid to boost margins
BMW released an overview of its full-year 2016 results on March 9. You can see a report on those results here.In a nutshell, we learned then that while the company's overall revenue, sales, and net income hit record levels last year, the operating profit margin in its auto business fell -- and it lost the global luxury-vehicle sales crown to its archrival, Daimler AG's (NASDAQOTH: DDAIF) Mercedes-Benz Cars unit.
At the annual meeting, CEO Harald Krueger explained what BMW is going to do about those minor disappointments:
(BMW's "three premium brands" include MINI and Rolls-Royce as well as its namesake BMW brand.)
While they'd probably be delighted to beat Mercedes in annual sales, Krueger and CFO Nicolas Peter emphasized that profitability is the priority, not total sales volumes. BMW's new-model plans prioritize the "top end of the premium segment," Krueger said, where total sales numbers are relatively small but profitability is quite high.
Many of those "40 new and revised models" will be variants of existing models. But that total includes at least two completely new BMW crossover SUVs. The all-new small X2 and full-size X7 crossover models will expand BMW's big-selling range of upscale crossovers to parallel its range of sedans.
The hope is that the new models, and expanded SUV production generally, will boost BMW's overall profitability as it enters the second phase of its long-term electrification strategy -- and ramps up its autonomous-vehicle research effort.
Bringing electric drivetrains to BMW's mainstream models
BMW's battery-electric i3 sedan, released four years ago, pioneered a lot of advanced technology, including carbon-fiber construction. It hasn't exactly set the sales charts on fire, but BMW has always seen the i3 as a base for further development of electric-vehicle technology.
Now, the company will begin to spread that technology among its mainstream models. BMW has already pushed forward with plug-in hybrids -- it will have eight plug-in hybrid models available by the middle of this year -- and it's now gearing up to take the next step. It's creating "modules," pre-engineered sections of vehicle architecture, that will allow it to create battery-electric versions of its mainstream models in a scalable way.
The idea is to be prepared to meet different (and not easily predictable) levels of demand for electric vehicles in different parts of the world, without risking huge investments. As Peter put it:
"The all-electric MINI and the all-electric BMW X3 will mark the beginning of the second wave of electrification for the BMW Group, benefiting from the ongoing technological progress we are making in this area," Krueger said. He explained that battery-electric versions of BMW's other mainstream models would follow over the next several years, with those flexible vehicle architectures allowing electric and internal-combustion versions to be built on the same assembly lines -- largely avoiding what he described as "duplicate investments."
Self-driving tech is in the works, too
Last year, BMW announced a partnership with Intel and Mobileye that aims to bring a self-driving BMW to market by 2021. That partnership will begin testing vehicles in several cities, including Munich, this year, BMW said.
BMW is also investing in a new campus near Munich that will house its entire vehicle connectivity and automated driving team, more than 2,000 employees. Krueger positioned the new campus as an investment in BMW's home region. He said, "Opting for this campus strengthens the role of Munich as a key location and underlines how the BMW Group and the entire region can benefit from changes in the automobile industry."
BMW spent 5.164 billion euros on research and development efforts in 2016, almost exactly what it spent in 2015.
BMW's guidance for 2017
BMW's 2016 annual report includes detailed guidance for 2017. In a nutshell, BMW expects slight gains in revenue, auto sales, and profit from 2016 levels, as earnings growth generated by new models is somewhat offset by increased capital expenditures and spending on future technologies.
Specifically, the company expects "slight increases" year over year in the following:
Revenue -- 2016: 86.424 billion euros
Pre-tax profit -- 2016: 9.665 billion euros
Global workforce -- at the end of 2016: 124,729 employees
Automotive deliveries to customers -- 2016: 2,367,603 vehicles delivered across BMW's three auto brands
It expects a "significant increase" in motorcycle deliveries -- 145,032 in 2016 -- and a "slight decrease" in the return on equity in its financial services business -- 21.2% in 2016.
Finally, BMW expects operating profit margins in both its auto and motorcycle businesses to once again fall in its long-term target range, between 8% and 10%, in 2017. (Its margins in 2016 were 8.9% in autos and 9% in motorcycles.)
10 stocks we like better than BMWWhen investing geniuses David and Tom Gardner have a stock tip, it can pay to listen. After all, the newsletter they have run for over a decade, Motley Fool Stock Advisor, has tripled the market.*
David and Tom just revealed what they believe are the 10 best stocks for investors to buy right now... and BMW wasn't one of them! That's right -- they think these 10 stocks are even better buys.
Click here to learn about these picks!
*Stock Advisor returns as of February 6, 2017
John Rosevear has no position in any stocks mentioned. The Motley Fool recommends BMW. The Motley Fool has a disclosure policy.