BMW Profitability Falls on Increased Tech Spending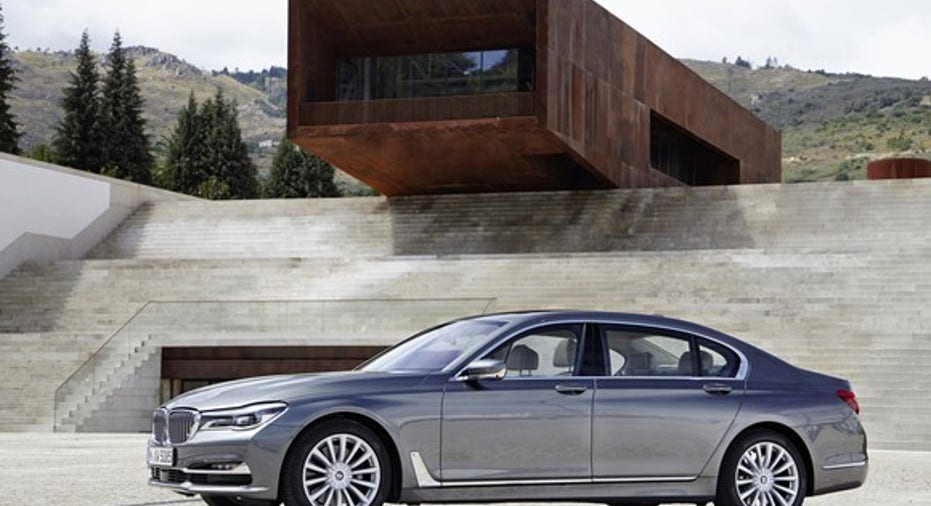 Bayerische Motoren Werke AG (NASDAQOTH: BAMXF), better known as German luxury-car maker BMW, issued a preliminary report of its full-year 2016 earnings on March 9.
It was a mixed result. BMW's overall revenue, sales, and net income were all records. But the operating profit margin in its automotive segment, a widely watched indicator, fell from a year ago, and the BMW brand's annual vehicle sales fell behind those of its archrival, Daimler's (NASDAQOTH: DDAIF) Mercedes-Benz Cars unit.
Here's what investors need to know.
Sales of BMW's big 7 Series sedans rose almost 70% in 2016. Image source: BMW AG.
BMW earnings: The raw numbers
Results are shown in millions of euros. As of March 9, 1 euro equaled about $1.06.
For the fourth quarter:
| Metric | Q4 2016 | Q4 2015 | Change |
| --- | --- | --- | --- |
| Revenue | 24,934 | 24,978 | (0.2%) |
| Autos sold | 620,965 | 602,705 | 3% |
| Earnings before interest and tax (EBIT) | 1,824 | 2,193 | (16.8%) |
| EBIT margin, automotive segment | 8.3% | 9.6% | (1.3 ppt) |
| Net income | 1,499 | 1,552 | (3.4%) |
Data source: BMW AG.
For the full year:
| Metric | 2016 | 2015 | Change |
| --- | --- | --- | --- |
| Revenue | 94,163 | 92,175 | 2.2% |
| Autos sold | 2,367,603 | 2,247,485 | 5.3% |
| EBIT | 9,386 | 9,593 | (2.2%) |
| EBIT margin, automotive segment | 8.9% | 9.2% | (0.3 ppt) |
| Net income | 6,910 | 6,396 | 8% |
Data source: BMW AG.
A note about BMW's preliminary earnings report
As noted above, the report issued by BMW on March 9 is a preliminary report. It's a summary that contains only basic full-year numbers, not the usual amount of detailed financial information. Like many other German companies, BMW releases its full results at its annual meeting of shareholders, scheduled for March 21 this year.
Still, there was enough detail in the March 9 report to get a clear idea of how the year went for BMW.
The revamped MINI Convertible helped drive that brand's sales to a record in 2016. Image source: BMW AG.
How BMW performed in 2016
Unlike luxury-vehicle rivals Audi, Lexus, Cadillac, and (to a lesser extent) Mercedes-Benz, BMW isn't backed by a corporate parent with deep pockets. CEO Harald Krueger has chosen to focus on long-term investments in advanced technology over creating new models that might drive incremental sales gains in the shorter term.
That helps to explain BMW's 2016 performance. It didn't have a lot of exciting new models to show, it lost the global luxury sales crown to Mercedes, and its margins were squeezed a bit by increased research and development spending.
Below are some full-year highlights. Note that BMW reports results for three business segments: Automotive, which includes the BMW, Mini, and Rolls-Royce brands; Motorcycles; and Financial Services.
Automotive revenues rose 1% to 86.4 billion euros on strong sales volumes but were hurt a bit by unfavorable exchange-rate shifts. Automotive EBIT of 7.695 billion was down 1.8% from a year ago. BMW's automotive EBIT margin was 8.9%, down from 9.2% in 2015, but still within its long-term target range of 8% to 10%.
Sales of BMW-brand vehicles rose 5.2% to just over 2 million. Much of the growth was attributable to the big 7 Series sedan and the "X models," BMW's line of crossover SUVs.
MINI sales rose 6.4% to just over 360,000, a record, on good results for the Clubman and new Convertible models.
Sales of Rolls-Royce Motor Cars rose 6% to 4,011 vehicles, the second-best result in the brand's history. The new Dawn, a convertible introduced in the third quarter, helped drive a 17.4% fourth-quartersales gain.
Motorcycle sales rose 5.9% to 145,032. Motorcycle segment revenue rose 4% to 2.1 billion euros, and the segment delivered an EBIT margin of 9%.
Pre-tax profit in Financial Services rose 9.7% to 2.2 billion euros, on 25.7 billion euros in revenue (up 8.2%).
In July, BMW announced an agreement with Mobileye and Intel to develop a self-driving vehicle system for release by 2021.
Moody's raised BMW's credit rating a notch to A1.
Strong initial demand for the new Rolls-Royce Dawn convertible drove a 17.4% fourth-quarter sales gain for the super-luxury brand. Image source: BMW AG.
What BMW said about its preliminary results
CFO Nicholas Peter noted BMW's recent credit upgrade and tied it to the company's investments in future technology:
Along similar lines, Krueger emphasized what lies ahead for BMW:
Looking ahead: BMW's 2017 guidance
BMW's preliminary statement didn't include detailed guidance. But Krueger said the company expects vehicle sales to rise "slightly" to a new record in 2017, with the caveat that BMW "expects the global political and economic environment to remain volatile."
10 stocks we like better than BMWWhen investing geniuses David and Tom Gardner have a stock tip, it can pay to listen. After all, the newsletter they have run for over a decade, Motley Fool Stock Advisor, has tripled the market.*
David and Tom just revealed what they believe are the 10 best stocks for investors to buy right now...and BMW wasn't one of them! That's right -- they think these 10 stocks are even better buys.
Click here to learn about these picks!
*Stock Advisor returns as of February 6, 2017.
John Rosevear has no position in any stocks mentioned. The Motley Fool recommends BMW. The Motley Fool has a disclosure policy.