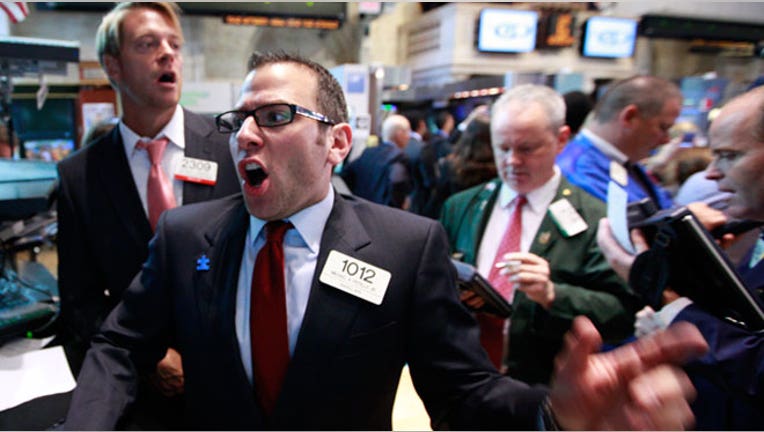 FOX Business: Capitalism Lives Here
Despite a choppy performance over the last few weeks, the Dow charged 14% higher in the first six months of the year in its best first half since 1999.
Today's Markets
According to preliminary calculations, the Dow Jones Industrial Average fell 124 points, or 0.81%, to 14903, the S&P 500 fell 7.4 points, or 0.46%, to 1606 and the Nasdaq Composite climbed 1.4 points, or 0.04%, to 3403.
For the first six months of the year, the Dow added 13.8%, the S&P 500 tacked on 12.6%, and the Nasdaq jumped 12.7%.
Traders continued paying close attention to the U.S. economy, the world's biggest.
The Institute for Supply Management-Chicago's PMI gauge fell to 51.6 in June from 58.7 the month prior. Wall Street expected a shallower fall to 56. The reading suggests the Midwest manufacturing sector expanded at a slower rate in June from May. A reading on consumer sentiment from Reuters and the University of Michigan came in at 84.1 in late June, up from a preliminary reading of 82.7. Wall Street expected the measure to rise to 82.8.
Both reports provide an early look at how the economy is performing in the end of the second quarter.
On the corporate front, BlackBerry (NASDAQ:BBRY) revealed a surprise fiscal-first quarter loss Friday, sending shares of the embattled smartphone maker plummeting in the pre-market. Nike (NYSE:NKE) posted better-than-expected results on the top and bottom lines.
In metals, gold fell $9.50, or 0.78%, to $1,202 a troy ounce. The precious metal is trading at its lowest level in close to three years and is looking to close out its worst quarter on record.
Oil rose 10 cents, or 0.1%, to $97.15 a barrel. Wholesale New York Harbor gasoline was flat at $2.742 a gallon.
Foreign Markets
The Euro Stoxx 50 fell 0.32% to 2612, the English FTSE 100 ticked up 0.11% to 6251 and the German DAX dipped 0.17% to 7977.
In Asia, the Japanese Nikkei 225 surged 3.5% to 13677 and the Chinese Hang Seng rallied 1.8% to 20803.