Blue Apron stock surges as Wall Street offers rosy outlook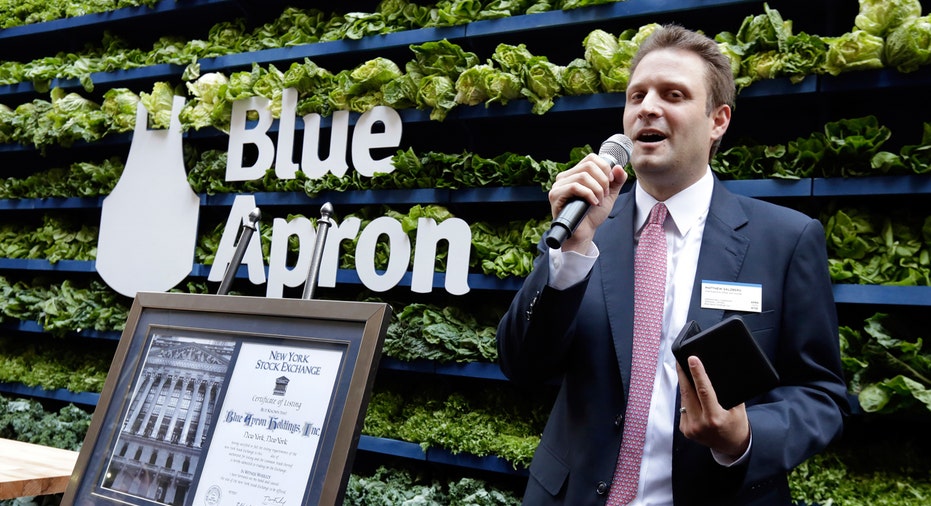 Blue Apron's (NASDAQ: APRN) stock jumped more than 16% on Monday after a slew of Wall Street firms, including underwriters of the meal kit company's initial public offering, gave the fledgling service a positive outlook.
Shares were selling at $7.62 as of early Monday afternoon – a major reversal for Blue Apron, which had seen its stock price drop steadily since it started trading at $10 on June 29. Investor concerns about Amazon's (NASDAQ:AMZN) proposed purchase of Whole Foods (NASDAQ:WFM) – and the ecommerce giant's potential entrance into the meal-kit industry – helped to drive Blue Apron's price down 35% from its initial valuation to $6.55 last Friday.
Despite those early concerns, eight of 11 firms gave Blue Apron a "buy" rating, according to Business Insider. That includes Goldman Sachs (NYSE:GS), which served as a lead underwriter on Blue Apron's IPO. The firm set a price target of $11 and projected a return potential of 68%.
"We view Blue Apron as the leading investment in a largely venture stage category that has reached the stage of hyper-competition typical of early stage, fast-growing consumer internet opportunities," Goldman analyst Heath Terry wrote. "This kind of overinvestment and the competitors it creates drives near-term customer acquisition costs and churn higher and growth rates lower. While this creates considerable volatility, as competition normalizes we see Blue Apron maintaining its lead in a larger category with more rational economics."
Oppenheimer analyst Jason Helfstein offered a similar view, setting an "outperform" rating with an $11 target.
"As the largest vertical operator in the "subscription meal kit" industry, Blue Apron will attempt to use its scale, expertise, and newfound capital depth to maintain share in a fast-growing market. Meanwhile, the company's already attractive gross margin profile should continue to improve. With shares now at 0.9x 2018E sales, we see risk/ reward weighted to the upside," Helfstein said, according to Benzinga.