Blue Apron says it could hit key profit measure this year, shares jump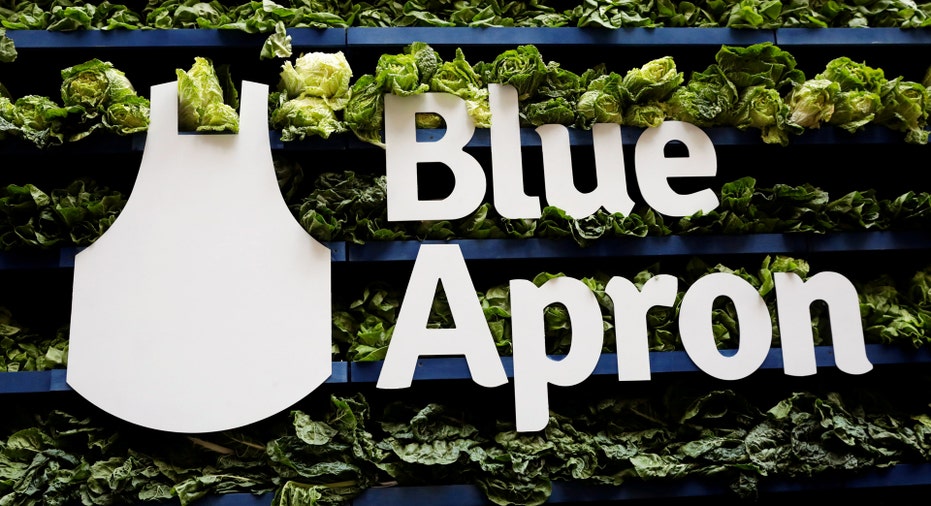 NEW YORK (Reuters) - Blue Apron Holdings Inc (NYSE:APRN) said on Tuesday it could break even on a key measure of profitability earlier than Wall Street analysts had expected, helping shares of the meal-kit maker up 5 percent.
Chief Executive Brad Dickerson said adjusted earnings before interest, tax, depreciation and amortization could turn positive as soon as the fourth quarter of this year, as it increases revenue and cuts capital spending and administrative costs.
Analysts on average expected the company to post negative quarterly EBITDA through at least the end of 2018, according to Thomson Reuters I/B/E/S.
Blue Apron cut marketing spending following a costly investment in a new distribution hub, turning its focus to squeezing more sales from existing users. With the hub switch complete, the CEO now expects a ramp back up in marketing, a move which should boost sales.
"That breakeven EBITDA in '19 assumes that we would continue to improve margins going forward," Dickerson said on a conference call with analysts. "The second thing it does assume is that we do return to some kind of full-year growth in revenue top line year-over-year."
Investors welcomed the outlook, sending the shares up as much as 25 percent. They were up 16 cents at $3.53 in mid-morning trading.
Blue Apron forecast first-quarter revenue of $190 million to $200 million, below analysts' average estimate of $220 million, as it faces fierce competition from meal-kit rivals and Amazon.com Inc (NASDAQ:AMZN), which started offering a similar service in the past year.
For the fourth-quarter, Blue Apron reported a smaller drop in sales than expected and a tick up in average revenue per customer, which it attributed to a more varied menu and meals with shorter prep times. Total orders and customers fell.
Average revenue per customer rose to $248 from $245 in the third quarter and $246 a year earlier. Revenue was $187.7 million, down 13 percent but exceeding analyst estimates for $185.1 million.
Founded in 2012, Blue Apron sells subscriptions for pre-portioned meal ingredients paired with recipes for restaurant-style meals, like tilapia piccata and miso-glazed barramundi.
Blue Apron has had a rocky ride since its initial public offering in June, with shares tumbling nearly 70 percent since the company went public.
New facilities, like the distribution hub in Linden, New Jersey, help boost capacity and allow more meal options and formats, adding variety that will help retain customers, Blue Apron has said.
Costs as a percentage of revenue improved from the third quarter, thanks to better recipe planning at Linden and seasonal benefits like cheaper packaging and fewer seasonal food items.
Blue Apron said it was ramping marketing back up by launching a new national brand campaign in the final week of December, which it credited to the improvements at Linden.
The subscription service had 746,000 customers in the quarter through Dec. 31, compared to 856,000 in the prior quarter and 879,000 a year earlier.
Revenue was $187.7 million, exceeding analysts' average estimate of $185.1 million. Blue Apron had a net loss of 20 cents a share, beating analysts' average estimate for a wider net loss of 27 cents per share.
It was the company's first earnings report under Dickerson, who became CEO after co-founder Matt Salzberg stepped down in November. Dickerson joined as chief financial officer in February 2016 from apparel maker Under Armour Inc (NYSE:UAA).
Amazon unveiled a deal to buy Whole Foods just as Blue Apron was preparing to go public, gaining what many saw as a food distribution network in the grocery chain.
Amazon has also been selling its own kits, with its website listing meals like tacos al pastor for two, but customers need to pay for an AmazonFresh add-on to Prime membership that is only available in select cities to order.
(Reporting by Meredith Mazzilli; Editing by Bernadette Baum and Bill Rigby)