Blockbuster: Is Netflix's Reign About to End?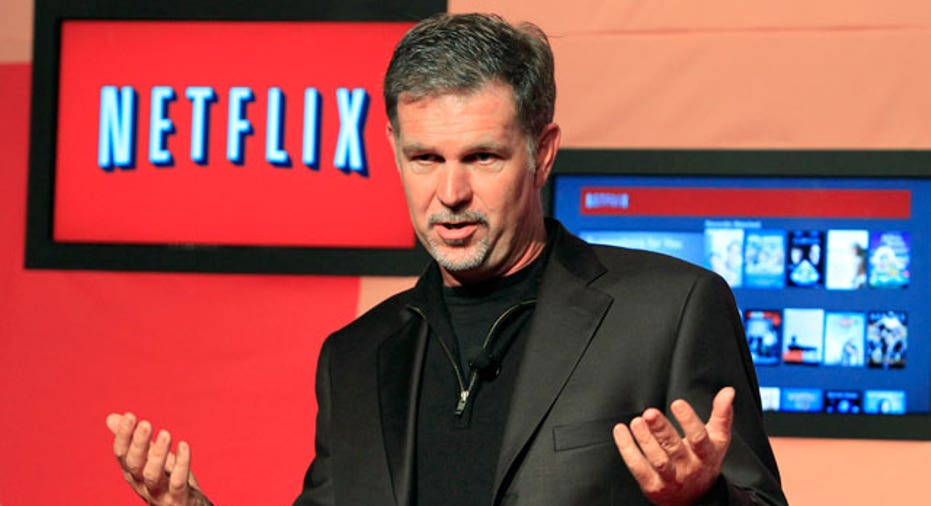 Netflix's lighting fast growth and so-far-unsurpassable style has left many drooling over its impressive performance, but with popular tech giants Amazon and Facebook now in the picture, some are questioning whether the film renter will soon be knocked off its lofty pedestal.
Surging 30% this year alone and a whopping 225% in the past 52 weeks, Los Gatos, Calif.-based Netflix (NASDAQ:NFLX) has pleased investors with its uncanny ability to strike deals with studios and attract more than 20 million subscribers.
According to data released last month by market research company NPD Group, Netflix controls 61% of movie streaming. Its largest competitor was Comcast's (NASDAQ:CMCSA) video-on-demand, but that only accounted for 8%.
"I see Netflix remaining dominant over the next few years," said Tuna Amobi, director and senior analyst of media and entertainment equity research at Standard & Poor's. In the longer-term, though, he noted it will likely be challenged as new entrants emerge and overcrowd the market.
Seeking to diversify outside of Netflix, film studio Warner Bros., parented by Time Warner (NYSE:TWX), recently inked a deal with Facebook that enables customers to stream movies directly from the social media darling for $3 a film. The partnership, which is still in its infancy with only a handful of movies available, makes Time Warner the first Hollywood studio to offer movies directly on Facebook.
When the deal was first made public, Netflix shares dropped 6% in a sign investors were preparing for a potential duel between the two providers. But weeks later, after Time Warner and Facebook released another five big-name movies on their platform, investors yawned the news, sending Netflix's stock surging more than 3% on its own streaming deals, including most recently a five-year deal with Viacom's (NYSE:VIA) Paramount Picture for exclusive rights to first-run films in Canada.
Amazon (NASDAQ:AMZN), meanwhile, introduced in February a streaming service in an effort to compete with Netflix, offering 5,000 older films and TV titles at $79 a year in a bundle with its already established Amazon Prime shipping service.
Chipping at the pedestal 
Overthrowing Netflix, of course, won't be an easy task, particularly since its subscribers have so far proved loyal to the red-envelopes, evidenced by the company's strong cash flow that has enabled it to sign deals with various studios in its transition to a streaming-only service.
In a recent survey by Credit Suisse of more than 1,000 Amazon users, less than 1% of 400 Netflix subscribers said they would give up their Netflix service to instead use Amazon's instant video, with a majority favoring the price-value offer of Netflix over Amazon.
But if there's any company out there right now that has the ability to give Netflix a run for its money, HackingNetflix.com blogger Mike Kaltschnee believes it would be Amazon.
"Amazon is its biggest threat," he said. "It has a huge opportunity to start stealing some of those 20 million subscribers."
Many Netflix subscribers are also Amazon customers interested in buying digital products, he said, which makes it an attractive transition given it provides users the ability to buy the movies they like as well as new releases a day earlier then they are released on Netflix. Amazon also sells other products that center around movies, from DVD players to popcorn.
"Everything tied together like that is very powerful," Kaltschnee said. "Netflix has a huge leap in the market, but Amazon is right behind them."
Netflix dabbled in selling movies with the release of "Get Him to the Greek," however the feature never took off and has since been discontinued, according to Kaltschnee.
In addition to its vast ecosystem of movie-based products, Amazon is also one of furthest competitors along in developing partnerships with studios, and its service is already available on a variety of devices.
Facebook, on-the-other-hand, poses less of a threat because of its inexperience in the digital media stratosphere and wide range of focuses that target information sharing as opposed to entertainment.
"Netflix provides value for one thing: watching movies. They have this laser focus and don't deviate from their plan," Kaltschnee said. "Facebook is everything to everybody, and when you're not doing something fully it's very hard to do it right."
Despite its unique ability to drive traffic and attract new users, the online networking site may be a little too diversified to fully invest itself in a way that would prove challenging to Netflix. Facebook, for example, was once the biggest photo sharing hub in the world, though it has since lost some of the market because of its slow adoption of high-quality pixels and editing features.
"Facebook has not yet proven itself thus far to be a viable outlet for entertainment content in the model they're offering it. They've never been a major player in this," Amobi said. "But given its phenomenal traffic, if this really takes off, it could ramp up really fast."
The pay-per-view type of setup on Facebook may also prove to be an advantage as it may attract those who enjoy movies but aren't willing to lock in to an annual or monthly contract.
The Plight of Studios
While Netflix will likely stay cemented on its top spot in the movie streaming business for some time, its reign may one day be compromised as studios continue to strike deals with other outlets in an effort to diversify and widen their customer base.
Film companies have learned from the music industry's past dependency on Apple (NASDAQ:AAPL), according to Amobi, and are striving to avoid a situation where they are similarly bogged down to Netflix.
"Netflix is by far the most dominant over-the-top video provider right now, it has hundreds of millions of dollars for content and that's something studios cherish," he said. "But over the long term, studios would rather have other providers to create more demand outlets. That can only help them."
But Netflix has shown that it can handle a little competition. It thrived under pressures from Wal-Mart (NYSE:WMT), Red Box and Blockbuster and has a major head start against its imitators in dealing with studios.
After flexing its muscles against Blockbuster, for example, Netflix helped force the in-store movie renter to file for bankruptcy protection late last year. Dish Network (NASDAQ:DISH) recently won Blockbuster in a bankruptcy court auction for $320 million.
"I think there will be some attrition," Kaltschnee said of Netflix. "But competition will spur innovation in the industry."