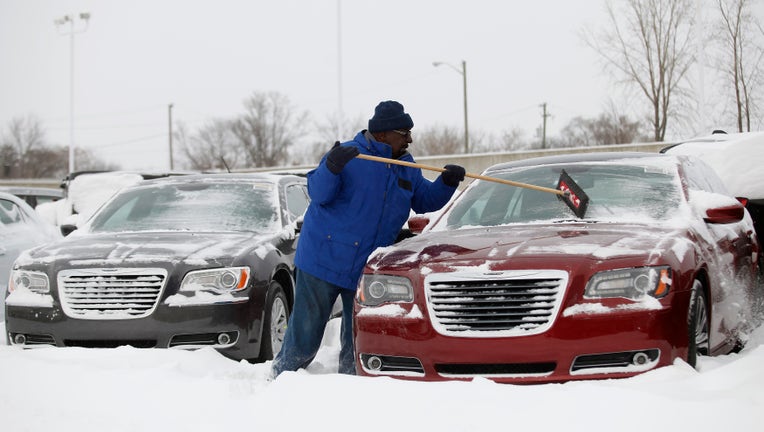 UPDATED
Winter weather and a calendar quirk led to mixed results for U.S. auto sales in January, although trucks and SUVs remained hot sellers across the board.
Most automakers were expected to report lower sales for January, which is historically the slowest month of the year. A major weekend snowstorm dampened sales in high-volume East Coast markets, and January included two fewer selling days compared to January 2015. The sales month did not start until Jan. 5 since New Year's Day landed on a Friday.
Ford (NYSE:F) sold 173,723 vehicles last month, a decline of 2.6% year-over-year, as strong demand at Lincoln was offset by weakness at the flagship brand.
While Ford SUVs kicked off the year at their best pace since 2004, Ford-branded cars fell 12.7%. F-Series truck sales, the best-selling model in the company's portfolio, slid 5.2%.
General Motors (NYSE:GM) reported a slight improvement in January sales of 0.5% to 203,745 units. A big 45.5% increase for Buick and more demand for GMC trucks offset an 8% drop for Cadillac. Chevrolet logged a slower month with sales down 3.6%.
GM reduced deliveries to rental fleets by 13,000 units in January, and the company reiterated plans to significantly cut back rental sales in 2016.
| Ticker | Security | Last | Change | %Chg |
| --- | --- | --- | --- | --- |
| GM | GENERAL MOTORS COMPANY | 39.95 | +0.42 | +1.06% |
| F | FORD MOTOR COMPANY | 8.94 | +0.11 | +1.25% |
| FCAU | FIAT CHRYSLER AUTOMOBILES N.V. | 15.04 | +0.21 | +1.42% |
| TM | TOYOTA MOTOR | 122.79 | +1.30 | +1.07% |
| HMC | HONDA MOTOR | 27.61 | +0.05 | +0.18% |
Fiat Chrysler (NYSE:FCAU) bucked the industry's trend line for the month, too, banking on Jeep SUVs to book the company's best January since 2007. The Italian-American automaker said its sales rose 7% to 155,037 vehicles, as Jeep grew 15%. SUVs also flew off the lots for Dodge, which booked a 19% increase in sales. Ram trucks and vans were up 5%.
For Fiat Chrysler and Ford, the consumer shift away from passenger cars--with buyers opting for crossovers, SUVs and trucks instead—was quite apparent in January.
Fiat Chrysler's namesake Chrysler brand saw its sales drop 22% because deliveries of the midsize Chrysler 200 more than halved. Ford's car sales retreated 12.2%, while trucks and utilities climbed higher.
GM had a positive month for several of its mainstream car models such as the Chevrolet Malibu and Impala. All three of Buick's cars also enjoyed higher volume. The midsize Regal more than tripled its sales, and deliveries of the larger LaCrosse doubled.
Demand for compact cars tumbled at Detroit's Big Three. The Chevrolet Cruze (-23%), Ford Focus (-30%) and Dodge Dart (-42%) all suffered large sales declines.
While total U.S. January auto sales ticked 0.3% lower, sales of light trucks grew 6.5% according to Autodata. Passenger cars accounted for the overall weakness, as shipments declined 8.2%.
Surging demand for SUVs and trucks, which has been partly driven by cheaper gas prices and low interest rates, is supporting higher transaction prices. In January, Ford transaction prices grew $1,800 amid customer demand for SUVs and F-Series trucks. GM said its average transaction price for the month was $33,600, approximately $3,000 above the industry average.
In a research note to clients, S&P Capital IQ analyst Efraim Levy said higher ATPs and "rational incentive use" contributed to net pricing gains for Detroit automakers. Levy added that January results showed a continuation of 2015 trends with utilities taking volume from sedans.
Import brands were especially hit by the historic January blizzard, given their typical strength along the coast. Honda (NYSE:HMC) sales dipped 1.7%, and Toyota (NYSE:TM) reported a 4.7% decline.  Sales of BMW-branded vehicles were down 4.7%.