Bladex Jumps Despite a Slow Start to 2016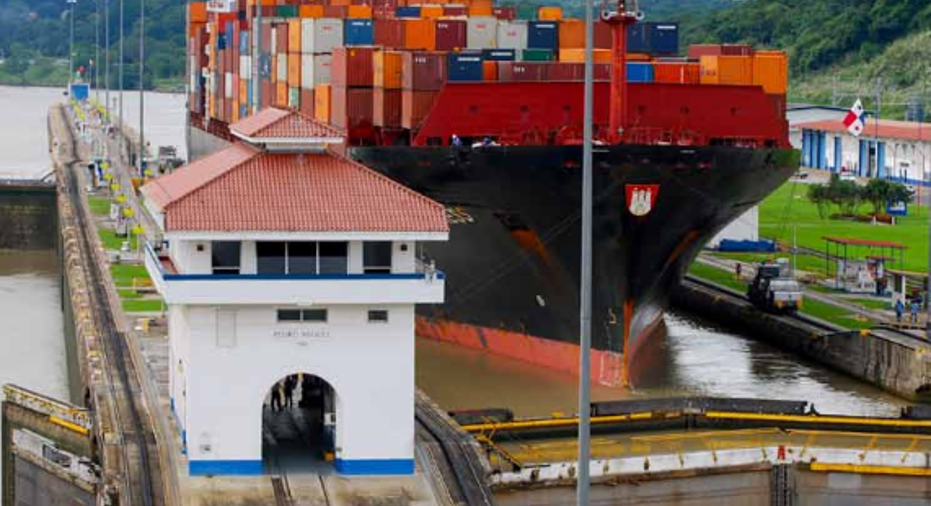 The Panama Canal is a big part of Panama's economy. Image: Bladex.
The state of the global banking system is much different depending on where you focus your attention, and Latin America has been an extremely dynamic area in recent years. For Banco Latinoamericano de Comercio Exterior , better known as Bladex, the decline in commodity prices and the corresponding slowdown in global trade has hit its home country of Panama as well as the rest of its focus area in Central America and the Caribbean. Commodity-related concerns have also affected the results of banking giant JPMorgan Chase , but unlike the well-diversified U.S.-based global bank, small foreign banks like Bladex have a lot more exposure to their home territories and have seen more challenging conditions. Coming into its first-quarter financial report, Bladex shareholders were braced for poorer results, but they were pleased to see signs of hope in the company's numbers. Let's take a closer look at Bladex's start to 2016 and what it bodes for the future.
Bladex puts in mixed results Bladex's first-quarter results didn't give investors everything they were hoping to see, but they were still encouraging in some respects. Operating revenue fell 12% to $37 million compared to the previous year's quarter, which fell well short of the $44 million consensus forecast for Bladex's top-line number. Net income also fell, posting a 22% decline to $23.4 million and working out to earnings of $0.60 per share. That was a penny better than investors were expecting, but it still represented a sizable drop from last year's $0.77 per share figure.
Looking more closely at Bladex's metrics, many of the same trends we've seen in past quarters continued this time around. Returns on equity fell almost three and a half percentage points to 9.6%, although that was slightly better than the bank posted three months ago. The bank's efficiency ratio jumped two percentage points to 33%, reflecting operating expenses that didn't decline as much as revenue.
However, some things in Bladex's financials looked better. Net interest margins widened to 2.06%, surpassing the 2% mark for the first time in quite a while. Net interest spreads followed suit with gains of about a sixth of a percentage point. Returns on assets rose to 1.46%.
Bladex's credit metrics also told a couple different stories. Liquid assets fell to below 10% of total assets, and Tier 1 capital ratios inched downward by about half a percentage point in last year's quarter to 15.9%. Leverage levels are done from year-ago levels, and although non-performing loans fell back encouragingly from the fourth quarter's disturbing levels, the 0.43% figure is still a third above where it was this time last year.
Bladex CEO Rubens Amaral noted that the bank did well despite some disappointments. "We delivered solid and healthy core results in a quarter that traditionally is the slowest in Latin America," Amaral said, "proving the capacity of Bladex to perform well in a more challenging economic environment." The CEO also noted that an investment in an asset management vehicle hasn't produced the fee income that Bladex had hoped, and weighed on the bank to the tune of about $5 million this quarter.
What's ahead for Bladex?Bladex thinks that its economic environment will still be challenging going forward. The bank has responded by focusing more on boosting the number of small deals it does, giving itself more geographical diversification and protecting itself against the risk of relying too much on any one customer. Amaral sees the pipeline of structured transactions, letters of credit, and the syndication business looking particularly promising.
The potential for a rebound in Latin America is what is driving the most excitement about Bladex right now. For banks that are larger than Bladex, the most likely driver of better results is a bounce in commodity prices. For instance, JPMorgan saw a big decline in net income for its commercial banking segment, largely because commodity prices forced the bank to add higher credit loss reserves for its oil and gas and natural gas pipeline loan portfolio. Bladex can more easily adjust its loan portfolio to avoid problem areas than JPMorgan Chase can, and that is a big part of why investors can expect Bladex to perform better if a turnaround does occur.
Bladex shareholders were happy about the results, sending the stock up 4% following the announcement. If initial signs of better times prove out, then the Panamanian bank could really start to accelerate during the remainder of the year.
The article Bladex Jumps Despite a Slow Start to 2016 originally appeared on Fool.com.
Dan Caplinger has no position in any stocks mentioned. The Motley Fool owns shares of and recommends Bladex. Try any of our Foolish newsletter services free for 30 days. We Fools may not all hold the same opinions, but we all believe that considering a diverse range of insights makes us better investors. The Motley Fool has a disclosure policy.
Copyright 1995 - 2016 The Motley Fool, LLC. All rights reserved. The Motley Fool has a disclosure policy.