Black Friday's Improbable Winners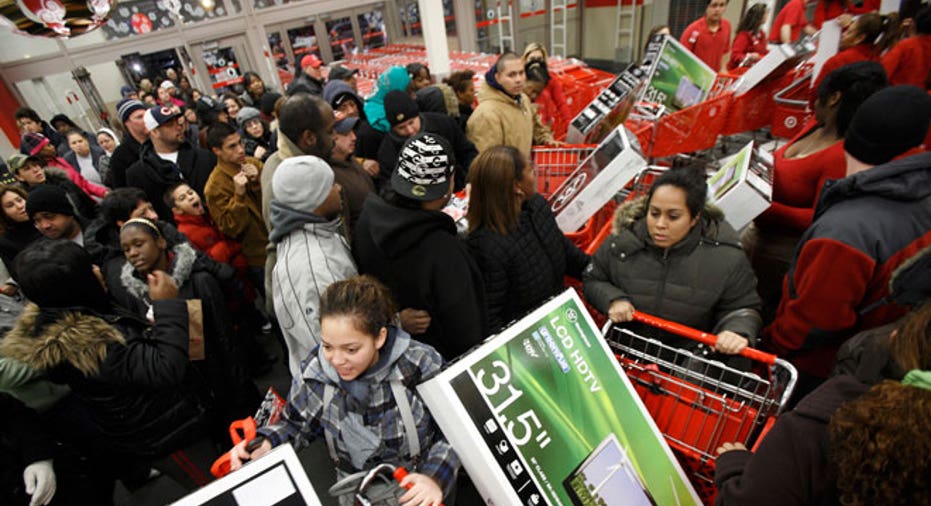 Some stocks become so badly beaten down that they become improbable bets for rebounds. Right now, in retail, several are so battered that modestly improved results in Black Friday weekend sales could send their shares to substantial gains.
The first among these is Best Buy Co. Inc. (NYSE:BBY). Wall St. rejected the turnaround plan of new CEO Hubert Joly, at least based on the huge sell off in the stock when he disclosed his program. Investors looked at his solutions as vague and naive, particularly in the face of Amazon.com Inc.'s (NASDAQ:AMZN) e-commerce dominance. But Joly may have one plan that could work. Most bricks-and-mortar stores fear what is called "showrooming." Customers come to stores to examine products, and then buy them online at low prices. Joly's theory is that showrooming brings in a lot of extra shoppers during holidays, and, with low prices, Best Buy can get a reasonable portion of those people to purchase items before they leave stores. Best Buy shares trade below $14, down from a 52-week high of just above $28. If Joly is right, even very modestly, shares could lift off in December.
This content was originally published on 24/7 Wall St. 
Sears Holding Corp.'s (NASDAQ:SHLD) shares fell 20% after it announced earnings for the most recent quarter. Same-store sales dropped 1.6% at Sears Domestic and 4.8% at Kmart. Revenues plunged $548 million to $8.9 billion for the quarter that ended October 27, compared with the same quarter a year ago. New chief executive Lou D'Ambrosio articulated his plans as he discussed the retailer's results. First among them is that Sears will focus on what it calls its "members" — that is, people who shop at Sears and Kmart regularly. The retailer has created a new marketing tool called SHOP YOUR WAY pricing. The approach mimics one of hugely successful retailer Costco Wholesale Corp. (NASDAQ:COST). A small success with the new approach would get Sears off the critical list and show that management finally has found a way to stop the leak of customers. Sears shares have fallen from $67 to $47 in less than two weeks.
Read: The 10 Markets with the Most Empty Homes
RadioShack Corp.'s (NYSE:RSH) stock has fallen from a 52-week high of nearly $12 to $2 recently. At least one important bank research arm believes the slide has ended. Bank of America Corp. (NYSE:BAC) has set a price target for RadioShack of $3 and kept a Buy rating on its stock. The recommendation could be considered reckless because, in its most recently reported quarter, RadioShack's net loss was $47 million, compared with breakeven in the same quarter a year ago. Overlooked in the panic over the loss was the stability of revenue, which was $1 billion, compared to $1.03 billion last year. RadioShack has taken actions that could improve its early holiday sales. First among them is its foray into prepaid cellular phones. Cost-conscious buyers can get a new cellphone for under $100. The phone is not tethered to a two-year subscription plan from a major carrier. Customers can buy minutes without long-term obligations. And RadioShack also has become very aggressive on pricing. It offers $10 store coupons with every $50 in sales. Free ground shipping is also part of the $50-plus purchase program. RadioShack, the poor person's Best Buy, could benefit as consumers worried about the economy look for early shopping season bargains.
Read: America's Most (And Least) Expensive Thanksgivings
The least likely candidate among troubled retailers for a comeback is JCPenney Co. Inc. (NYSE:JCP). Its shares have dropped to $16 from a 52-week high of more than $43. Former Apple Inc. (NASDAQ:AAPL) retail chief Ron Johnson, who has been JCPenney chief for less than a year, radically changed how the retailer prices merchandise. Confused and unhappy shoppers have deserted the retailer in droves. In its most recently reported quarter, revenue fell 27% to $2.93 billion. The retailer lost $123 million, as well. To make matters worse, the important e-commerce division of JCPenney reported a 37% drop in sales to $214 million. Johnson does have a plan to scratch his way out of the hole Wall St. blames him for digging. The company has opened "mini-stores" inside its retail locations. These are centered around a few well-known brands, including Levi's, Izod, Liz Claiborne and The Original Arizona Jean Co. Each of these brands is well-known and their sales have been good outside of JCPenney. Johnson may have created a way to import strong brands into his stores.
Read: Two Foods Making Thanksgiving Pricey This Year
The weakest retailers do not have to demonstrate much strength to draw the attention of some investors.