Biotechs Put the Brakes on Wall Street's Rally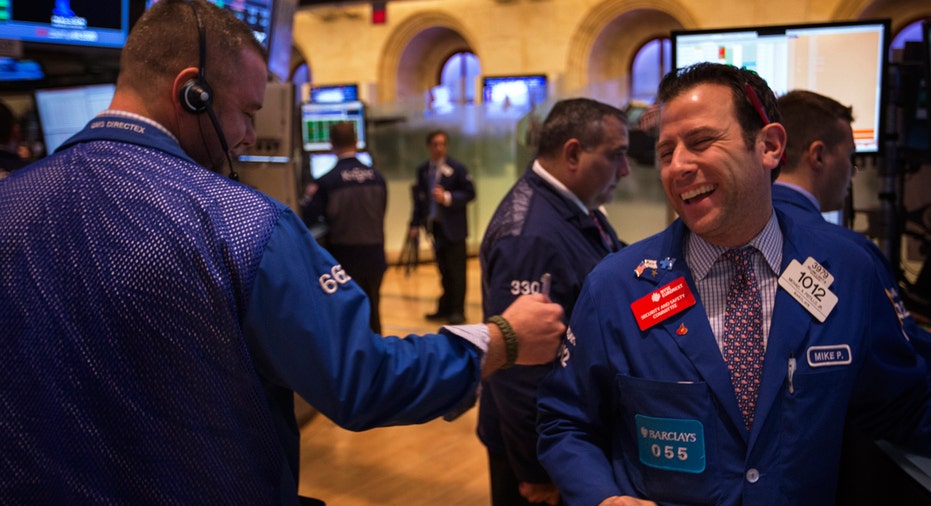 A more than 200-point rally on the Dow was more than halved on Friday afternoon as U.S. equity markets lost momentum into the final hour of trading.
The Dow Jones Industrial Average ended the session up 112 points, or 0.70% to 16314. The S&P 500, meanwhile, shed a fraction of a point, or 0.04% to 1931, while the Nasdaq Composite lost 47 points, or 1.01% to 4685.
Financials led seven S&P 500 sectors in the green, rising nearly 1.5% on the session. Meanwhile, health care shares plunged 2.68%.
Today's Markets
The biotechs bookended the week as they dragged the tech-heavy Nasdaq deep in negative territory both on Monday after a tweet on drug prices from presidential candidate Hillary Clinton, and again on Friday afternoon. In recent action, the Nasdaq biotech index shed more than 13%.
Meanwhile, Wall Street continued to factor in comments from Fed Chief Janet Yellen, who took the podium at the University of Massachusetts, Amherst on Thursday night. In her speech, she said the central bank is on track to raise short-term interest rates this year despite a decision last week to keep them at historic lows. She added that the FOMC anticipates inflation will "return to 2% over the next few years as the temporary factors that are currently weighing on inflation wane."
In her comments, Yellen added that recent developments in the global economy could put a damper on U.S. economic growth; however members of the committee "do not currently anticipate that the effects of these recent developments on the U.S. economy will prove to be large enough to have a significant effect on the path for policy."
Alastair McCaig, market analyst at IG, said the clarity Yellen provided in her comments helped give markets a reason to rally.
"She finally added a little more clarity as to where she stood," he wrote. "Equity markets have rallied following her comments that she still wanted to increase rates this year and that she had held her vote for change. This will ensure that FX markets continue to debate whether rates rise in 2015 or 2016."
The yield on the benchmark U.S. Treasury bond rose 0.064 percentage point to 2.184%.
As the Fed remains data dependent before it makes the decision to hike rates, traders continue to closely monitor the latest economic reports to gauge the health of the U.S. economy. On Friday, the Commerce Department released the final reading on second-quarter gross domestic product, which showed the economy grew at an annualized rate of 3.9%, up from a prior reading of 3.7%.
Consumer sentiment data from the University of Michigan rose to 87.2 in September from a preliminary reading of 85.7. Wall Street had anticipated the gauge would see a smaller increase to 86.7.
Elsewhere, markets were relatively calm ahead of the weekend.
European equity markets rallied as the Euro Stoxx 50, which tracks large-cap companies in the eurozone, jumped 3.1%. The German Dax gained 2.77%, the French CAC 40 rallied 3.07%, and the UK's FTSE 100 gained 2.47%.
In Asia, China's Shanghai Composite declined 1.60%, while Hong Kong's Hang Seng rose 0.43%, and Japan's Nikkei jumped 1.76%.
In commodities, global oil prices took a breather after a week of wild swings. U.S. crude prices rose 1.49% to $45.58 a barrel, while Brent, the international benchmark, added 0.79% to $48.55 a barrel.
Metals declined as gold shed 0.76% to $1,145 a troy ounce and silver declined 0.30% to $15.09 an ounce. Copper, meanwhile, fell 0.80% to $2.28 a pound.
The U.S. dollar rose against a basket of other currencies while the euro declined 0.40% against the greenback.
In corporate news, Apple's (NASDAQ:AAPL) latest devices, the iPhone 6s and 6s Plus went on sale Friday. The new phones feature better cameras and a new 3D touch system. Excited fans were lined up days prior to the launch to be one of the first people to get their hands on the new offerings.
Nike (NYSE:NKE) shares jumped more than 9% on Friday after the footwear and apparel maker unveiled second-quarter earnings that handily beat expectations after the bell on Thursday.
European regulators on Friday said they opened an investigation into an office-supply chain merger between Staples and Office Depot saying the deal could increase prices and provide less choice for consumers. Staples CEO Ron Sargent has said he expects the deal to close by the end of the year despite recent opposition.