BioMarin's Stock Tumbled in October. Is It Now a Buy?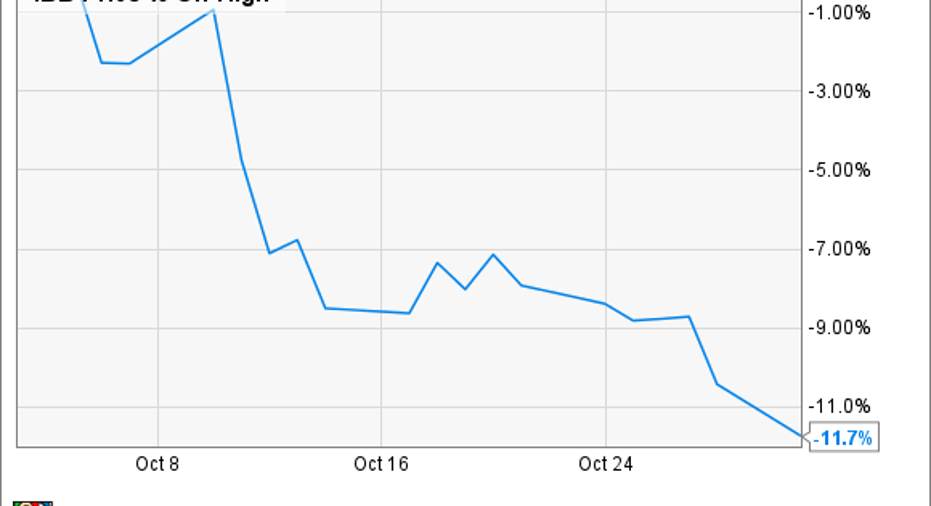 Image source: Getty Images.
What happened
Shares of the orphan drug specialist BioMarinPharmaceutical(NASDAQ: BMRN) fell by more than 16% in October,according to data fromS&P Global Market Intelligence.
As the drugmaker's slide began early in the month in the absence of any discernible news event, it appears that BioMarin simply fell victim to the moody market in October. After all, nearly all biotechs took a step back last month, as illustrated by the double-digit drop in the iShares Nasdaq Biotechnology ETF (NASDAQ: IBB):
So what
That being said, BioMarin did report somewhat disappointing Q3 results at the end of the month, where the company missed the Street's revenue estimate by roughly $10 million, or 3%. Although the drugmaker did post a healthy 34% rise in year-over-year revenue and slashed its net loss per diluted share by 56% for the three-month period, the market has been looking for any reason -- however slight -- to thrash biotech stocks lately.
Now what
Apart from its improving cash flow situation, BioMarin's Q3 results highlighted the company's stellar progress on the clinical front. Of particular note, BioMarin's experimental treatment for achondroplasia (a form of short-limbed dwarfism),vosoritide, is reportedly now barreling toward a pivotal-stage trial by year's end. If approved, vosoritide has the potential to generate blockbuster-type sales figures, making it a key clinical asset to keep an eye on going forward.
Turning to the question of whether BioMarin's shares are a buy after this steep pullback: My take is that it all depends on how you value the company's overall pipeline of drugs for rare diseases. The heart of the matter is that BioMarin's stock is still trading at around 14 times its 2017 estimated revenue. That's not exactly a bargain. However, there's something to be said about a company that's repeatedly been able to advance high-value drug candidates all the way from the lab to the market. Personally, though, I'd like to see this stock move a little lower before grabbing shares due to the downside risk associated with any potential clinical or regulatory setbacks over the next year or so.
10 stocks we like better than BioMarin Pharmaceutical When investing geniuses David and Tom Gardner have a stock tip, it can pay to listen. After all, the newsletter they have run for over a decade, Motley Fool Stock Advisor, has tripled the market.*
David and Tom just revealed what they believe are the ten best stocks for investors to buy right now and BioMarin Pharmaceutical wasn't one of them! That's right -- they think these 10 stocks are even better buys.
Click here to learn about these picks!
*Stock Advisor returns as of November 7, 2016
George Budwell owns shares of iShares NASDAQ Biotechnology Index. The Motley Fool recommends BioMarin Pharmaceutical. Try any of our Foolish newsletter services free for 30 days. We Fools may not all hold the same opinions, but we all believe that considering a diverse range of insights makes us better investors. The Motley Fool has a disclosure policy.