Biogen Inc. Earnings: New Drug Sparks Life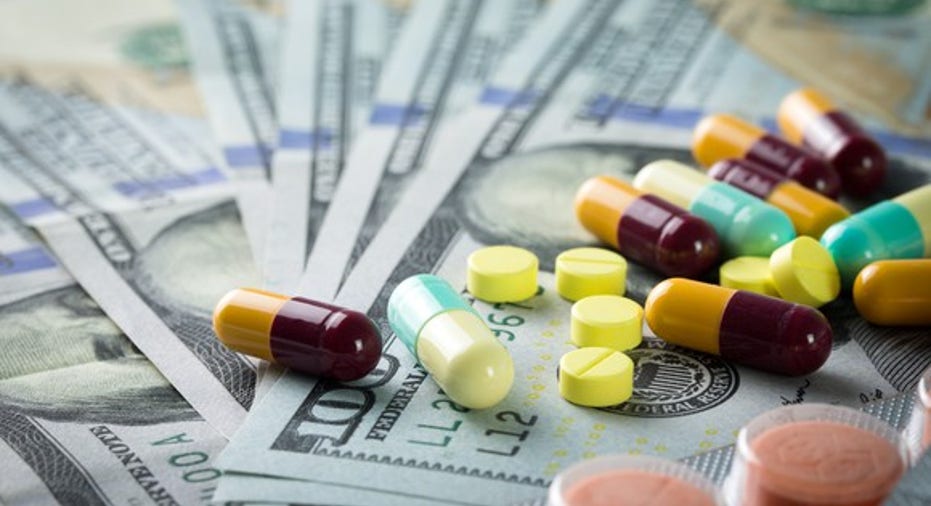 Biogen (NASDAQ: BIIB) reported first-quarter earnings on Tuesday, resulting in investors excited about the potential for Spinraza, its new spinal muscular atrophy drug developed with Ionis Pharmaceuticals (NASDAQ: IONS), but tolerating ho-hum sales growth of its multiple sclerosis drugs.
Biogen results: The raw numbers
| Metric | Q1 2017 | Q1 2016 | Year-Over-Year Change |
| --- | --- | --- | --- |
| Revenue | $2.81 billion | $2.73 billion | 3% |
| Income from operations | $1.02 billion | $1.38 billion | (26%) |
| Earnings per share | $3.46 | $4.43 | (22%) |
Data source: Biogen.
What happened with Biogen this quarter?
The quarterly results look worse than they really are because this quarter doesn't include its hemophilia drugs that were spun out into Bioverativ(NASDAQ: BIVV) in mid-January. Excluding those sales from both quarters, revenue was up a solid-albeit-not-outstanding 8%.
The earnings line was also hit by a $1.22-per-share impact from the settlement with Forward Pharma over patents on Tecfidera.
Sales of Tysabri had a nice boost, up 14% year over year, although some of that growth came from a one-time benefit as Biogen reached an agreement for the price of the drug with the Italian government, allowing the company to recognize sales from previous quarters.
The rest of Biogen's multiple sclerosis drugs were basically flat to down a few percentage points, although top-selling Tecfidera, which was only up 1% year over year, was negatively affected by lower inventories held by middlemen before the final sale to patients, so growth in demand was actually higher.
Sales of Spinraza came in at $47 million during the first full quarter of the drug on the market.
Image source: Getty Images.
What management had to say
Biogen CEOMichel Vounatsos gave some interesting stats that show the potential to grow Spinraza sales substantially from here.
Doing the math, there's potential to more than triple the number of sites prescribing Spinraza, and many sites could increase the number of patients treated five- to tenfold.
Turning to the next potential drug, Michael Ehlers, Biogen's EVP and head of research and development, gave a little color on the company's strategy, saying:
That last part is important for smaller companies like Ionis Pharmacueticals, which has a multidrug development partnership with the company.
Looking forward
Management plans to update its 2017 guidance after the second quarter is complete, but it's likely the earnings estimate will be adjusted downward given the $300 million Biogen recently agreed to pay Bristol-Myers Squibb (NYSE: BMY) to license its anti-tau Alzheimer's disease drug. The deal also requires Biogen to pay the remaining obligations -- $60 million in the near term -- to iPierian's shareholders, which developed the drug before Bristol-Myers Squibb bought the company. Biogen's management only had $100 million in its guidance budget forbusiness development expense.
Nevertheless, those payments are investments in Biogen's future, which will hopefully more than pay for themselves in the future. In the nearer term, the next big thing from Biogen could be its Alzheimer's disease drug aducanumab, which is in phase 3 development. Management anticipates that the clinical trials will be fully enrolled by the middle of next year, resulting in potential readouts toward the end of 2019 or early 2020.
10 stocks we like better than BiogenWhen investing geniuses David and Tom Gardner have a stock tip, it can pay to listen. After all, the newsletter they have run for over a decade, Motley Fool Stock Advisor, has tripled the market.*
David and Tom just revealed what they believe are the 10 best stocks for investors to buy right now... and Biogen wasn't one of them! That's right -- they think these 10 stocks are even better buys.
Click here to learn about these picks!
*Stock Advisor returns as of April 3, 2017
Brian Orelli has no position in any stocks mentioned. The Motley Fool owns shares of and recommends Biogen and Ionis Pharmaceuticals. The Motley Fool recommends Bioverativ. The Motley Fool has a disclosure policy.