Billionaire's War On SunEdison: What Does Tepper See in Terraform?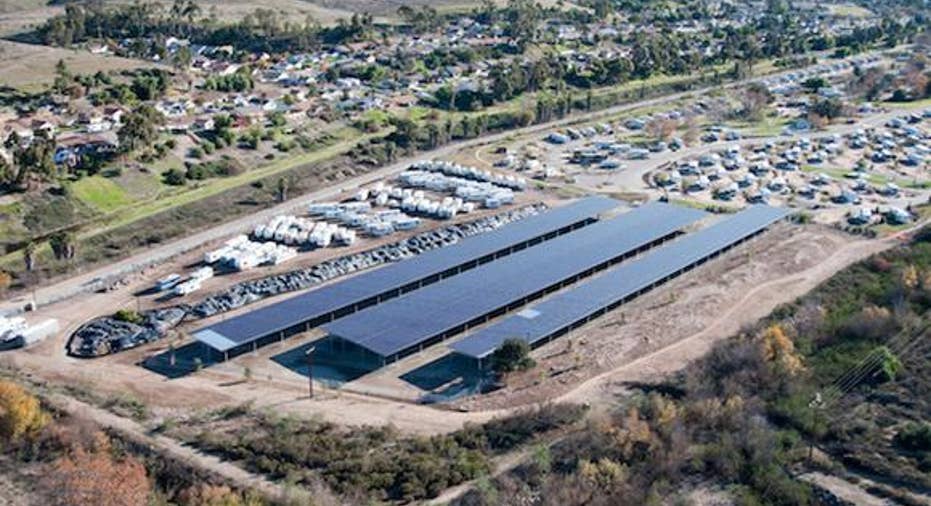 Image source: SunEdison.
Billionaires have a tumultuous history in the renewable energy space. David Einhorn and a number of high profile hedge fundshave ridden SunEdison Inc from its highs to the brink of bankruptcy. T. Boone Pickins once had a billion dollarplan to build wind farms, only to see those plans blow away with the wind. Even Elon Musk has built a multi-billion dollar net worth more on hope for renewable energy rather than actual profits coming from his businesses.
David Tepper, the hedge fund manager who runs Appaloosa Management, is the latest to make a major bet on renewable energy. His 9.3% stake in TerraForm Power is a bet on the long-term cash flows renewable energy can bring rather than the growth a company like SunEdison may have, something Einhorn bet on. And there are good reasons to think he'll be right.
Image source: SunEdison.
What Tepper sees in TerraForm Power Most of David Tepper's professional career has been focused on investing in high yield debt, bankruptcies, and special situations. In short, his job was to find places where assets with predictable cash flows were mispriced in the market.
That's exactly what TerraForm Power is, and SunEdison's financial troubles have contributed to the yieldco's decline. But TerraForm Power itself should be a series of long-term consistent cash flows from renewable energy projects it owns. With a dividend currently standing at 13.2%, this has the potential to be a huge win if cash flows are more consistent than the market thinks they are right now.
In the first nine months of 2015, the latest period to be reported as I'm writing, TerraForm generated $363.9 million in revenue and $105.3 million in cash from operations, both of which will grow as newly acquired projects generate revenue. Keep in mind that these projects come with a weighted average remaining contract life of 18 year, so the business should be stable. Those aren't bad features for a company with a market cap of $1.5 billion.
Vivint Solar dropping out helps TerraForm Power When Vivint Solar announced that it was terminating its merger agreement with SunEdison, it wasn't TerraForm Power that was seen as the big winner on the market. But that may be the case long-term.
Part of Tepper's problem with the Vivint Solar acquisition was the role TerraForm Power would have to assume as part of the transaction as a purchaser of residential solar assets from SunEdison. Tepper sees these assets as far more risky than large renewable plants that sell energy to utilities, and they may have a shorter lifespan. So when Vivint Solar terminated the agreement, it's TerraForm Power that should have jumped for joy. Not buying those assets eases stress on the balance sheet and makes future cash flows more certain. But that wasn't the only risk facing TerraForm Power.
The risk in TerraForm Power's "safe" business On September 30, TerraForm Power did have $2.55 billion in debt, which helped fund the projects it bought from SunEdison. The weighted interest rate of 6.2% is one of the company's biggest long-term costs, and offsets some of the revenue from projects.
But the bigger problem is a potential cross-default if SunEdison goes bankrupt. When Moody's downgraded the debt of TerraForm Power it said there was a "low but not negligible probability" that TerraForm Power and its sister yieldco TerraForm Global could end up in bankruptcy.That's the biggest risk the company faces -- but Tepper is betting that risk is much less than the potential upside of the undervalued stock.
Will this yieldco recover? In theory, TerraForm Power should be a very stable company with highly predictable long-term cash flows, just the kind of investment for a high yield bond investor like David Tepper. But the risks posed by a high debt load and SunEdison's potential insolvency are the focus of investors right now.
David Tepper thinks those worries are overstated in the current stock price, and that's why he owns so much of the company. Time will tell if that opinion is right.
The article Billionaire's War On SunEdison: What Does Tepper See in Terraform? originally appeared on Fool.com.
Travis Hoium has no position in any stocks mentioned. The Motley Fool has no position in any of the stocks mentioned. Try any of our Foolish newsletter services free for 30 days. We Fools may not all hold the same opinions, but we all believe that considering a diverse range of insights makes us better investors. The Motley Fool has a disclosure policy.
Copyright 1995 - 2016 The Motley Fool, LLC. All rights reserved. The Motley Fool has a disclosure policy.