Big Money Really Wants Nothing to Do With Valeant Pharmaceuticals -- Here's Proof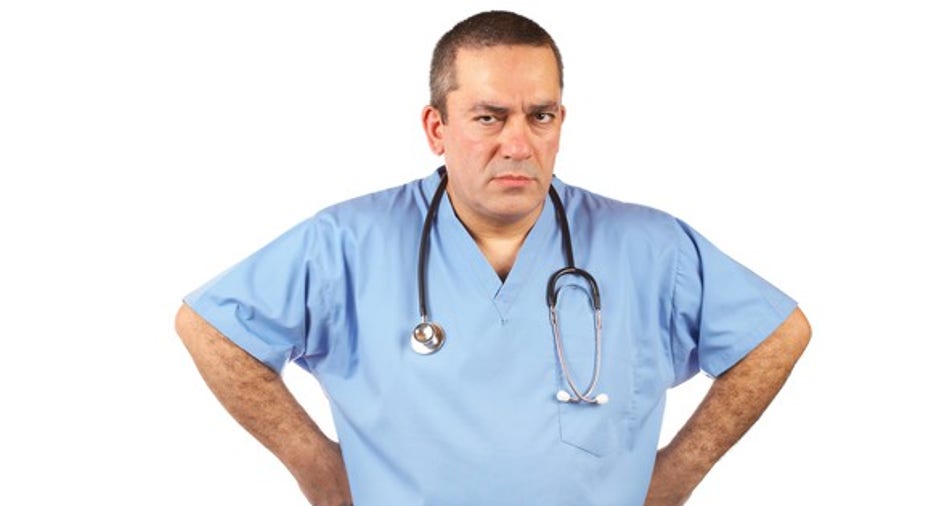 Image source: Getty Images.
Shareholders of drugmaker Valeant Pharmaceuticals (NYSE: VRX) have had a rough go of things over the trailing 12-month period. After peaking at $264 per share in 2015, shares of Valeant have retreated 90% from their all-time high.
Earlier this week, more salt was rubbed in the wounds of the company's shareholders.
Once every quarter, institutional investment managers -- those with $100 million or more in qualified assets -- are required to report their portfolio holdings to the Securities and Exchange Commission. Although the data can be 45 to 135 days old, it gives Wall Street and investors an idea of what some of the biggest money-managers were up to during the previous quarter.
Institutional investors ended the second quarter owning 219.8 million shares of Valeant, with 123 funds adding to an existing position and 53 funds creating a new position. Unfortunately, 106 funds reduced their positions during Q2, and 92 funds that closed out their positions, reducing total institutional ownership of Valeant shares by a whopping 18.3%. In simpler terms, big money-managers are holding 49.1 million fewer Valeant shares than they were during Q1 2016.
Here are some of the most notable sellers of Valeant stock during Q2:
Ruane, Cunniff & Goldfarb, which had been Valeant's largest shareholder with more than 30 million shares in Q1, sold off 30 million shares during Q2.
Jackson Square Partners jettisoned its entire position of 7.4 million shares.
Eagle Capital Management sold 5.9 million shares and kept just 31,253 in Q2.
Hound Partners exited its entire position, about 5 million shares.
In total, more than a dozen funds sold at least 1 million shares each of Valeant Pharmaceuticals during the second quarter.
Image source: Getty Images.
Three reasons big money wants nothing to do with Valeant
Money managers' disdain for Valeant boils down to three major concerns.
1. Valeant's pricing power went down the tubes
The first issue is that Valeant's pricing power has been compromised -- and pricing power is everything when it comes to developing drugs. Drugmakers typically use their exceptional pricing power on branded therapeutics to cover not only the costs of developing the drug in question, but also the expenses tied to previously failed therapies, ongoing legal costs, and marketing expenses.
Valeant's pricing power went down the tubes when former CEO J. Michael Pearson admitted that his company made a mistake when it dramatically raised the price of two acquired cardiovascular products, Nitropress and Isuprel. Following the acquisition of both drugs in Feb. 2015, Valeant increased their respective selling prices by 525% and 212% without changing the chemical formulation or manufacturing process for either drug. This action drew the unwanted attention of U.S. lawmakers, which now have a very watchful eye on Valeant and its pricing practices.
2. Valeant's debt load is crippling
I'd suggest that the far bigger issue for Valeant is the company's crippling debt load, which stood at $30.8 billion as of the end of Q2, or just shy of $30 billion on a net debt basis.
Image source: Getty Images.
Valeant's primary method of growth over the past couple of years has been purchasing pipelines, approved drugs, and companies. It has funded these purchases by leaning on its ability to borrow, which its lenders had no issue with while it was rapidly growing. However, with Valeant's pricing power drastically reduced, and the company's profit and EBITDA forecast falling, Valeant's primary method of growth, M&A, has been cut off by its lenders.
Making matters significantly worse, an accounting issue that arose in 2015 with former drug distributor Philidor Rx Services (specifically, the improper recognition of $58 million in revenue) caused Valeant to take a fine-toothed comb through its fiscal 2015 figures. The result was both a late 2015 annual filing and a late Q1 2016 filing. In both instances the late filing triggered notices of default from the company's numerous lenders. Though Valeant was able to work out new terms with its lenders, such as a lowered EBITDA-to-interest cost coverage on its debt, the company also accepted a $50,000 fee for every $10 million borrowed, as well as a 1-percentage-point increase in its interest rate.
Even the new deal the company worked out with its lenders could be in jeopardy. Valeant is required to generate at least 2.75 times more EBITDA than the amount it pays in interest on its debt each year. With a forecast of $4.8 billion to $5 billion in EBITDA in 2016 and $892 million in first-half interest costs, Valeant could be on track to come in right at, or below, this 2.75-to-1 ratio. If Valeant violates its debt covenants, then lenders could opt to accelerate repayment.
Image source: Getty Images.
3. Valeant's reputation is adversely affecting its business
Lastly, I wouldn't go so far as to say that Valeant's business model is broken, but it's definitely suffering from adverse effects tied to its ongoing bad PR.
For example, on Aug. 11, The Wall Street Journal reported that Valeant was under investigation by the U.S. attorney's office for the Southern District of New York pertaining to its working relationship with its former drug distributor Philidor. The attorney's office is investigating whether or not Philidor disclosed the closeness of its relationship with Valeant to insurers. If the attorney's office decides that relationship wasn't disclosed, then Philidor could have been working in Valeant's interests, instead of as a neutral party, by selling higher-priced brand-name therapies to insurers when cheaper alternatives were available. Though Valeant is cooperating, criminal charges against Philidor executives and Valeant as a company are possible, with the result possibly being fines or sale restrictions for Valeant.
Valeant is also struggling under its new distribution relationship with Walgreens Boots Alliance. Valeant has noted that some of its scripts are being filled at a loss, which was the main reason its dermatology sales plunged 55% year-over-year during the second quarter. This isn't an overnight fix for either party.
These ongoing problems, and big money's exodus from Valeant during Q2, provide very good reasons for investors to ignore its deeply discounted P/E and remain on the sidelines until we see a tangible improvement in its underlying business and debt situation.
A secret billion-dollar stock opportunity The world's biggest tech company forgot to show you something, but a few Wall Street analysts and the Fool didn't miss a beat: There's a small company that's powering their brand-new gadgets and the coming revolution in technology. And we think its stock price has nearly unlimited room to run for early in-the-know investors! To be one of them, just click here.
Sean Williamshas no material interest in any companies mentioned in this article. You can follow him on CAPS under the screen nameTMFUltraLong, and check him out on Twitter, where he goes by the handle@TMFUltraLong.
The Motley Fool owns shares of and recommends Valeant Pharmaceuticals. Try any of our Foolish newsletter services free for 30 days. We Fools may not all hold the same opinions, but we all believe that considering a diverse range of insights makes us better investors. The Motley Fool has a disclosure policy.