Big Drugmakers Were Key to Juno Therapeutics' Q1 Performance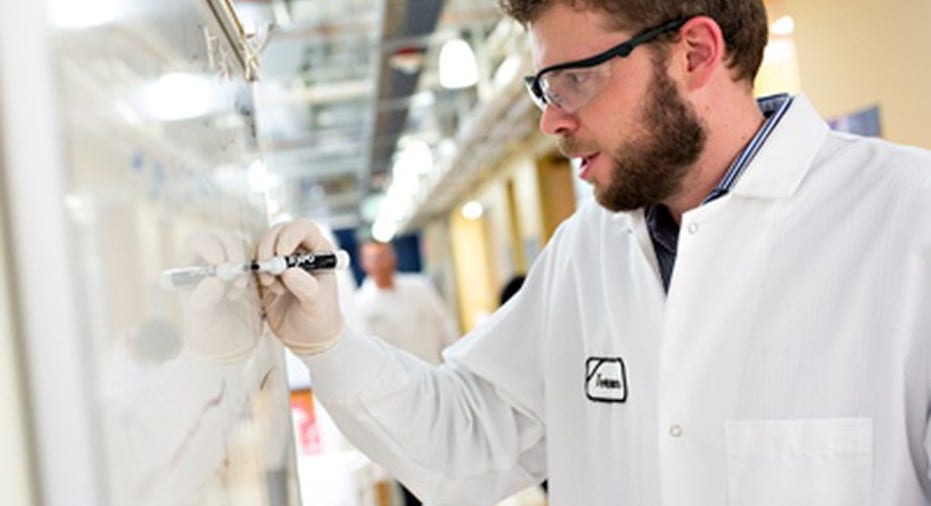 Image source: Juno Therapeutics.
Within the first four weeks of 2016, Juno Therapeutics had shed over 40% of its market value. Since then, though, shares of the biotech have staged a nice comeback. While Juno's stock is still down around 13% year to date, the situation looks much better now than it did in early February.
Juno announced its first-quarter results after the market closed on Monday. Did those results make a difference for the biotech's rebound? Here are the highlights.
Juno results: The raw numbers
| Metric | Q1 2016 Actuals | Q1 2015 Actuals | Growth (Year Over Year) |
| --- | --- | --- | --- |
| Sales | $9.8 million | -- | -- |
| Net loss from continuing operations | ($71.1 million) | ($65.0 million) | (9.5%) |
| Net loss per share | ($0.72) | ($0.79) | 8.9% |
Data source: Yahoo! Finance.
What happened with Juno this quarter?Nearly all of Juno's revenue in the first quarter came from two big drugmakers. Juno recognized $3.8 million in revenue from its collaboration with Celgene . Novartis gave Juno $5.8 million as a milestone paymentfor product candidates involved in patent litigation that was settled in April 2015.
Juno's net loss worsened in the first quarter compared with the prior-year period as expenses increased across the board. A significant part of the biotech's research and development expense increase stemmed from milestone payments to Opus Bio in connection with Juno's JCAR018. Net loss per share improved versus the first quarter of 2015, however, because of an increased number of shares.
Probably the most important financial metric for Juno was its cash position, which remained very positive. Juno reported cash, cash equivalents, and marketable securitiesof $1.13 billion as of the end of first quarter. Celgene's purchase of another $47 million worth of Juno's stock helped keep the cash position higher than it would have been otherwise.
Other highlights from Juno's first quarter included:
Acquiring of AbVitro, a company with anext-generation single-cell sequencing platform that supplements Juno's development program. Juno and Celgene also agreed in principle to allow Celgene to license and have options on potential product rights to some of the acquired technology.
Beginning clinical manufacturing of JCAR015 for a phase 2 clinical study.
Reaching two clinical milestones in a phase 1 study ofJCAR018 in treatingrelapsed or refractory acute lymphoblastic leukemia.
What management had to sayHans Bishop, Juno's president and CEO, highlighted his company's CD19 candidates and the relationship with Celgene:
Looking forwardFor full-year 2016, Juno expects its cash burn to be between $220 million and $250 million. The biotech is in solid shape to fund this rate of cash burn for several years to come.
Investors will want to pay the most attention to Juno's CD19 program. In April, Celgene exercised its option to develop and market candidates from the program outside the U.S. and China. That shows that the big biotech likes what it has seen with the CD19 drugs in Juno's pipeline.
JCAR015 is the most advanced candidate in the CD19 program. The drug is in a phase 2 clinical study targetingpotential treatment for relapsed/refractory acute lymphoblastic leukemia. Juno is optimistic that the drug could win FDA approval by 2017.
The article Big Drugmakers Were Key to Juno Therapeutics' Q1 Performance originally appeared on Fool.com.
Keith Speights owns shares of Celgene. The Motley Fool owns shares of and recommends Celgene. The Motley Fool recommends Juno Therapeutics. Try any of our Foolish newsletter services free for 30 days. We Fools may not all hold the same opinions, but we all believe that considering a diverse range of insights makes us better investors. The Motley Fool has a disclosure policy.
Copyright 1995 - 2016 The Motley Fool, LLC. All rights reserved. The Motley Fool has a disclosure policy.