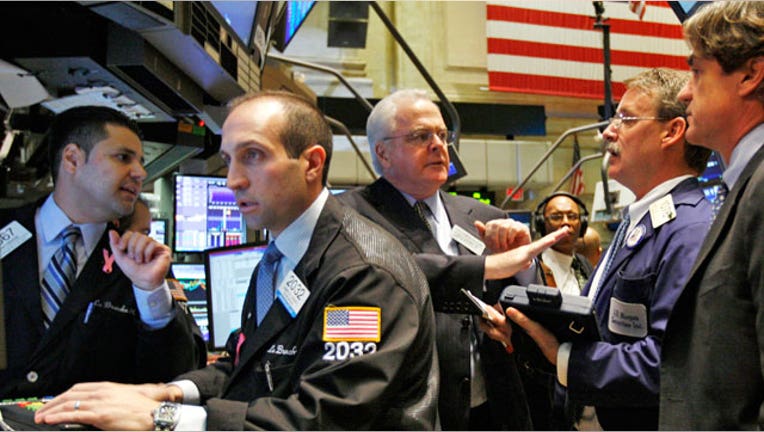 FOX Business: Capitalism Lives Here
The Dow lagged far behind the broad-market averages on Wednesday as shares of technology heavyweight IBM skidded close to 5% into the red.
Today's Markets
The Dow Jones Industrial Average rose 5.2 points, or 0.04%, to 13557, the S&P 500 rose 6 points, or 0.41%, to 1461 and the Nasdaq Composite climbed 3 points, or 0.1%, to 3104.
The broad S&P 500 has now ended in the green for three sessions in a row, while the Dow is on a four-session winning streak. The best performers on Wednesday could be found among energy, utility and financial stocks. The worst-performing sectors were technology and health care.
Traders had yet another round of corporate earnings to parse through. Bank of America (NYSE:BAC) posted a slim third-quarter profit, amounting to $0 a share. The second-biggest U.S. bank by assets said its total revenues came in at $20.4 billion. It wasn't immediately clear as to whether the results were comparable to estimates of a loss of 7 cents a share on $21.89 billion in sales.
Intel (NASDAQ:INTC) revealed adjusted earnings of 60 cents a share, beating estimates of 49 cents. Meanwhile, fellow technology heavyweight IBM (NYSE:IBM) said it earned $3.62 a share, excluding items, edging out estimates by a penny. Shares of both tech giants slid, costing the Dow close to 85 points combined.
PepsiCo (NYSE:PEP) revealed quarterly earnings of $1.21 a share, topping estimates of $1.16. The beverage and snack maker's sales were $16.65 billion, shy of the $16.9 billion analysts expected.
Results from American Express (NYSE:AXP) and eBay (NASDAQ:EBAY) are due after the close of trading.
Wall Street also received a batch of data on the U.S. housing market. The Commerce Department reported housing starts rose 15% to an annualized rate of 872,000 units in September from August, compared to expectations of 770,000. Housing permits jumped 11.6% to an annualized rate of 894,000 units, also topping forecasts of 810,000.
"If there was any doubt that the housing market was undergoing a recovery, even a modest one in the face of the terrible 2008 decline, those doubts should be erased by now," Dan Greenhaus, chief global strategist at BTIG, wrote in a note to clients.
"Builder sentiment has rising, mortgage rates have been falling, purchase activity is higher and housing starts have increased in four of the last six months."
Oil and gasoline prices fell in the futures market after a report from the Energy Department showed inventories of both swelling more than expected last week. The benchmark crude oil contract in New York fell 20 cents, or 0.22%, to $91.89 a barrel. Wholesale New York Harbor gasoline sold off by 2.5% to $2.775 a gallon.
In metals, gold rose $3.10, or 0.18%, to $1,750 a troy ounce.
Foreign Markets
The Euro Stoxx 50 gained 0.86% to 2570, the English FTSE 100 climbed 0.69% to 5911 and the German DAX drifted higher by 0.25% to 7395.
In Asia, the Japanese Nikkei 225 rallied 1.2% to 8607 and the Chinese Hang Seng rose 0.11% to 2301.