Better Rebound Play: GoPro Inc. or Fitbit Inc?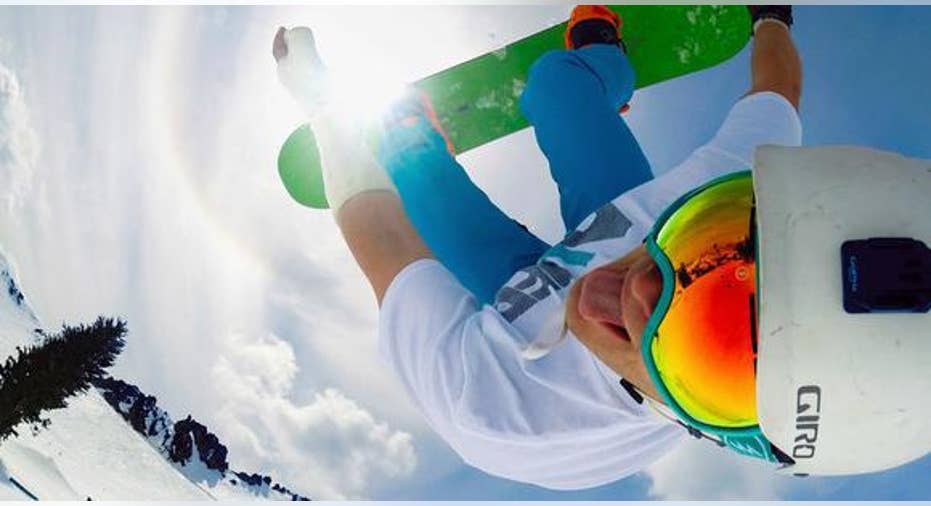 GoPro and Fitbit have both had a miserable year so far. GoPro shed more than 40% of its value due to slowing action camera sales and questionable demand for new products like VR rigs and drones. Fitbit stock fell over 50% due to concerns about its contracting margins in the face of new competitors. But after weathering those steep declines, has either stock become a potential turnaround play?
Image source: GoPro.
What happened to GoPro?GoPro's sales fell 49.5% annually to $183.5 million during the first quarter, which still beat analyst expectations by $14.5 million. The company posted a non-GAAP net loss of $86.7 million, or $0.63 per share, which missed estimates by three cents. Non-GAAP gross margin fell a whopping 1,260 basis points annually to 33%, due to pricing pressure and big markdowns on the Session. GAAP results plunged from a profit of $16.8 million a year ago to a loss of $107.5 million.
GoPro no longer offers quarterly guidance, but it expects sales to fall 7% to 17% annually this year to a range between $1.35 billion and $1.5 billion. GoPro expects the launch of the Karma drone and new Hero 5 cameras during the second half to boost sales, but both products could face fierce competition during the holidays. The impact of the drone could also be overstated -- Cowen & Co. analyst Robert Stone estimates thatKarma will only account for 2% of its top line this year due to competition and market saturation.
GoPro also discontinued the Hero, Hero+, and Hero+ LCD in April to streamline its product portfolio -- representing a complete reversal from last year's scattergun strategy. That move, which reduces the lineup to just three cameras (the Session, Silver, and Black), will likely cause sales to fall even further during the second quarter. GoPro stated that the Session, Silver, and Black accounted for 68% of its sell-through lastquarter. This means that about a third of its unit sales came from the cameras it just discontinued, and those potential customers could buy cheaper rival cameras over the next few quarters.
What happened to Fitbit?On the surface, Fitbit's first quarter earnings lookedmuch better than GoPro's. Revenue surged 50% annually to $505.4 million, beating expectations by $62.2 million. However, non-GAAP net income plunged 56% to $24.5 million, or $0.10 per share, which still beat expectations by seven cents. Like GoPro, its non-GAAP gross margin contracted, falling 320 basis points annually to 46.6%.
Fitbit's Blaze. Image source: Fitbit.
That bottom line decline was expected, since Fitbit already declared that it would boost its sales and marketing spend at the end of 2015. But there are still ongoing concerns that simply spending more might not be enough to fend off low-end challengers like Xiaomi, unified health platform rivals like Under Armour, and multi-purpose smartwatch makers like Apple.
Fitbit's guidance for the second quarter was also mixed. It expects sales to rise 41% to 46% annually, which exceeds the consensus estimate of 33% growth. But non-GAAP earnings are expected to decline another 48% to 62%, well below forecasts for 24% growth. For the full year, Fitbit expects sales to rise 34% to 40%, but earnings are only expected to improve 5% to 16%. That outlook indicates that margins will contract as Fitbit aggressively sacrifices margins to widen its moat.
Like GoPro, Fitbit has shifted its focus toward premium devices instead of the entry level Flex, One, and Zip. In 2015, 77% ofits revenue came from new high-end products like the Surge, Charge, and Charge HR. However, Fitbit arguablymuddied up its product line with new devices like the Alta and the Blaze, which might cannibalize sales of those devices. Fitbit admits that 40% of Alta and Blaze activations were from people who previously owned another Fitbit device.
Valuations and verdictGoPro's P/E ratio recently slid into negative territory due to quarterly losses and will likely remain there for at least two years, according to analyst estimates. Fitbit trades at 25 times earnings, which is higher than the industry average of 24 for the scientific instruments industry. That ratio also remains significantly higher than its projected earnings growth rate for this year.
Therefore, neither GoPro nor Fitbit look like good turnaround plays at current prices. GoPro is placing too much faith in its new flagship cameras and drones to carry its future growth, while Fitbit risks spending too much money to protect its market share. GoPro must prove that its new products can drive sales growth again, and Fitbit needs to be more disciplined in its spending before investors should consider buying either stock.
The article Better Rebound Play: GoPro Inc. or Fitbit Inc? originally appeared on Fool.com.
Leo Sun has no position in any stocks mentioned. The Motley Fool owns shares of and recommends Apple, GoPro, and Under Armour (A Shares). Try any of our Foolish newsletter services free for 30 days. We Fools may not all hold the same opinions, but we all believe that considering a diverse range of insights makes us better investors. The Motley Fool has a disclosure policy.
Copyright 1995 - 2016 The Motley Fool, LLC. All rights reserved. The Motley Fool has a disclosure policy.