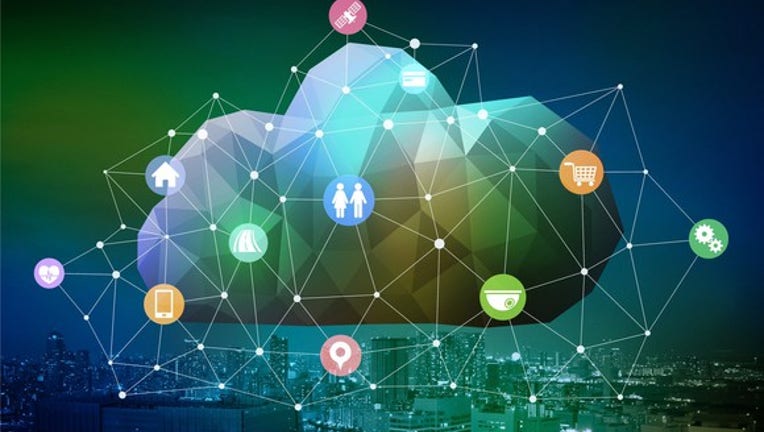 The cloud services industry is filled with high-growth companies, but their stock prices can be highly volatile. For example, cloud services vendor Twilio (NYSE: TWLO) skyrocketed from its IPO price of $15 to nearly $70 last year, but then tumbled back to the lower $30s. Meanwhile, cloud-based CRM (customer relationship management) provider Veeva Systems (NYSE: VEEV) went public at $20 in late 2013, soared to the mid-$40s, dove back below $20, and is now trading back in the mid-$40s.
Those price fluctuations have likely convinced many investors that both cloud stocks are too hot to handle. While Twilio and Veeva certainly aren't suitable core holdings for conservative portfolios, investors with a higher tolerance for risk should take a closer look at both high-growth plays.
Image source: Getty Images.
What do Twilio and Veeva do?
Twilio's cloud services platform lets developers integrate voice calls, SMS messages, videos, and other features into their apps. In the past, developers generally built these services from scratch, which was costly, buggy, and time-consuming. Outsourcing these tasks to Twilio's cloud service is faster, cheaper, more scalable, and more secure -- thanks to layers of security features placed between the users, apps, and cloud services.
That's why Twilio's customer base already includes massive customers like FacebookMessenger and WhatsApp, Uber, and Airbnb. If you've used phone numbers to add WhatsApp users, or contacted a driver from within the Uber app, then you've used Twilio's services before.
Veeva's cloud services platform provides CRM services for healthcare companies. Its technology is powered by Salesforce's SFA (Sales Force Automation) tools, and its core products include Veeva Vault, which tracks prescribing habits, clinical trials, and industry regulations; and Veeva Commercial Cloud, which helps drug companies maintain customer relationships.
Demand for Veeva's real-time services has been soaring, thanks to tough competition among drugmakers and rapidly shifting industry regulations. That's why healthcare heavyweights likePfizer, Bayer, and Amgen all use its platform.
How fast are Twilio and Veeva growing?
Twilio's revenue surged 60% annually to $82 million last quarter, beating expectations by nearly $8 million. Its "base" revenue (which excludes revenue from larger "variable customers" which didn't enter minimum revenue commitment contracts with the company) rose 73% annually to $75.3 million. Total active customer accounts rose 44% annually to 36,606, and its dollar-based net expansion rate -- which measures its revenue growth per customer -- surged 155%.
Veeva's revenue rose34% annually to $143 million last quarter, beating estimates by $7 million and marking its fourth straight quarter of 30%+ growth. The company attributed that growth to new cloud services, which lifted its revenue per customer, and new companies signing up for its Commercial Cloud. Its total subscription services revenue rose 39% to $114 million, indicating that the company is reeling in and locking in new customers.
Twilio expects its revenue to rise 31%-34% in fiscal 2017 (which started on Jan. 1). Veeva expects its revenue for fiscal 2017 (which ended on Jan. 31) to rise 32%, and analysts expect itsrevenue to grow another 21% in fiscal 2018.
How profitable are Twilio and Veeva?
Profitability can be very tough for cloud services companies, due to intense price competition, high marketing costs for securing new customers, high R&D expenses for expanding their ecosystems, and the liberal use of stock-based compensation to offset weak cash flows.
That's why Twilio remains unprofitable by both non-GAAP and GAAP metrics. Twilio's non-GAAP net loss narrowed to the breakeven point during the fourth quarter, but it still expects to post wider-than-expected non-GAAP losses for 2017. That bottom line pressure will likely be caused by aggressive investments in widening its moat. For example, it recently launched security, access management, and administration tools for bigger businesses, voice recording and analytics tools for developers, and programmable video for adding real-time voice and video to apps.
Veeva, however, is profitable by both non-GAAP and GAAP metrics, thanks to the relative maturity of its business and subscriber base. Its non-GAAP earnings rose 83% annually to $0.22 per share last quarter, and its GAAP earnings more than doubled to $0.15. Veeva expects its non-GAAP net profit to rise 33% to $0.68 per share for fiscal 2017, and analysts expect its earnings to rise another 18% in 2018.
The valuations and the verdict
Neither Twilio nor Veeva is a cheap stock. Twilio and Veeva respectively trade at 10 and 12 times sales, which are much higher P/S ratios than the industry average of 5 for software companies. Twilio's P/E is negative, due to its lack of profits, while Veeva trades at nearly 100 times trailing earnings. Veeva's forward P/E of 55 looks more reasonable, but it's still much higher than its projected earnings growth rate.
In the end, I think Veeva is a slightly better buy than Twilio, since its business has matured to the point that it can consistently grow its profits. Twilio isn't a bad speculative play, but it's still unclear if the company can eventually turn a profit in the future.
10 stocks we like better than Veeva SystemsWhen investing geniuses David and Tom Gardner have a stock tip, it can pay to listen. After all, the newsletter they have run for over a decade, Motley Fool Stock Advisor, has tripled the market.*
David and Tom just revealed what they believe are the 10 best stocks for investors to buy right now... and Veeva Systems wasn't one of them! That's right -- they think these 10 stocks are even better buys.
Click here to learn about these picks!
*Stock Advisor returns as of February 6, 2017
Leo Sun owns shares of Twilio. The Motley Fool owns shares of and recommends Facebook and Veeva Systems. The Motley Fool recommends Salesforce.com and Twilio. The Motley Fool has a disclosure policy.