Better Buy: Under Armour Inc vs. Nike Inc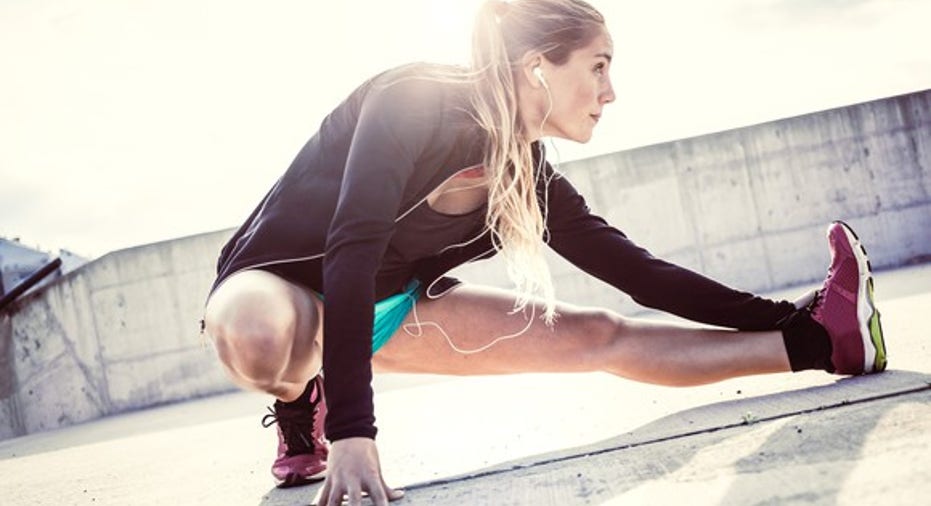 Image source: Getty Images.
The trend toward healthier living is helping to fuel the sales and profits of sports apparel companies. Nike (NYSE: NKE) has long reigned supreme in this arena, but hard-charging challenger Under Armour (NYSE: UA) (NYSE: UA-C) is steadily gaining share. So which stock is the better buy today? Read on to find out.
Star power
Nike dominates the athletic apparel market. With more than $30 billion in annual revenue, it's the 800-pound gorilla of the industry. Nike's strong financial position allows the company to sign megastars to endorse its products, and its cadre of elite athletes includes some of the biggest names in sports, such as Michael Jordan -- whose Jordan brand alone brings in nearly $3 billion in annual revenue for Nike -- and LeBron James, whom Nike reportedly signed to a lifetime contract for a cool $1 billion.
Yet Under Armour has proved adept at investing its more limited funds to partner with rising stars that are delivering tremendous value to its brand, such as recent two-time NBA league MVP Stephen Curry. Curry has given Under Armour global exposure during his team's championship runs and is helping to spearhead the company's rapidly growing sneaker business -- an area long dominated by Nike.
Nike's size and scale give it the edge when it comes to overall star power, but Under Armour is steadily chipping away at the giant's lead.
Advantage: Nike.
Growth and market opportunity
Nike's revenue grew 10% annually from 2011to 2016, while earnings per share increased at an annualized 14% during that same time. And in the first quarter of fiscal 2017, Nike's sales rose 8% year over year, to $9.1 billion.
In Under Armour's most recent quarter, revenue jumped 22%, to nearly $1.5 billion. That marked the company's 26th consecutive quarter of 20%-plus revenue growth. Moreover, Under Armour's annualized EPS growth over the last half-decade stands at 44%.
Looking ahead, Nike believes it can generate $50 billion in revenue by 2020. However, that would require annual sales growth to accelerate to about 11.5% over the next four years, something that may prove challenging considering the recent headwinds that have dragged on Nike's sales and margins.
It's true that Under Armour is also facing near-term pressure on its profits, but the company remains on track to reach its goal of $7.5 billion in sales by 2018. That would represent annualized growth of about 23.5% from the company's projected 2016 revenue of $4.925 billion.
It's clear that Under Armour has stronger growth potential than Nike from this point forward. At less than one-sixth the size of Nike, Under Armour can grow at an impressive rate for years before it even approaches Nike's current revenue base.
Advantage: Under Armour.
Leadership
Co-founder and longtime CEO Phil Knight remains a guiding light for Nike as chairman emeritus, but Mark Parker has helmed the company as CEO and board chairman since 2006. Parker is a Nike veteran who joined the business back in 1979, working his way up the ranks in his three decades of service. He sports an impressive 93% approval rating on job site Glassdoor, earning a place among Glassdoor's list of highest-rated CEOs in 2016.
Not to be outdone, Under Armour founder and CEO Kevin Plank is also widely regarded as one of the best business leaders in corporate America, something to which his 97% Glassdoor rating attests. Plank founded Under Armour in the basement of his grandmother's house in 1996. The business began as an idea he had for a shirt that would remain drier and lighter than the sweat-soaked cotton undershirts he had to repeatedly change out of during games as a player on the University of Maryland football team. The tenacious walk-on-turned-special-teams-captain eventually created a moisture-wicking prototype of what would become Under Armour's signature compression gear and began selling shirts out of the back of his truck.In the two decades since, Plank has built Under Armour into a business with nearly $5 billion in sales and a $12 billion market cap.
Plank is relentless in strengthening Under Armour's competitive position. He's proven that he's willing to sacrifice short-term profits in order to position the company to win in the long run. That approach has served Under Armour's long-term shareholders well, and should continue to do so for many years to come.
All told, Parker is an excellent CEO, but Plank -- with his founder's vision and passion -- comes in a notch ahead.
Advantage: Under Armour.
Valuation
With a projected forward price-to-earnings ratio of 36 for Under Armour's Class C shares, compared to 22 for Nike, Under Armour may at first appear to be the much more richly valued stock. However, in the context of the two companies' growth expectations, a different picture emerges. Analysts project Under Amour will grow its earnings by more than 20% annually over the next five years, versus less than 12% for Nike. As things stand, Under Armour's price-to-earnings-to-growth, or PEG, ratio is 1.80, compared to 1.83 for Nike. Seen in this light, Under Amour's and Nike's valuations are much closer than they first appear.
Advantage: None.
The better buy: Under Armour
Despite Nike's immense scale, Under Armour -- with its superior growth prospects and founder leadership -- looks like the stock best-positioned to reward shareholders in the years ahead.
10 stocks we like better than Under Armour (C Shares) When investing geniuses David and Tom Gardner have a stock tip, it can pay to listen. After all, the newsletter they have run for over a decade, Motley Fool Stock Advisor, has tripled the market.*
David and Tom just revealed what they believe are the 10 best stocks for investors to buy right now... and Under Armour (C Shares) wasn't one of them! That's right -- they think these 10 stocks are even better buys.
Click here to learn about these picks!
*Stock Advisor returns as of Nov. 7, 2016
Joe Tenebruso has no position in any stocks mentioned. The Motley Fool owns shares of and recommends Nike, Under Armour (A Shares), and Under Armour (C Shares). Try any of our Foolish newsletter services free for 30 days. We Fools may not all hold the same opinions, but we all believe that considering a diverse range of insights makes us better investors. The Motley Fool has a disclosure policy.