Better Buy: TransEnterix or Intuitive Surgical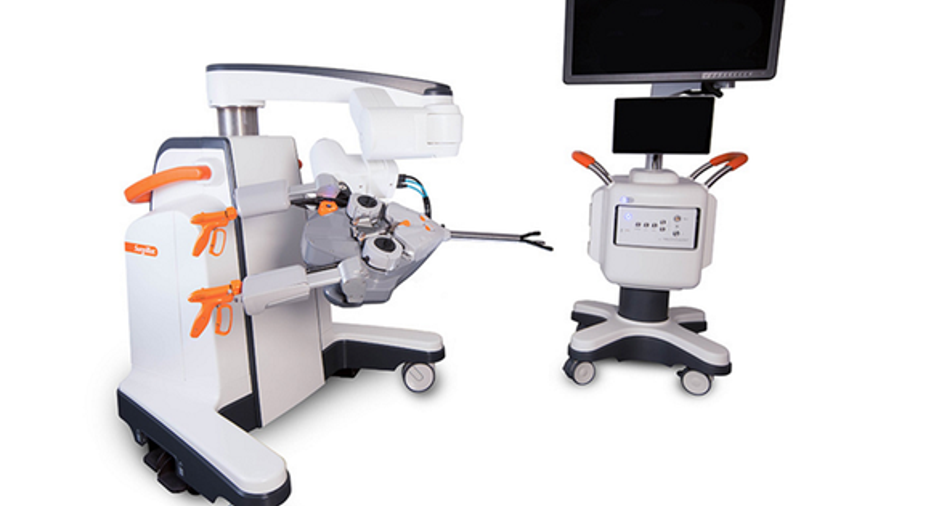 IMAGE SOURCE: TRANSENTERIX, INC.
Earlier this week, upstart TransEnterix, Inc. reported that the Food and Drug Administrationhad rejected its application for its SurgiBot robotic surgery system. The move could force TransEnterix to take on costly trials to prove SurgiBot's safety and efficacy, but with its shares down 50% in the past week, is its stock a better bargain than robotic surgery powerhouse Intuitive Surgical's ?
Tapping a big opportunityTransEnterix plans to chip away at Intuitive Surgical's dominance in the market for robotic surgery rested significantly on U.S. approval of SurgiBot, a mobile surgical system that management planned to price at a steep discount to Intuitive Surgical's systems.
If the FDA had approved SurgiBot under the 510(k) pathway, TransEnterix could have begun marketing the system to hospitals and surgery centers immediately. In preparation for that possibility, TransEnterix had been raising cash and hiring seasoned sales leaders.
That sales and marketing team hoped to establish SurgiBot's presence in a market valued at $3 billion plus annually. Currently, the industry is dominated by Intuitive Surgical, the company that pioneered the robotic surgery in the 1990s and has since installed more than 3,600 of its da Vinci surgical systems worldwide.
Despite Intuitive Surgical's long-standing presence in robotic surgery, however, only 652,000 of 4 million eligible procedures were conducted using Intuitive Surgical's da Vinci system last year. That suggests that there's still a massive opportunity for future growth for robotic surgery companies like these.
Stumbling at the finish lineTransEnterix plans to chip away at Intuitive Surgical, however, will have to wait.
On Wednesday, the FDA determined that TransEnterix's 510(k) application failed to establish that SurgiBot is substantially equivalent to a device already on the market. The decision came after the FDA requested additional information from TransEnterix in February that led to TransEnterix pushing back its timeline for a FDA decision from last month to this month.
Because the FDA has rejected approval under the 510(k) pathway, SurgiBot automatically gets classified by the FDA as a class III device that requires clinical testing and consequently, approval through the more stringent premarket approval, or PMA, pathway.
It's not clear if TransEnterix will pursue a clinical trial and PMA or if it will seek out another option. Depending on the reasons behind the FDA's rejection, the door may have been left open for TransEnterix to request de novo consideration. If granted, the FDA would shift SurgiBot to a class II device that could conceivably reach the market sooner.
If the door to de novo consideration has been closed, however, then the company appears to have limited options beyond seeking a PMA, and that could take a year or two and cost tens of millions of dollars.
Protecting its moatA delay to SurgiBot is bullish for the well-heeled Intuitive Surgical.
TransEnterix marketing plan includes hyping advantages SurgiBot offers to da Vinci, including room to room mobility, tactile feedback, and an articulating camera. Given that Intuitive Surgical's sales clock in at $2.4 billion and its cash stockpile exceeds $3.8 billion, it's hard to imagine that the company isn't already knee-deep in developing its own technologies that can insulate itself against SurgiBot's threat.
Adding conviction to that thinking is the fact that Intuitive Surgical spent $53 million on R&D in the first quarter, up from $44.4 million a year ago. To put Intuitive Surgical's research advantage over TransEnterix in perspective, consider that TransEnterix spent $29.7 million on R&D last year and that it had less than $50 million in cash on its books at the end of February.
Tying it togetherThe steep sell-off in TransEnterix shares may make it appear to be a bargain, but ultimately, it's only a bargain if the company can get a system on the market that can out-compete Intuitive Surgical. Frankly, the FDA's decision leaves me unconvinced that will happen. Perhaps, TransEnterix can improve its timeline using the de novo approach, but that's not a given. Fortunately, investors will get more insight into TransEnterix's plans when it reports its financials on May 10.
Overall, unless TransEnterix says something incredibly promising in May, it's hard for me to think that investors aren't better served sticking with Intuitive Surgical and taking a pass on TransEnterix. Intuitive Surgical already has a massive market penetration, a rock-solid balance sheet, and a top-notch research program. In my view, that positions it as the better buy.
The article Better Buy: TransEnterix or Intuitive Surgical originally appeared on Fool.com.
Todd Campbell has no position in any stocks mentioned. Todd owns E.B. Capital Markets, LLC. E.B. Capital's clients may have positions in the companies mentioned. The Motley Fool owns shares of and recommends Intuitive Surgical. Try any of our Foolish newsletter services free for 30 days. We Fools may not all hold the same opinions, but we all believe that considering a diverse range of insights makes us better investors. The Motley Fool has a disclosure policy.
Copyright 1995 - 2016 The Motley Fool, LLC. All rights reserved. The Motley Fool has a disclosure policy.