Better Buy: TransEnterix, Inc. vs. Medtronic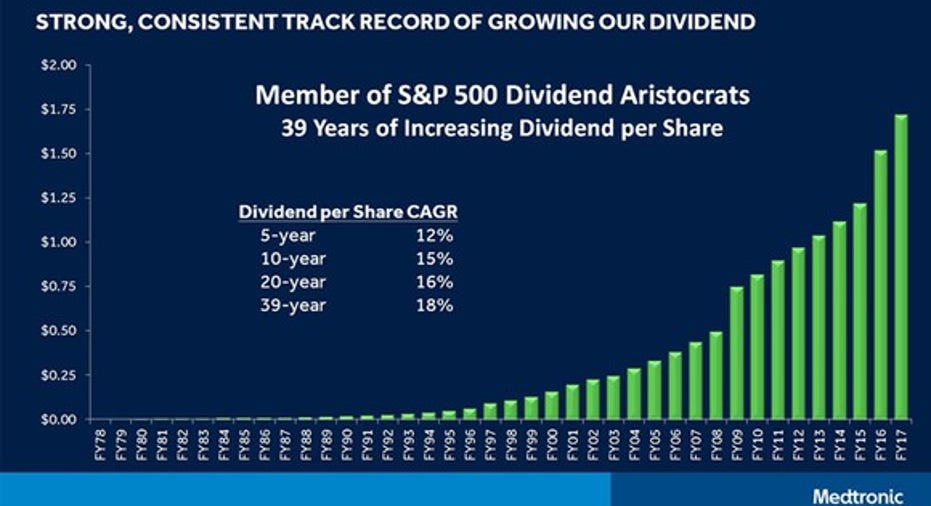 Medtronic(NYSE: MDT) and TransEnterix, Inc.(NYSEMKT: TRXC) both appear to be well-positioned to benefit from an aging global population and longer life spans, both of which should drive a sizable uptick in the demand for medical devices in the coming decades.Let's take a closer look at which company offers investors the better means of taking advantage of this demographic tailwind moving forward.
Image source: Getty Images.
Medtronic is a mature medical device company
Although a large-cap dividend aristocrat stock like Medtronic may sound like a boring pick compared to an up-and-comer like TransEnterix, there really is more than meets the eye with this top medical device company.
First off, Medtronic has a solid track record of posting modest single-digit revenue growth and double-digit EPS growth (when excluding the impact of any non-GAAP adjustments). Moreover, the company's headfirst foray into the mergers and acquisitions scene over the last six years has vastly broadened its global footprint, commercial portfolio, and overall scale, transforming it into the world's largest medical technology company.
This year, Medtronic has been working toward integrating these various acquisitions and streamlining its overall operations in order to improve profitability and increase its free cash flows going forward. And, if all goes as planned, the company should have the ability to continue upping its quarterly dividend on a regular basis in the years to come, as well as remain a leader in terms of innovation.
Image source: Medtronic.
Beyond its already healthy and still-improving fundamental picture, Medtronic also sports a diverse product portfolio consisting of implantable cardiac devices, a range of diabetes care products, and numerous other therapies that span the entire patient care continuum, from diagnosis to recovery. Put simply, Medtronic isn't a one-trick pony, which gives it a highly diversified revenue stream that can withstand the typical ebbs and flows of the global medical device market.
TransEnterix is a speculative bet on the red-hot robotic surgery market
TransEnterix is a small-cap robotic surgery company that offers tremendous upside potential -- yet stomach-wrenching levels of risk as well.
The company's story revolves around its two robotic surgery platforms: Senhance (previously known as the ALF-X system) that sportsCE Mark approval in the European Union for minimally invasive surgery procedures, and thedevelopmental-stageSurgiBot System that's designed to go head-to-head against Intuitive Surgical's market-leadingda Vinci surgical system.
The crux of the situation is that Senhance's commercialization in the EU remains in its nascent stages, with the company selling its first unit in Italy earlier this year. And, it's entirely unclear when, if ever, the FDA will clear the Surgibot System for sale inside the United States.
TransEnterix has tried to remain upbeat about the state of Surgibot's regulatory dance with the FDA. But the company simply hasn't been able to say anything definitive since the device's 510(k) submission was pushed back for its failureto meet the criteria for substantial equivalence to another previously approved product earlier this year.
So, with a dwindling cash pile that probably won't last past 2017, the company appears ripe for a sizable secondary offering sometime soon. Perhaps more worrisome, TransEnterix's core value proposition depends entirely on its ability to successfully navigate the FDA regulatory maze to break into the multibillion-dollar robotic surgery market -- a task it has yet to achieve. And that's before going head-to-head against the established market leader.
Which stock is the better buy?
In this match up, Medtronic is arguably a far better buy due to its stable cash flows, impressive product portfolio, and quarterly payout.TransEnterix, after all, has yet to even break into the all-important U.S. market, and its ultimate game plan is to take on the 800-pound gorilla that is Intuitive Surgical once its does so. That's a tall order for a small-cap company with extremely limited resources -- even if SurgiBot truly is a superior product to Intuitive'sda Vinci surgical system.
10 stocks we like better than Medtronic When investing geniuses David and Tom Gardner have a stock tip, it can pay to listen. After all, the newsletter they have run for over a decade, Motley Fool Stock Advisor, has tripled the market.*
David and Tom just revealed what they believe are the 10 best stocks for investors to buy right now and Medtronic wasn't one of them! That's right -- they think these 10 stocks are even better buys.
Click here to learn about these picks!
*Stock Advisor returns as of November 7, 2016
George Budwell has no position in any stocks mentioned. The Motley Fool owns shares of and recommends Intuitive Surgical. The Motley Fool owns shares of Medtronic. Try any of our Foolish newsletter services free for 30 days. We Fools may not all hold the same opinions, but we all believe that considering a diverse range of insights makes us better investors. The Motley Fool has a disclosure policy.