Better Buy: The Walt Disney Company vs. Coca-Cola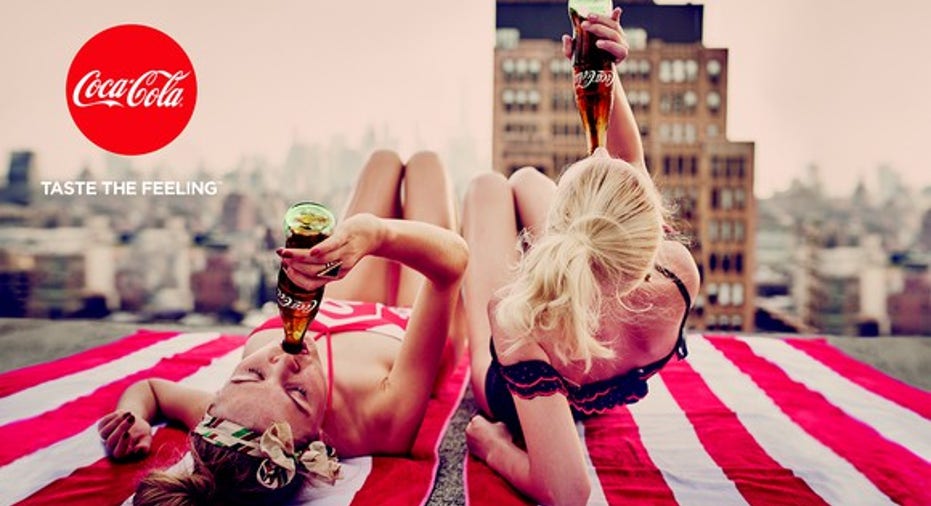 Image source: Coca-Cola.
When it comes to consumer-facing blue chips, it's hard to topDisney (NYSE: DIS) andCoca-Cola (NYSE: KO). The world's largest beverage company and the undisputed champ of family entertainment are killer brands.
They haven't necessarily been great investments this year, though. Shares of Coca-Cola are trading 3% lower year to date, and Disney stock is off by nearly 1% in 2016 through Thursday's close. Each well-known company has its present challenges. Coca-Cola is dealing with diminishing soda consumption trends. Disney is facing sluggish theme-park attendance and a decline in subscribers to its cable properties.
Thankfully for investors, both companies are making strong moves to make sure that they're not left on the outside looking in. Nobody wants to be a former blue chip.
Getting back into a good groove
Coca-Cola has been facing more than a decade of declining soft drink consumption, and that also includes consumers turning away from diet sodas. Coca-Cola has tried to diversify through acquisitions forOdwalla fruit juices, Fuze teas, ZICO coconut water, and Glaceau vitamin-fortified water. Internally it has also tried to innovate its way out of the negative trend. It has introduced more than 500 products this year alone.
Disney has battled cord cutters by striking deals to get ESPN, Disney Channel, and more of its growing catalog of movies and TV shows onto streaming platforms. It has also beefed up its arsenal of franchises through the acquisitions of Pixar, Marvel, and Lucasfilm. Disney has countered the flat theme park attendance by milking more money out of those going through its turnstiles in the form of price hikes and premium experiences.
Both companies are doing a good job of playing the macro cards that they've been dealt, but is it showing on financial statements? Coca-Cola's net revenue plunged 7% in its latest quarter. Foreign currency fluctuations, divestitures, and structural items weighed on its performance. Coca-Cola points out how organic revenue climbed 3%, and that it has now gained value share in thenonalcoholic ready-to-drink market for 37 consecutive quarters. It's still not where it needs to be, and Coca-Cola is targeting comparable earnings per share to decline by 4% to 7% for the entire year.
Disney is holding up better. It just capped off its fiscal 2016 year with revenue climbing 6% and earnings per share clocking in 17% higher. Wall Street expects more of the same in 2017. Analysts see Coca-Cola's revenue posting a double-digit decline. They see earnings per share rising to $1.99 from $1.91 in 2016, but that is still just less than it earned in 2015. Wall Street pros see Disney's top and bottom line rising just 4% in fiscal 2017, but it also had some of the biggest box office hits of the 2016 season that it's competing against in the year ahead.
Down the stretch
Coca-Cola is growing slower than Disney, yet it's the one trading at the loftier earnings multiple. Disney stock is trading at 17 times fiscal year 2017's profit forecast. Coca-Cola's trading at a headier 21 times next year's projected earnings.
Disney isn't the runaway winner here. Coca-Cola's business should offer a smoother ride, as its product is less susceptible than Disney in an economic lull. There's also the matter of yield, where Coca-Cola at 3.3% is paying out more than twice as much as Disney with its 1.5% rate.
However, it's hard to not pick Disney in this fight. It's growing faster than Coca-Cola, and it's trading at a more reasonable valuation. Coca-Cola may satisfy the more risk-averse investor, but Disney's the one poised to keep delivering gains through the next few years.
10 stocks we like better than Walt Disney When investing geniuses David and Tom Gardner have a stock tip, it can pay to listen. After all, the newsletter they have run for over a decade, Motley Fool Stock Advisor, has tripled the market.*
David and Tom just revealed what they believe are the 10 best stocks for investors to buy right now... and Walt Disney wasn't one of them! That's right -- they think these 10 stocks are even better buys.
Click here to learn about these picks!
*Stock Advisor returns as of Nov. 7, 2016
Rick Munarriz owns shares of Walt Disney. The Motley Fool owns shares of and recommends Walt Disney. The Motley Fool recommends Coca-Cola. Try any of our Foolish newsletter services free for 30 days. We Fools may not all hold the same opinions, but we all believe that considering a diverse range of insights makes us better investors. The Motley Fool has a disclosure policy.