Better Buy: Tesla Motors, Inc. vs. Volkswagen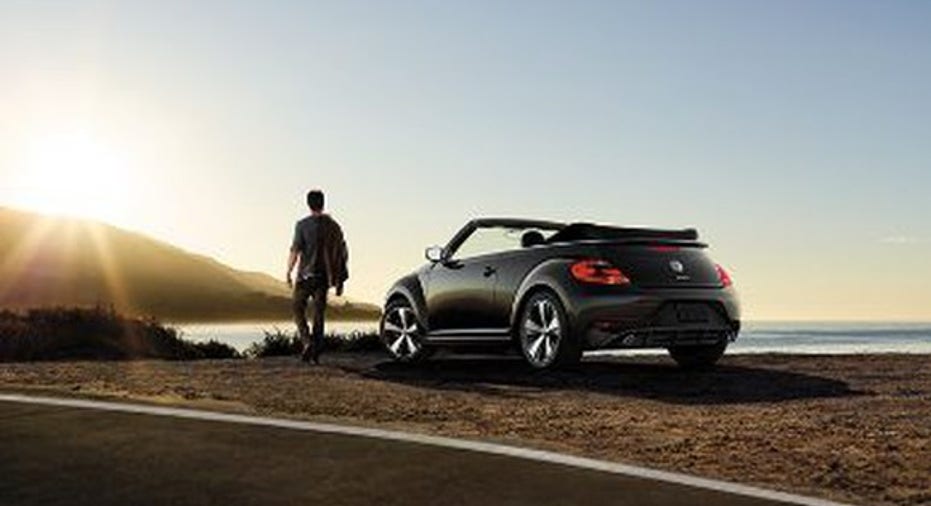 Image source: Tesla Motors.
The auto industry has seen some exciting times lately, and Tesla Motors and Volkswagen have largely been on opposite ends of the spectrum when it comes to investor sentiment. Tesla has revolutionized the electric vehicle industry, and its luxury offerings have made it a credible new force among automaker rivals with much longer histories. Volkswagen, meanwhile, has been embroiled in controversy concerning allegations that it deliberately sought to evade emissions-testing standards for its diesel vehicles. Both stocks have performed poorly, and some investors wonder if now might be a good time to see Tesla or Volkswagen as a value play. Let's take a look at how Tesla Motors and Volkswagen compare on some key metrics to see which deserves your attention right now.
Stock performance and valuation
Both Tesla and VW have lost considerable ground over the past year. Tesla is down 21% since the end of June 2015, but Volkswagen has taken an even bigger hit, falling more than 40% over the same period.
When it comes to conventional valuation metrics, Volkswagen and Tesla are difficult to compare because they're in such different stages of their corporate existence. As an upstart, Tesla hasn't yet reached consistent profitability, spending huge amounts of money on research and development and building out its production capacity. Volkswagen, on the other hand, has historically been profitable, but the charges that it has taken to pay for potential legal liability from the diesel emissions scandal have wiped out its bottom line over the past year.
Image source: Volkswagen.
On a forward basis, the difference in investor perception is even clearer. Tesla trades at a forward earnings multiple of more than 60, reflecting the fast growth investors expect along with the continued emphasis on building up business at the expense of short-term profitability. Meanwhile, investors in Volkswagen are more hopeful that the German car company will rebound from its woes, and their projections imply a multiple to forward earnings of just 7. Volkswagen clearly fits the traditional value mold more closely, although as we'll see below, there's a lot of uncertainty about whether it can actually deliver on an expected turnaround.
Dividends and capital flows
The fundamental difference between Volkswagen and Tesla also shows up in how the companies are handling their capital. Tesla has never paid dividends, and it hasn't made any other efforts to return capital to shareholders in its short history. Indeed, the company continues to raise capital through stock offerings, pulling in more than $850 million from such moves in 2015.
By contrast, Volkswagen has traditionally paid a sizable dividend to investors. However, the legal crisis it faces led Volkswagen to reduce its planned distribution dramatically. For the year, Volkswagen said it would distribute just 0.11 euros per share as its dividend, which represents a dividend yield of just 0.1%. That represents almost a complete elimination of the payout compared to the previous year's distribution of4.8 euros per share, which at the time represented a yield of 2% to 2.5% even with the stock being much higher. At least for now, neither Tesla nor Volkswagen looks attractive on a dividend basis.
Growth prospects and risks
Both Tesla and VW have the potential to grow, but both face challenges. For VW, the obstacles to growth are much clearer. The company did settle with the U.S. government, committing more than $15 billion to create a settlement fund for vehicle owners, contribute to clean-air projects in various states, build out zero-emissions infrastructure, and settle claims by various state and local governments. However, even that huge agreement doesn't eliminate Volkswagen's potential liability entirely. It only covers vehicles that have a specific 2.0-liter engine, leaving other models open to further litigation.The U.S. Department of Justice could also still decide to seek civil or criminal penalties.
Volkswagen will now also have to deal with skepticism about its ability to innovate, along withthe slowing economy in Europe, which could take a further hit from the U.K.'s Brexit vote. Both will make growth difficult for the German carmaker in the near term.
For Tesla, meanwhile, demand for its new vehicle lines has been strong. Yet the upstart is going through the growing pains of building out its manufacturing capacity, especially as it seeks to ramp up production volumes on its Model X SUV line. The company is working to improve quality to avoid product flaws, but the physical constraints on growth are still substantial.
Moreover, as Tesla shifts its attention toward the Model 3 mass-market vehicle, further challenges await. Tesla has set an ambitious schedule to get the Model 3's design and engineering completed and the production details for its body and battery systems ironed out. Combine that with the company's offer to buy out residential solar specialist SolarCity, and it's easy to see why shareholders aren't entirely certain whether Tesla can make good on its huge potential.
Overall, the biggest question in comparing Tesla and Volkswagen is whether the German automaker can regain the confidence of customers worldwide. That's a tall order, and even at low valuations, Volkswagen stock is currently a risky proposition. Even though Tesla has uncertainties of its own, its growth prospects have huge promise. As a result, Tesla gets my vote as being a better buy right now, despite the operational and corporate risks the electric-vehicle specialist has to manage in order to succeed.
The article Better Buy: Tesla Motors, Inc. vs. Volkswagen originally appeared on Fool.com.
Dan Caplinger has no position in any stocks mentioned. The Motley Fool owns shares of and recommends SolarCity and Tesla Motors. Try any of our Foolish newsletter services free for 30 days. We Fools may not all hold the same opinions, but we all believe that considering a diverse range of insights makes us better investors. The Motley Fool has a disclosure policy.
Copyright 1995 - 2016 The Motley Fool, LLC. All rights reserved. The Motley Fool has a disclosure policy.