Better Buy: TerraForm Power Inc vs. TerraForm Global Inc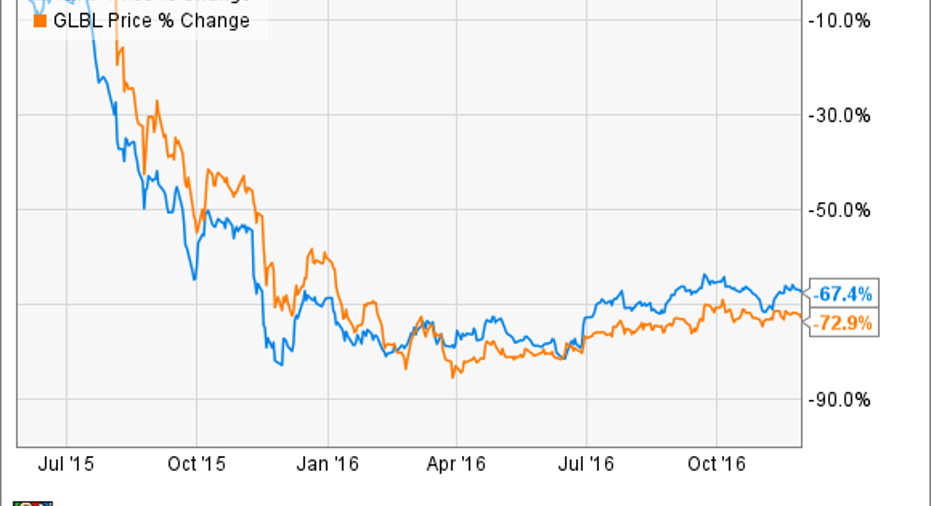 To say it's been a rocky journey from initial public offering to potential buyout forTerraForm Power Inc(NASDAQ: TERP)andTerraForm Global Inc(NASDAQ: GLBL)would be an understatement. The companies were the creation of SunEdison, once a high-flying renewable energy company with grandiose plans for growth at its two high-profile yieldcos.
Image source: Getty Images.
As you can see below, both stocks have plunged since their IPOs. But they've recovered from lows hit a year ago and may finally be worth considering. Here's a look at which is a better investment.
The known unknown
The major challenge for both TerraForm Power and TerraForm Global is that they're tied to SunEdison. Not only does the bankrupt developer own a controlling stake in the companies, the three entities use the same back office systems,which is why neither TerraForm Power or TerraForm Global have produced financial statements in over a year now.
Despite these challenges, TerraForm Power should still have value because its domestic assets generate long-term contracted cash flows from utilities. And that value has attracted investors like Appaloosa Management and Brookfield Asset Management, who are reportedly preparing to bid on SunEdison's stake in the company.
If a third party ends up buying out SunEdison's stake in TerraForm Power, but not the entire company, there could definitely be upside for investors once SunEdison is cut out of the equation. We don't know what kind of value is left or what the potential dividend yield might be, but if investment funds are interested in buying SunEdison's stake you can bet they're not going to do so at a premium. Under this scenario, it would give public investors upside after a potential buyout takes place and is left to grown on its own without the issues of SunEdison.
The unknown unknown
There are bigger questions facing TerraForm Global, which owns renewable energy projects around the world. In India, for example, debt repayments could be accelerated if there's a change in control of the company and some power purchase agreements could be in trouble if SunEdison's stake is bought out.
While we know something about the stability of TerraForm Power's contracts and who may eventually be interested in buying the company, we know very little about TerraForm Global's stability today. The fact that there haven't been any financial statements released for over a year is questionable, and if a buyer doesn't emerge for the asset soon it could lead to bankruptcy. And then debt holders would get any value left in the company's projects.
To make matters worse, there are still outstanding lawsuits related to over $231 million TerraForm Global paid to SunEdison for incomplete projects in India before SunEdison's bankruptcy. This company is a mess and it's a huge unknown for investors today.
The only choice in the TerraForms today
It isn't without risk, but TerraForm Power is definitely the better bet among these two companies. Its contracts aren't in question and big-name buyers are interesting in scooping up shares of the company's stock. That's a positive sign for the company and its stock, which may finally recover if SunEdison sells its controlling stake sometime next year.
10 stocks we like better than TerraForm Power When investing geniuses David and Tom Gardner have a stock tip, it can pay to listen. After all, the newsletter they have run for over a decade, Motley Fool Stock Advisor, has tripled the market.*
David and Tom just revealed what they believe are the 10 best stocks for investors to buy right now... and TerraForm Power wasn't one of them! That's right -- they think these 10 stocks are even better buys.
Click here to learn about these picks!
*Stock Advisor returns as of November 7, 2016
Travis Hoium has no position in any stocks mentioned. The Motley Fool has no position in any of the stocks mentioned. Try any of our Foolish newsletter services free for 30 days. We Fools may not all hold the same opinions, but we all believe that considering a diverse range of insights makes us better investors. The Motley Fool has a disclosure policy.