Better Buy: Teck Resources Ltd vs. Vale SA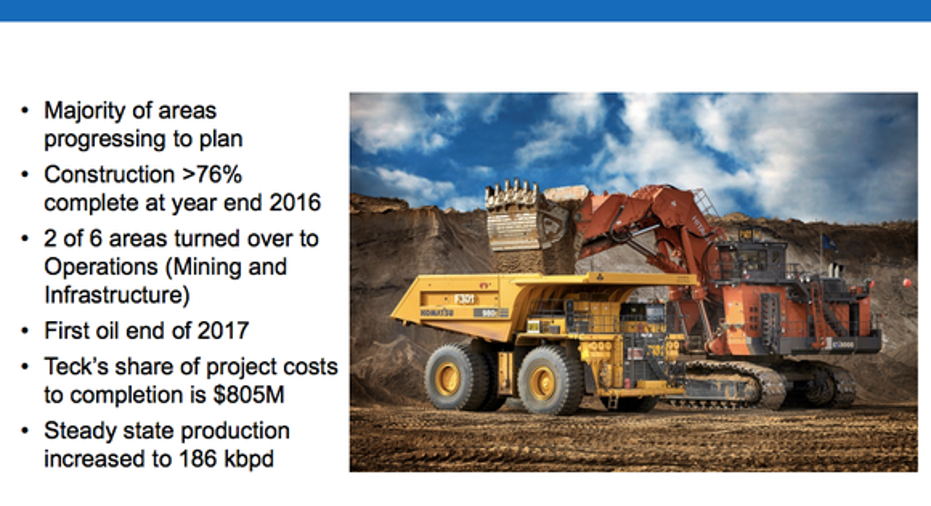 Teck Resources Ltd (NYSE: TECK) and Vale SA (NYSE: VALE) are miners that supply key materials to the steel industry. That's been a pretty turbulent business lately, leading to volatile stock prices for this pair. But Vale is facing a huge risk that isn't an issue for Teck, which makes the Canada-based miner a better option than its Brazilian counterpart.
Getting near the end, but not there yet
Vale, which gets around 70% of its net operating revenue from its iron business, has a potentially huge legal problem. In late 2015, a mine waste containment dam at the Samarco Mine, owned 50-50 with BHP Billiton, ruptured and destroyed two towns. It also killed multiple people. Although Vale and BHP quickly reached a settlement with the Brazilian government, an additional $40 billion lawsuit was filed over the incident.
Image source: Vale SA.
There has been progress on the legal front, with an agreement between both sides that something will be worked out by June of this year. However, until that "something" is a known quantity, Vale has a huge multibillion-dollar risk hanging over its head. Investors should probably avoid shares of Vale until there's more clarity, even though Vale has done a great deal of work lowering debt and reducing costs to better compete in a difficult commodity market. The potential legal risk is just too big.
Diversifying into oil
The picture at Teck, on the other hand, is completely different. Like Vale, Teck has been working hard to hold the line on costs and trim debt. It's done a wonderful job. For example, long-term debt has fallen by roughly $1 billion since the third quarter of 2015. That's a nearly 11% decline in a little over a year. On the cost front, its expenses came in lower than guidance in its metallurgical coal and copper businesses in 2016, while it managed to hit production records in coal and zinc (its third major commodity).
More important, however, is the fact that Teck doesn't face the kind of legal liability that Vale's got hanging over its head. The biggest risk Teck faces is the construction of the Fort Hills Oil Sands project, of which it owns 20%. But this risk is vastly different in nature. Teck knows it has to pay out roughly $800 million to get to first oil by the end of 2017 (the project was about 75% complete at year-end 2016). But it has roughly $1.5 billion in cash and a $3 billion undrawn credit facility to help get it there.
Teck Resources most recent Fort Hills update. Image source: Teck Resources Ltd.
The best part of Fort Hills, however, is that it increases diversification, taking Teck from three primary commodities to four. And it adds an asset with a 50-year reserve life to the portfolio. It could take until the end of 2018 for Fort Hills to be contributing in a meaningful way, but when it does, Teck's overall business will be vastly different from what it is today, in a good way. That's a far more appealing risk/reward trade-off than what Vale offers right now.
Stay with the safe play
There's no question that Vale is one of the most important players in the iron ore business. However, it's got a huge potential liability related to the Samarco disaster. That's just not worth the risk for most investors, since a bad outcome there could create a major financial headwind for the miner. Teck, which still has to pay for its share of Fort Hills construction, is in much better shape and the outcome of its "big" risk is almost certainly going to be positive. Investors are better off playing it safe and going with Teck over Vale.
10 stocks we like better than Teck ResourcesWhen investing geniuses David and Tom Gardner have a stock tip, it can pay to listen. After all, the newsletter they have run for over a decade, Motley Fool Stock Advisor, has tripled the market.*
David and Tom just revealed what they believe are the 10 best stocks for investors to buy right now... and Teck Resources wasn't one of them! That's right -- they think these 10 stocks are even better buys.
Click here to learn about these picks!
*Stock Advisor returns as of February 6, 2017
Reuben Brewer has no position in any stocks mentioned. The Motley Fool owns shares of Companhia Vale. The Motley Fool has a disclosure policy.