Better Buy: Spirit Airlines or Volaris?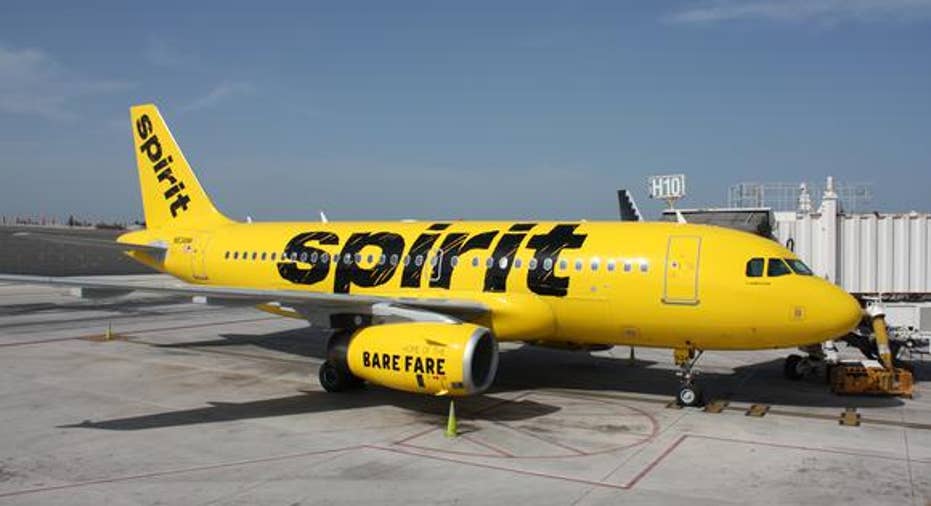 In the past decade, ultra-low cost carriers have burst onto the scene in the airline industry. These airlines have grown rapidly by cutting costs to the bare minimum and using the savings to offer low base fares that stimulate more air travel among price-sensitive consumers. Typically, ULCCs derive a large portion of their profits from fees charged above and beyond base fares.
Ultra-low cost carriers have grown rapidly in recent years. Image source: Spirit Airlines.
Spirit Airlines is the largest ULCC in the United States. Volaris is the largest in Mexico. Let's take a look at which of these two is the better bet for investors right now.
Diverging performanceOver the past two years, the share prices of Spirit Airlines and Volaris have tended to move in opposite directions. During 2014, Volaris shares slumped as the company struggled with persistent overcapacity in the Mexican market. Meanwhile, Spirit Airlines soared as it capitalized on strong travel demand in the U.S. and -- near the end of the year -- falling oil prices.
In 2015, the roles were reversed. Supply growth began to outpace demand in the U.S., leading to steep unit revenue drops across the U.S. airline sector. Spirit was the worst-hit as larger rivals started to match its low fares to keep their planes full. Meanwhile, Volaris stock surged as its revenue began to recover while fuel costs fell dramatically.
Spirit Airlines vs. Volaris Stock Performance: 2014-present, data by YCharts.
Spirit Airlines shares began to recover this year, but they have pulled back more than 15% in the past couple of weeks even though Spirit beat its initial margin guidance for Q1. Meanwhile, Volaris stock has maintained its upward momentum.
Plenty of growth to go aroundSpirit Airlines and Volaris both have ample growth opportunities ahead of them. Spirit CEO Bob Fornaro stated last month that he expects the carrier's capacity to rise a little more than 20% this year and about 18.5% in 2017.
Fornaro sees a 15%-20% annual growth rate as sustainable for the foreseeable future. And the company believes it could earn a 15% or higher operating margin in more than 500 markets beyond the roughly 190 it serves today. It would take more than a decade of double-digit growth for Spirit to capitalize on all of these opportunities.
Volaris has equally big growth opportunities. The company plans to expand seat capacity by about 18% in 2016 and 19% in 2017, and it has the flexibility to maintain this high growth rate beyond 2017.
Like Spirit, Volaris has identified hundreds of routes that it doesn't serve today that could meet its financial performance goals. Additionally, the Mexican air travel market is still maturing, so a lot of Volaris' growth will come from adding more flights on existing routes.
Volaris has the momentumVolaris' profitability has been on a strong upward trajectory recently. During 2015, its operating margin increased by more than 12 percentage points year over year, reaching 13.8%. For the full year, total revenue per available seat mile (TRASM) increased 9%, while unit costs declined 4.6% thanks to lower fuel prices. Volaris' operating margin expanded by another 6.9 percentage points in Q1 of 2016.
Volaris' profitability has surged in the past year and a half.
By contrast, Spirit Airlines' unit revenue has plummeted recently. In 2015, TRASM declined 14.7% year over year. TRASM declined another 13.8% last quarter.
During 2015, Spirit's profit margin continued to rise despite its weak unit revenue performance because of the impact of lower fuel prices. However, its operating margin declined by 0.8 percentage points to 21.9% in Q1, suggesting that its profitability may be plateauing.
Spirit Airlines is a better valueSpirit Airlines and Volaris both have huge upside due to their massive growth opportunities, and I own shares of both companies. In the short term, there's a good chance Volaris' solid unit revenue and margin growth trajectory will drive continued outperformance for its stock relative to other airline stocks.
Nevertheless, if I had to pick just one of these two stocks to buy right now, it would be Spirit Airlines. While Spirit's operating margin is starting to recede a bit, that's mainly because it was so high in the first place. Conversely, Volaris' operating margin is still recovering from a very weak 2014 performance.
In the long run, Spirit and Volaris are likely to have comparable profit margins and growth rates. As a result, they should probably trade at similar revenue multiples.
Spirit Airlines vs. Volaris Price-to-Sales Ratio: 2014-present, data by YCharts.
Instead, as the chart above shows, Spirit Airlines now trades at a substantial discount to Volaris on a price-to-sales basis. That's a huge reversal from where things stood just a year ago. Spirit Airlines stock also trades for far less than its typical revenue multiple, which makes the stock a great bargain for long-term investors.
The article Better Buy: Spirit Airlines or Volaris? originally appeared on Fool.com.
Adam Levine-Weinberg owns shares of Volaris and Spirit Airlines and is long June 2016 $12.5 calls on Volaris, short June 2016 $20 calls on Volaris, and long June 2016 $30 calls on Spirit Airlines. The Motley Fool recommends Spirit Airlines. Try any of our Foolish newsletter services free for 30 days. We Fools may not all hold the same opinions, but we all believe that considering a diverse range of insights makes us better investors. The Motley Fool has a disclosure policy.
Copyright 1995 - 2016 The Motley Fool, LLC. All rights reserved. The Motley Fool has a disclosure policy.