Better Buy: Silver Wheaton Corp. vs. Barrick Gold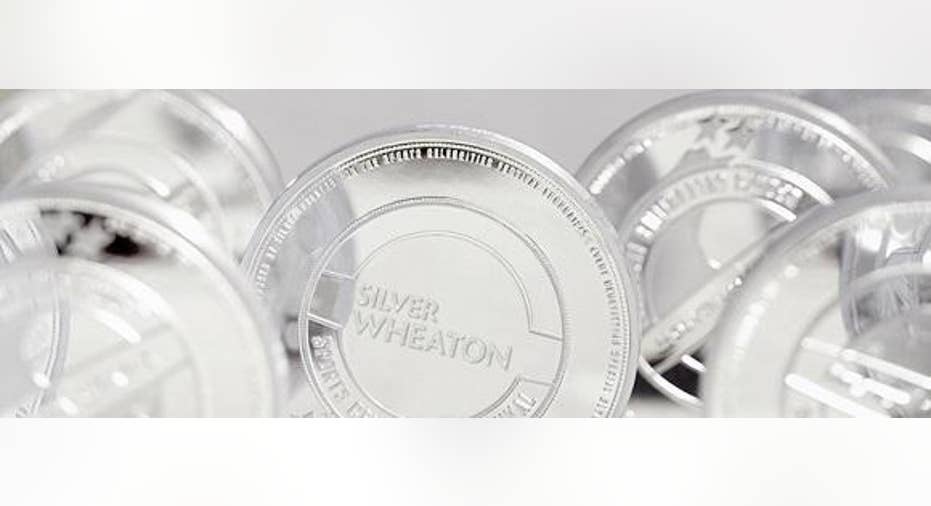 Image: Silver Wheaton.
The precious-metals markets have been under pressure for several years, and companies such as silver-streaming specialist Silver Wheaton and mining giant Barrick Gold have both seen their stocks plunge from their highs from earlier in the decade. More recently, though, some investors have started to see the potential in gold and silver, and the turnaround in those two commodity markets have lifted prices of related company stocks as well. Those looking at gold and silver stocks for opportunities want to know which of these two is the better buy. Let's compare Silver Wheaton and Barrick Gold on several key metrics to see which looks more attractive currently.
Stock performance and valuation The share prices for Silver Wheaton and Barrick Gold have been under pressure for a long time, but more recently, the two stocks have perked up much more extensively. In just the past three months, both companies have seen their shares rise about 75%, bouncing aggressively from their January lows.
It's hard to compare Silver Wheaton and Barrick Gold on simple backward-looking valuation metrics because both companies have been under considerable financial pressure. Both companies have had to take impairment charges to write down the value of their respective assets in response to unfavorable price conditions in the gold and silver markets. That has left Silver Wheaton with insubstantial profits that leave it trading at a trailing earnings multiple of more than 100, and Barrick Gold has lost money over the past 12 months that make earnings multiples meaningless.
Looking forward, though, both Silver Wheaton and Barrick Gold expect to become profitable, and their valuations are strikingly similar. Based on future earnings projections, both companies currently have their share prices at about 27 times forward earnings. When you look at valuations and recent performance, Barrick Gold and Silver Wheaton look very similar.
DividendsRelatively few precious-metals-related companies pay dividends at all, so it's noteworthy that Silver Wheaton and Barrick Gold each reward their shareholders with regular quarterly payouts. Their yields aren't particularly attractive, however. Silver Wheaton currently pays a 1.1% dividend yield, and that beats out the 0.5% yield that Barrick Gold is paying shareholders currently.
Both companies have had to take steps to control their return of capital to shareholders by reining in dividends in past years. Silver Wheaton ties its dividend to its financial performance, and its payout has fallen by close to two-thirds as a result of the drop in silver and gold prices. Similarly, Barrick Gold decided a bit less than a year ago to cut its dividend by 60%, arguing that it needed to keep more capital to adapt to changing conditions in the precious-metals markets and take advantage of potential strategic opportunities. For dividend investors, Silver Wheaton ekes out a small victory over Barrick Gold.
GrowthSilver Wheaton and Barrick Gold have been in the business long enough to know how to get through cyclical downturns in the precious-metals industry, and they've focused on setting up long-term strategies that will take advantage of current conditions over time. Silver Wheaton has worked hard to enter into new financing deals with struggling mining companies, knowing that now is the time to strike when miners have little leverage and the streaming company can extract extremely favorable terms by providing vital cash. Shareholders haven't necessarily been happy with the company's decision to sell shares in a secondary offering in order to raise capital, but if silver and gold prices keep climbing from their recent lows, then the moves to expand Silver Wheaton's exposure will pay off with larger share-price gains.
Unlike Silver Wheaton, Barrick Gold has to deal directly with the pressures of running mining operations, and long-term problems haven't disappeared. Efforts to cut costs and improve profitability have been positive for the company, but the ongoing challenges of dealing with disputes like those surrounding its key Pascua-Lama property on the Chilean-Argentinian border could hold back Barrick from finding as much growth as investors would like. Barrick's low-cost production gives it higher profit potential, but it still needs rising precious metals prices in order to take full advantage.
Right now, Silver Wheaton appears to have the better set of attributes for precious-metals investors, providing maximum exposure to any potential uptick in gold and silver prices. By contrast, Barrick Gold has more obstacles to overcome before it can declare victory over the cyclical downturn in precious metals and move forward more aggressively toward growth.
The article Better Buy: Silver Wheaton Corp. vs. Barrick Gold originally appeared on Fool.com.
Dan Caplinger has no position in any stocks mentioned. The Motley Fool owns shares of Silver Wheaton. (USA). Try any of our Foolish newsletter services free for 30 days. We Fools may not all hold the same opinions, but we all believe that considering a diverse range of insights makes us better investors. The Motley Fool has a disclosure policy.
Copyright 1995 - 2016 The Motley Fool, LLC. All rights reserved. The Motley Fool has a disclosure policy.