Better Buy: Sierra Wireless, Inc. vs. Cisco Systems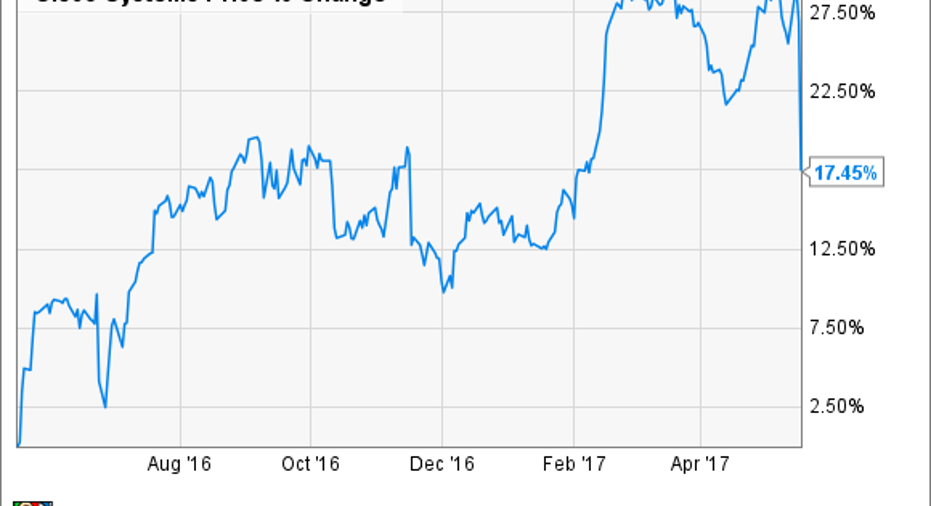 Sierra Wireless (NASDAQ: SWIR) and Cisco Systems (NASDAQ: CSCO)are both making huge bets on the Internet of Things -- where 100 billion devices will be connected to the Internet by 2021 -- with the hopes of benefiting from its $1.29 trillion potential market which is expected to emerge by that year..
Sierra Wireless is small-cap company worth just $917 millionand makes embedded wireless modules for everything from drones to industrial energy equipment to connected vehicles.
Image source: Getty Images.
Meanwhile Cisco is a $171 billion tech conglomerate that makes more than half of its revenue from selling routers and switches and is trying to pivot itself away from its slowing legacy business.
Let's take a look at how these companies are growing, how they could benefit from the IoT, and what's holding them back. Then we'll know which stock is the better buy right now.
The case for Sierra Wireless
Sierra has been a bit of a wild ride for investors over the past few years. The company's share price is up more than 30% over past 12 months, but down more than 40% from its high in 2015.
Sierra managed to grow revenue by 13.3% in the first quarter 2017, which came in higher than the company's own guidance.The companyreported a GAAP net income and earnings loss, but on a non-GAAP basis (which excludes stock-based compensation and acquisition expenses), the company's earnings per share jumped 200% year over year and net income was up 196%..
The latest quarter proves that Sierra is doing a good job of growing its business. In the first quarter, OEM solutions revenue was up 10% year over year, enterprise solutions was up nearly 45%, and cloud and connectivity was up 2%, year over year. The cloud segment was actually up 4% on a constant currency basis and investors should note that Sierra has continued to add more customers in this market, which should pay off down the road.
According to Sierra, the company commands about 33% of the wireless embedded market, which puts it in prime position to continue benefiting from IoT demand.The one thing Sierra investors should keep an eye on is the company's margins as more players enter the IoT space and Sierra fights for more business. But investors should be pleased to see that GAAP gross margins improved from 46.8% in Q1 2016 to 55.7% in Q1 2017.
The case for Cisco Systems
Cisco is in the middle of a shift away from its slowing routers and switches business to more lucrative recurring revenue from software and services. While that transition has caused some turbulence at times, it's also beginning to pay off.
The company's revenue declined by 1% in the fiscal third quarter 2017, to $11.9 billion,while net income was up 7% and EPS jumped 9% year over year. One of the key takeaways for the company in the third quarter was that 31% of its total revenue now comes from recurring revenue, up from 29% in the third quarter last year.
Cisco's CFO, Kelly Kramer, said in a statement: "We will continue to invest in growth areas as we move the business toward more software and recurring revenue and return value to shareholders."
The company has been able to grow recurring revenue, at least in part, through acquisitions. Cisco bought the application intelligence software company AppDynamics for $3.7 billion at the beginning of this year to boost its software and services offerings (75% of AppDynamics' product revenue comes from software and services), and also purchased an artificial intelligence company and networking company recently as well.
Despite the positive moves, investors sent Cisco's stock tumbling after the third-quarter results because management said full-year revenue will be down 4% to 6% compared to last year.
The verdict
I think both companies are making smart decisions that are putting them in the best possible position, making this comparison too close to call. Sierra has a lot of exposure to the IoT and its potential to benefit is huge. The company's nimble size, leadership in the embedded IoT space, and growth from its core businesses mean this stock could be poised for much more growth. Investors should know that Sierra will likely remain volatile for a bit, but that's the nature of investing in a small-cap company that's betting on a new technology shift.
Meanwhile, Cisco is making solid strides to growing its software and services, primarily by snatching up companies. Investors looking for less volatility and a dividend payout with a long-term bet on IoT probably can't go wrong with Cisco.
10 stocks we like better than Sierra WirelessWhen investing geniuses David and Tom Gardner have a stock tip, it can pay to listen. After all, the newsletter they have run for over a decade, Motley Fool Stock Advisor, has tripled the market.*
David and Tom just revealed what they believe are the 10 best stocks for investors to buy right now... and Sierra Wireless wasn't one of them! That's right -- they think these 10 stocks are even better buys.
Click here to learn about these picks!
*Stock Advisor returns as of May 1, 2017
Chris Neiger has no position in any stocks mentioned. The Motley Fool owns shares of and recommends Sierra Wireless. The Motley Fool recommends Cisco Systems. The Motley Fool has a disclosure policy.