Better Buy: Royal Gold, Inc. vs. Newmont Mining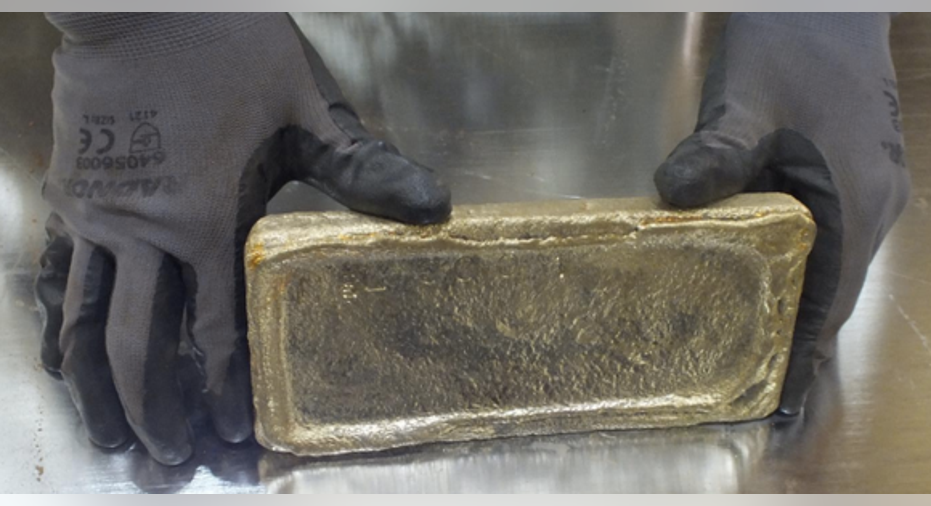 With the election of Donald Trump, the big question for gold investors is whether the uptrend that started earlier in the year is still intact, or the steep precious-metals decline following election results is the new normal.
While investors and miners probably can't predict that future, they can focus on one thing that's key to profitability -- costs. Newmont Mining (NYSE: NEM) is doing a great job on that front, but streaming-focused Royal Gold, Inc. (NASDAQ: RGLD) might be even better.
A Newmont gold bar. Image source: Newmont Mining.
What it costs
Digging gold and silver out of the ground is an expensive process. Miners first have to find a good place to dig. With any luck a miner finds enough precious metals to make the often years-long effort and expense of building a mine worthwhile. And then, over time, the cost of running a mine usually increases, making it less and less profitable to operate. It ends up being a vicious cycle, with miners always on the lookout for new mines to make up for their older, more expensive ones.
It's a constant struggle to keep costs in check. And when precious-metals prices are high, miners sometimes take their eyes off the ball, letting costs creep up. For example, Newmont Mining's all-in sustaining costs, a measure of how much it costs to pull an ounce of gold out of the ground, were $1,170 per ounce in 2012 when gold prices were higher. In 2016, chastened by lower gold prices, the miner expects to trim its all-in sustaining costs to as low as $870 an ounce.
Newmont Mining portfolio changes. Image source: Newmont Mining.
Those figures, however, exclude a mine called Batu Hijau that Newmont recently agreed to sell. What's interesting about this is that the sale is an example of the company's recent effort to focus on its best assets, so that it can keep costs in check. In fact, the miner has agreed to sell, or has sold, five mines recently. The average remaining reserve life of these mines was less than five years, and the costs were in the range of $800 to $900 an ounce. The company has reinvested in mines with remaining lives of more than 10 years and costs of below $700 an ounce.
So you get the idea: Newmont is working hard to make sure it controls the part of the gold business it can -- costs.
Another side
On that score, Newmont has done a fine job. But what if there was another investment option where low costs are pretty much built into the model? That would be Royal Gold, which is a streaming and royalty company, not a miner. Essentially, Royal Gold gives money up front to miners for things like building new mines, expanding projects, or just shoring up balance sheets. In exchange for that cash, miners agree to sell precious metals to Royal Gold at reduced rates in the future.
It's a good deal for both companies, since miners can avoid issuing dilutive stock, selling bonds, or dealing with stingy banks. And Royal Gold gets to buy gold and silver at often great prices. For example, in 2015, when gold prices were in the dumps, Royal Gold inked a $610 million streaming deal with Barrick Gold (NYSE: ABX) in which it will pay 30% of the spot price for gold and silver up to set production targets and, thereafter, pay 60% of the spot price.
Basically, Royal Gold locked in a profit on the gold and silver it buys as a result of the Barrick deal. The price of the precious metals don't matter; high or low, Royal Gold makes a profit. Every agreement the company makes is pretty much like that, though the actual prices paid for the metal vary deal by deal. The takeaway is that Royal Gold's business model is low-cost by nature, and it doesn't have to deal with any of the mining issues (like rising costs over the life of a mine) that a miner does.
RGLD Dividend Per Share (Quarterly) data by YCharts.
Adding a little icing to the cake is that during gold's darkest days, Royal Gold was able to make a number of deals to expand its footprint. Thus, its royalty production in the fiscal first quarter was 34% higher than the same period in fiscal 2016. That helps explain why it just upped the dividend by 4.4%; it's increased its dividend payment every year since 2001. (Newmont's dividend is tied to gold prices and is thus highly variable.)
Cheap by nature
There's no way to predict the price a precious-metals company will get for the gold it sells. But if you focus on companies that keep their costs as low as possible, you'll be in a better position as an investor. On that score, Royal Gold stands out, because its entire business model is based around low costs. If you are looking for a precious-metals company that can withstand tough times and do well in good times, Royal Gold needs to be on your short list.
Forget the 2016 Election: 10 stocks we like better than Newmont Mining Donald Trump was just elected president, and volatility is up. But here's why you should ignore the election:
Investing geniuses Tom and David Gardner have spent a long time beating the market no matter who's in the White House. In fact, the newsletter they have run for over a decade, Motley Fool Stock Advisor, has tripled the market.*
David and Tom just revealed what they believe are the ten best stocks for investors to buy right now... and Newmont Mining wasn't one of them! That's right -- they think these 10 stocks are even better buys.
Click here to learn about these picks!
*Stock Advisor returns as of November 7, 2016
Reuben Brewer has no position in any stocks mentioned. The Motley Fool has no position in any of the stocks mentioned. Try any of our Foolish newsletter services free for 30 days. We Fools may not all hold the same opinions, but we all believe that considering a diverse range of insights makes us better investors. The Motley Fool has a disclosure policy.