Better Buy: Rockwell Automation or Emerson Electric?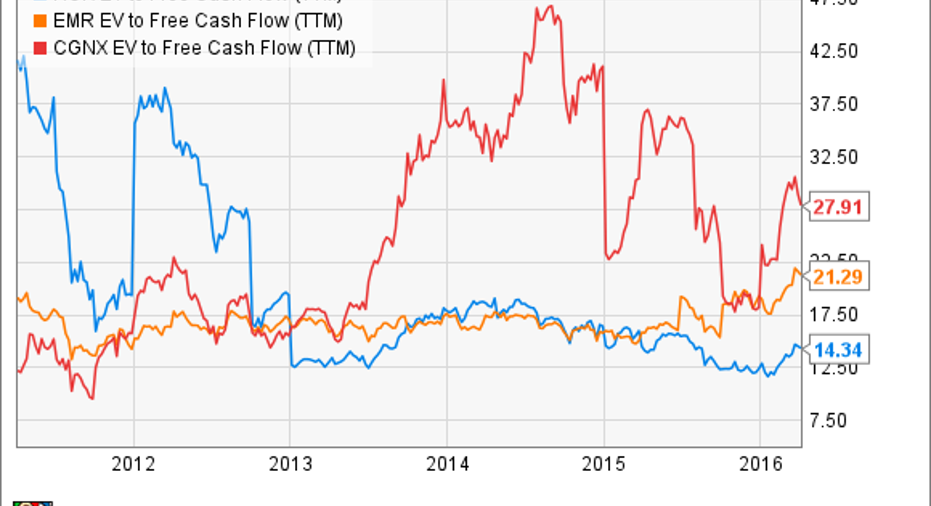 and have both outperformed the S&P 500 year to date. As with , both companies have substantive exposure to industrial automation. It's somewhat surprising to see such share price outperformance during a period of weak economic growth, but clearly, the market is pricing in a second-half recovery. The question is, which stock is a better buy now?
Emerson Electric's restructuring It would be easy to look at the chart above and quickly conclude that the two companies' earnings drivers must be very similar, but actually, they offer different aspects that will give them appeal to different types of investors.
For example, Emerson Electric is planning to significantly restructure its operations in the next couple of years:
Management wants to sell or spin off its network power segment, and recent speculation is focused on as a potential buyer.
The motors & drives and power generation businesses are expected to be sold in 2016, with the remaining storage business expected to be sold in the first half of 2017.
At itsrecent investor conference, CEO David Farr expressed a willingness to aggressively pursue acquisitions.
The successful conclusion of these restructurings willcreate anew, lower-revenue but higher-margin Emerson Electric. Nearly two-thirds of revenue will come from industrial automation, with the remaining third coming from commercial and residential solutions (comprising activities like air-conditioning, refrigeration, home tools, sensors etc). In other words, Emerson isn't a pure-play automation company.
Throw in the potential for some business-transforming acquisitions and the upside potential for the stock can be summarized in three ways:
Management execution on the restructuring plan;
Continued dividend growth (the stock currently yields nearly 3.5%);
A potential turnaround in industrial automation. (Management predicting positive underlying sales growth in the third and fourth quarters, with ongoing support from its relatively strong construction markets.)
However, what isn't going to change is Emerson's ability to generate free-cash-flow (which is important because it's what dividends are paid out of). Internal guidance is for $3 billion in operating cash flow in 2016, and around $2.38 billion in free-cash flow -- a figure 1.9 times last year's dividend payout.
In a nutshell, Emerson Electric is the better option for dividend seeking investors looking to combine upside from corporate actions and an improving industrial market (at least in the second half).
Rockwell Automation is more speculative In contrast, Rockwell Automation is more of a cyclical stock due to its 100% industrial automation exposure -- incidentally, thisfact makesCognex a useful comparison. You can see the difference in the way that Rockwell was forced to cut its 2016 guidance during its first-quarter earnings call in January. The weakening industrial economy hurt Rockwel more than it did Emerson Electric.
For example, in November management said it expected 2016 EPS to come in between $5.90 and $6.20, only to downgrade expectations to a $5.70 to $6.20 range in January.
There is no doubt that Rockwell is more cyclically exposed, and CEO Keith Nosbusch is candid in discussing the limited visibility inherent in roughly two-thirds of Rockwell's sales -- leaving the company at risk of having to reduce guidance if end-market conditions get worse.
No matter. Based on current trends, Rockwell's valuation still remains attractive, with management expecting to convert 100% of net income into free-cash flow in 2016. In addition, Rockwell isn't engaging in significant restructuring. On the contrary, management still feels very bullish about its long-term opportunity to invest and grow its industrial Internet of things (IIoT) related solutions.
In short, Rockwell offers more long-term potential from IIoT, but also more cyclical risk. What Rockwell and Emerson have in common is significant cash flow generation, and Rockwell's near 2.5% yield isn't anything to be sniffed at either.
ROK EV to Free Cash Flow (TTM) data by YCharts
Which stock is better? Both stocks are attractive, but I think Rockwell Automation is better. Emerson Electric is clearly the dividend hunter's choice, but Rockwell arguably offers more potential for long-term earnings and cash flow generation thanks to its IIoT-related offerings.
In a sense, Rockwell's higher cyclical exposure is matched by a higher execution risk at Emerson Electric. The latter's management has work to do on engineering its restructuring, and if the market turns downward, they may find it harder to achieve the requisite value for the businesses they want to sell.
I would prefer Rockwell (Cognex is also an interesting choice), but ultimately the decision boils down to your particular investment needs. If you favor growth, go with Rockwell; forincome, go with Emerson Electric.
The article Better Buy: Rockwell Automation or Emerson Electric? originally appeared on Fool.com.
Lee Samaha has no position in any stocks mentioned. The Motley Fool owns shares of and recommends Cognex. The Motley Fool recommends Emerson Electric. Try any of our Foolish newsletter services free for 30 days. We Fools may not all hold the same opinions, but we all believe that considering a diverse range of insights makes us better investors. The Motley Fool has a disclosure policy.
Copyright 1995 - 2016 The Motley Fool, LLC. All rights reserved. The Motley Fool has a disclosure policy.