Better Buy: Regeneron Pharmaceuticals, Inc. vs. Pfizer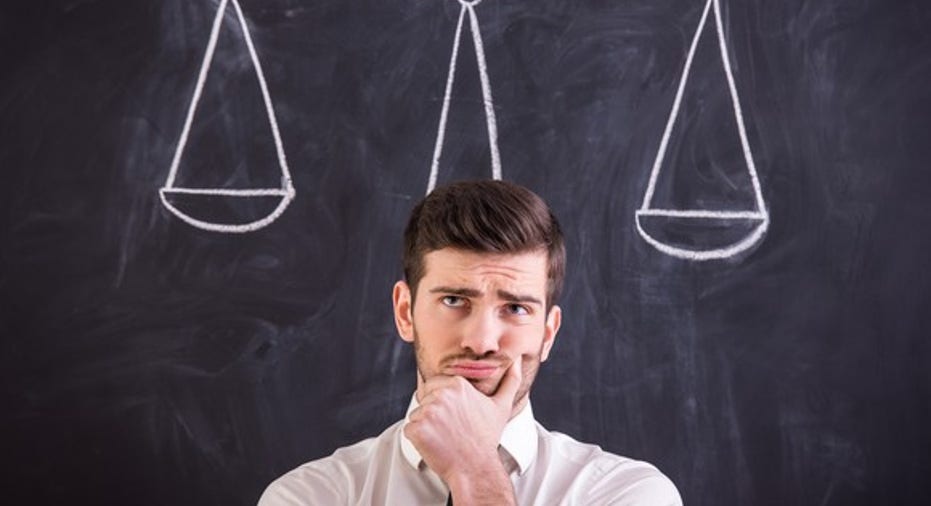 Last year a handful of setbacks led shares of Regeneron Pharmaceuticals (NASDAQ: REGN) about 29% lower, while Pfizer (NYSE: PFE) stock ended 2016 about 2% higher than it began. Sales of Regeneron's lead product have been tapering off, but a handful of potential blockbusters could provide some big gains in 2017 and beyond. The pharma giant, meanwhile, also has some exciting growth drivers in its lineup, but an aging product line will make big gains difficult going forward.
Image source: Getty Images.
This variety of opportunities and challenges has investors wondering which stock is the better pick. Let's take a closer look to see how they stack up to each other right now.
Arguments for Regeneron Pharmaceuticals
There are plenty of potential growth drivers in Regeneron's late-stage pipeline, but sputtering sales growth for its commercial stage lineup combined with unexpected delays made 2016 a nerve-wracking year for this biotech's investors. Its macular degeneration drug charged out of the gates after its 2011 launch, but third quarter U.S. sales of the eyeball injection grew just 17% over Q3 2015. While 17% growth isn't anything to sneeze at, Q3 2015 U.S. Eylea sales bounded 65% higher than Q3 2014.
Odds are strong that Regeneron will rely far less on Eylea in the years ahead, but guessing when has been frustrating. Eylea aside, the biotech has a stunning 15 drugs in clinical-stage development, five of which are partnered with Sanofi (NYSE: SNY).
The collaborators have already earned approval for one: Praluent. There is little doubt this next-generation cholesterol reducer does its job, but end payers have resisted its $14,000 per year list price without clear evidence it actually reduces risk of heart attacks and strokes with long-term use. A planned interim analysis of a study that intends to show long-term benefits from the drug didn't hit the mark in November, which suggests lackluster Praluent sales for a while longer.
Image source: Getty Images.
Regeneron and Sanofi hit another snag in 2016 when the FDA refused to approve a promising rheumatoid arthritis candidate due to manufacturing concerns (a common theme for the agency last year). In a head-to-head trial, sarilumab beat the world's best-selling drug, Humira, and has a chance of contributing billions to the partners' revenue streams. Unfortunately, it may be more than a year before we know if the FDA will give it a green light.
Perhaps the most important potential catalyst for Regeneron in 2017 should occur before the end of March. Another Sanofi-partnered candidate, Dupixent (formerly dupilumab) has a chance of achieving about $3 billion in peak annual sales as a treatment for the under-served eczema population. The FDA has given it a priority review, and shareholders have their fingers crossed that manufacturing concerns don't delay this important candidate's potential launch.
Arguments for Pfizer
This big pharma's stock price finished 2016 just about where it began, reflecting a tug-of-war between emerging growth drivers and fading stars of the past. Since its launch in early 2015, Ibrance has rapidly gained ground in the vast breast cancer space. In the first nine months of 2016 Pfizer recorded $1.49 billion in sales of the drug, and its potential approval as a first-line advanced breast cancer treatment in the EU could help it continue soaring toward peak annual sales estimates that top out around $5 billion.
The runaway success of Ibrance is nearly enough to overshadow a third quarter surge for Eliquis and Xeljanz. Sales of the next-generation blood thinner and rheumatoid-arthritis therapy jumped 92% and 86% respectively over the previous year period. Unfortunately, revenue from Pfizer's blockbuster franchises, such as Prevnar and Lyrica, are flattening out, while Viagra and Celebrex are sliding downhill.
Image source: Getty Images.
With around $53.24 billion in trailing twelve month revenue, pushing Pfizer's needle forward will require a great deal more heft than Regeneron's, but long-term annual growth estimates of around 7% aren't unreasonable. Looking ahead, Pfizer has a whopping 94 clinical-stage programs under way, including seven regulatory submissions awaiting approval.
Pfizer's recent acquisitions also add prostate cancer blockbuster Xtandi amd an eczema candidate named crisaborole under FDA review to the company's forward outlook. Purchased along with Anacor, annual crisaborole sales could top out around $2 billion, if the agency's decision -- expected any day now -- paves the way for a successful launch.
The better buy
With a highly diverse product lineup, plenty of positive cash flow, and a pipeline bubbling over with potential new drugs, there's a lot to like about Pfizer. Income-seeking investors will appreciate a dividend offering a juicy 3.9% yield at recent prices. If you're more interested in a steady income stream and lower volatility, this is a great pick for the new year.
Regeneron shares don't offer a dividend yet, but trailing twelve month revenue of about $4.7 billion is a much lighter load to haul up Growth Mountain. Success for sarilumab, Dupixent, or Praluent could lead to market-thumping returns for Regeneron investors, and an impressive pipeline of novel antibodies could keep the party going for years to come. More unexpected setbacks could hammer Regeneron stock in the near-term, but plenty of shots on goal make it look like a long-term winner, and the better buy right now.
10 stocks we like better than Regeneron Pharmaceuticals When investing geniuses David and Tom Gardner have a stock tip, it can pay to listen. After all, the newsletter they have run for over a decade, Motley Fool Stock Advisor, has tripled the market.*
David and Tom just revealed what they believe are the 10 best stocks for investors to buy right now... and Regeneron Pharmaceuticals wasn't one of them! That's right -- they think these 10 stocks are even better buys.
Click here to learn about these picks!
*Stock Advisor returns as of Nov. 7, 2016
Cory Renauer has no position in any stocks mentioned. You can follow Cory on Twitter @coryrenauer or LinkedIn for more investing insight.
The Motley Fool has no position in any of the stocks mentioned. The Motley Fool has a disclosure policy.