Better Buy: Qualcomm vs. Intel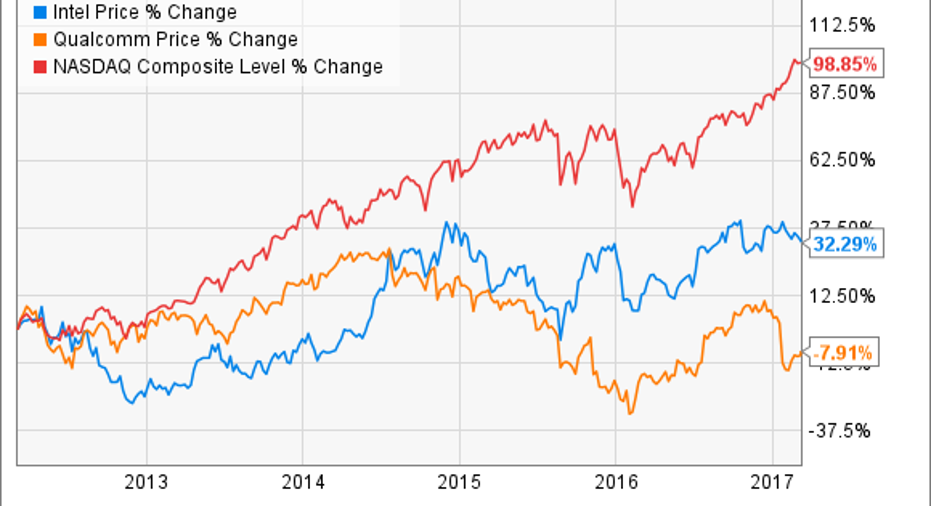 Qualcomm (NASDAQ: QCOM) and Intel (NASDAQ: INTC) are two of the largest, most dominant semiconductor companies in the world.Interestingly, shares of both have dramatically underperformed their benchmark, the Nasdaq Composite, over the last five years for various reasons that we'll explore below.
What's gone wrong at these long-vaunted chipmakers, and should investors consider purchasing either stock today? In this article, I'll examine Intel and Qualcomm through three different lenses in order to determine which company's shares look like the better buy today. Let's dive right in.
Financial fortitude
Two financial titans indeed, Intel and Qualcomm simply ooze balance-sheet strength. Take a look at these four important measures of solvency and liquidity to better help frame our discussion.
| Company | Cash and Investments | Debt | Cash From Operations | Current Ratio |
| --- | --- | --- | --- | --- |
| Qualcomm | $29.8 billion | $11.7 billion | $6.0 billion | 1.9 |
| Intel | $14.9 billion | $25.2 billion | $21.8 billion | 1.7 |
Data sources: Yahoo! Finance.
As you can see in either case, life isn't bad as the owner of a dominant semiconductor franchise (more on that below). Qualcomm enjoys far more net cash than Intel, but that's likely because Qualcomm doesn't operate its own chip fabrication facilities. Intel's unique manufacturing strategy requires more capital -- resulting in higher net debt than Qualcomm -- but it also throws off ample cash. At the end of the day, you can split hairs, but the more important, high-level takeaway should be that Qualcomm and Intel are two of the best-capitalized companies in the semiconductor industry.
Winner: Tie.
Image source: Getty Images.
Durable competitive advantages
Under normal circumstances, Intel and Qualcomm have two of the most dominant business franchises anywhere in tech.
Qualcomm is the largest producer of mobile chips as of the first half of 2016 -- the most recent credible research available -- according to Strategy Analytics. Qualcomm's Snapdragon mobile application processors claimed a 39% market share of the massive global market, comprised mostly of smartphones and tablets. And despite strong gains from emerging threats like MediaTek, Qualcomm also still controlled an estimated 50% of the global baseband chip marketduring the same period. Better still, the company is in the process of purchasing NXP Semiconductor to push deeper into the Internet of Things trend.
Though Qualcomm's chip business produces the majority of its sales, its high-margin patent licensing business has historically contributed about two-thirds of the company's pre-tax profits. While an incredible asset historically, Qualcomm is being sued by the government of South Korea, the European Union, and its own customer Apple over alleged abuses in its patent-licensing practices.
This follows a previous international lawsuit with the Chinese government that ended with Qualcomm paying a $975 million fine to Chinese regulators and agreeing to less onerous licensing terms with Chinese handset makers. If precedent is any indication -- and it is, generally, in legal matters -- Qualcomm's profit center is in serious trouble.
The company plans to fight such charges, and it isn't clear what this specifically could mean for Qualcomm's business model. The company's stock has been hammered over fears relating to its legal headaches, which are the dominant narrative driving Qualcomm's investment thesis today.
Turning to Intel, its microprocessors serve as the de facto standard to the PC and server industries. Even as a resurgent Advanced Micro Devices -- the longtime second fiddle to Intel in PC and servers -- attempts to steal market from the company, I remain skeptical that AMD can permanently close the gap between itself and Intel.
Though the PC market and server space are fairly mature at this point, Intel's structural advantages still should allow it to maintain a strong competitive position well into the future. Intel's massive research and development budget, its in-house chipmaking facilities, and its longtime performance advantages over the competition form something of a virtuous cycle that allows Intel to traditionally remain one step ahead of the competition in terms of its chips' performance.
Yes, Intel made a mistake by not switching to a 10nm manufacturing process sooner, which allowed AMD to temporarily close the performance gap between the two. However, I still believe that Intel's long history of out-innovating AMD happens for predictable reasons that should continue into the future.
Winner: Intel.
Valuation
Turning to our analysis of Qualcomm's and Intel's valuations, let's frame our discussion with a few metrics. Here's how three of the most commonly used valuation ratios break down between the two chipmakers.
Data source: Yahoo! Finance.
Oddly, there isn't a lot of variation between the two. Both companies trade at substantial discounts to the broad market indices -- the S&P 500 currently trades at about 26 times earnings, a significant premium to its long-term averages. However, as we learned in the earlier section, both Intel and Qualcomm should be relatively cheap due to the growth issues affecting each company. They're cheap for a reason, and that's the important thing to keep in mind.
In terms of reconciling their valuations with their growth outlooks, I don't love either company. However, if I had to choose a winner here, I'd pick Intel. Granted, I'm no Intel booster, but the legal blitzkrieg facing Qualcomm threatens to potentially undermine the economics of its entire business model. That's a big risk to stomach at 17 times earnings, so I'll reluctantly pick Intel as the winner here, though with some trepidation.
Winner: Intel.
And the winner is... Intel
Don't queue the celebration just yet. Intel's victory here is more an indictment on the precarious state of Qualcomm's business. Indeed, Intel is making some smart bets on areas where it can potentially find some growth -- the Internet of Things, in particular -- but its relative stability is what won it this victory.
Intel is cheap, profitable, and should return plenty of capital to shareholders. However, I'm not necessarily sold on its growth prospects.
Qualcomm's legal headaches could be proven uniformly incorrect in due time, but they could also seriously undermine its patent licensing profit center. Between the two, I'll take Intel any day, mostly out of risk-aversion.
10 stocks we like better than QualcommWhen investing geniuses David and Tom Gardner have a stock tip, it can pay to listen. After all, the newsletter they have run for over a decade, Motley Fool Stock Advisor, has tripled the market.*
David and Tom just revealed what they believe are the 10 best stocks for investors to buy right now... and Qualcomm wasn't one of them! That's right -- they think these 10 stocks are even better buys.
Click here to learn about these picks!
*Stock Advisor returns as of February 6, 2017
Andrew Tonner owns shares of AAPL. The Motley Fool owns shares of and recommends AAPL and QCOM. The Motley Fool has the following options: long January 2018 $90 calls on AAPL and short January 2018 $95 calls on AAPL. The Motley Fool recommends INTC and NXPI. The Motley Fool has a disclosure policy.