Better Buy: Procter & Gamble Co. vs. Johnson & Johnson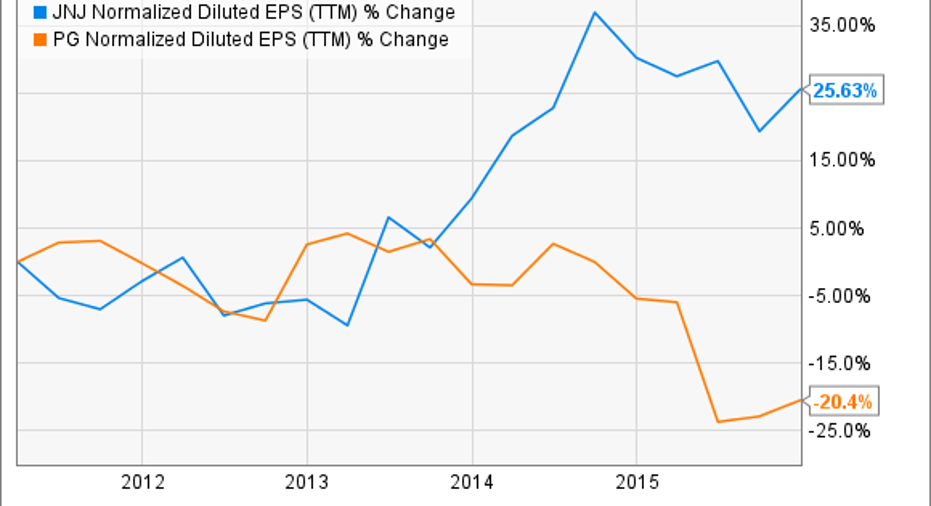 Between them, Procter & Gamble and Johnson & Johnson own 45 brands that each generate over $1 billion of annual sales. Healthcare specialist J&J, with blockbuster franchises like Zyrtec, Listerine, and Band Aid, has the slight edge over P&G and its Pampers, Bounty, and Tide-led powerhouses (24 billion-dollar brands to 21).
Those deep product portfolios are a big reason why investors buy these Dow giants in good markets and bad. But which stock is a better bet at today's prices?
P&G vs. J&J: Key investing stats
| | Procter & Gamble | Johnson & Johnson |
| --- | --- | --- |
| Market Cap | $226 billion | $295 billion |
| Sales Growth (Loss) | (5%) | (6%) |
| Net Profit Margin | 15% | 22% |
| Dividend Yield | 3.2% | 2.8% |
| Forward P/E | 21 | 16 |
Sales growth is for the past complete fiscal year. Data source: Company financial filings and S&P Global Market Intelligence.
Sales growthRevenue growth has been hard to come by for both companies lately: P&G last year suffered a 5% sales drop and J&J's revenue fell 6% in 2015. However, because international business makes up such a big part of their operations, most of these declines can be tied to temporary currency swings. P&G's 2% organic sales growth last year was disappointing, but much better than the reported revenue drop. J&J's sales ticked higher by the same 2%, after accounting for exchange rate shifts.
JNJ Revenue (Annual) data by YCharts.
Given their dominant market positions, it's likely that both companies will grow at a slightly faster pace than the overall market. A key element for each business is innovation, the foundation for long-term growth. Even with storied brands likes Listerine and Tylenol, for example, a full 25% of J&J's sales come from products that were launched in just the past five years. Likewise, P&G has to constantly innovate around its successful brands while frequently pioneering new categories like Tide Pods.
The demand for health-related products, J&J's specialty, and consumer/household products, P&G's wheelhouse, should both rise over time, with both industries increasingly relying on emerging markets for growth.
Profit growthJohnson & Johnson is the winner in the profit growth trend matchup, as its earnings fell just 4% last year compared to P&G's 21% plunge.
JNJ Normalized Diluted EPS (TTM) data by YCharts.
Yet the earnings outlook is better for P&G than for its health-products rival. While both companies have been engaged in massive cost cutting, the consumer products giant is nearly done transforming its portfolio by whittling it down to 65 brands from 165 brands.
All of that cutting has accelerated the sales and profit losses over the last few years, but should also lay the groundwork for market-thumping growth ahead. P&G's management believes the new, smaller portfolio will see significantly higher organic sales gains at a stronger level of profitability. Wall Street sees earnings rising by 12% for P&G in the next fiscal year, while J&J's should rise by 6%.
Cash returnsCapital returns, through dividends and stock repurchases, make up a significant portion of shareholders' total return when investing in either stock. While both Dow giants shower investors with cash, P&G is likely to send its investors far more money in the years ahead.
Image source: PG.
P&G plans to deliver roughly $18 billion per year to shareholders over the next four fiscal years, in total representing almost one-third of its current market capitalization. By comparison, J&J has averaged $13 billion of cash returns over the past three years.
And so, whether you're a conservative investor seeking income growth, or an aggressive one betting on capital gains, I believe you should prefer P&G's stock here. Yes, there's a higher execution risk involved in the portfolio turnaround that management is engineering. But the potential payoff is also greater. Meanwhile, P&G's hefty 3.2% dividend yield amounts to a generous trade-off for shareholders' patience as they give the company time to eventually return to market-beating earnings gains.
The article Better Buy: Procter & Gamble Co. vs. Johnson & Johnson originally appeared on Fool.com.
Demitrios Kalogeropoulos has no position in any stocks mentioned. The Motley Fool recommends Johnson & Johnson and Procter & Gamble. Try any of our Foolish newsletter services free for 30 days. We Fools may not all hold the same opinions, but we all believe that considering a diverse range of insights makes us better investors. The Motley Fool has a disclosure policy.
Copyright 1995 - 2016 The Motley Fool, LLC. All rights reserved. The Motley Fool has a disclosure policy.