Better Buy: Organovo Holdings, Inc. vs. Intuitive Surgical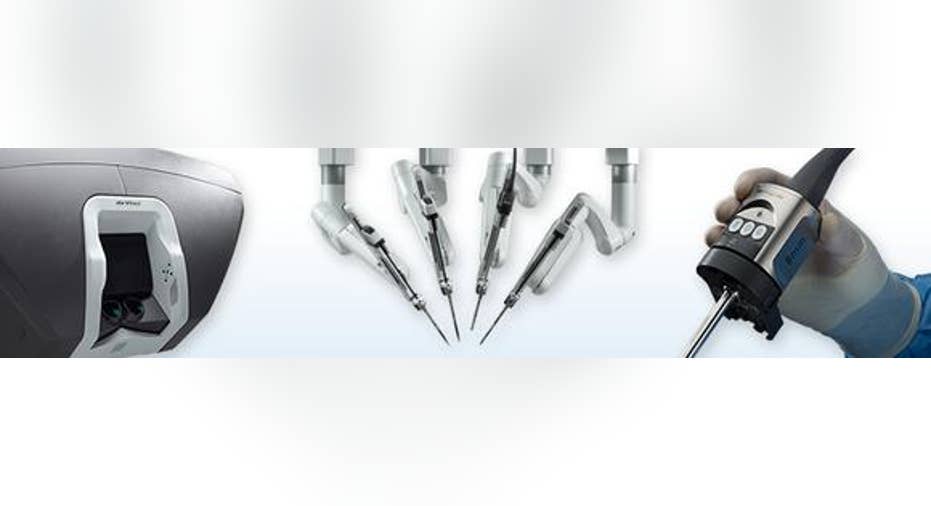 Image source: Intuitive Surgical.
Any list of technologies that could revolutionize healthcare would be incomplete without 3D bioprinting and robotic surgical systems. And any discussion of those two revolutionary technologies would be lacking without mention of a couple of companies: Organovo Holdings and Intuitive Surgical . Both companies' stocks have taken investors on an up-and-down ride over the past several years. But which healthcare pioneer is the better buy now?
3D view of the futureImagine artificial human tissue used to test experimental drugs. Picture bioengineered tissues being implanted into human bodies to replace diseased tissues. With Organovo, these scenarios don't require much imagination. The company is already using 3D bioprinting technology to make them a reality.
Organovo currently claims one commercial product -- exVive3D human liver tissue. Although exVive3D broke new ground as the first 3D bioprinted human tissue on the market, the product hasn't exactly been a huge financial winner so far. Organovo made less than $300,000 in revenue last quarter from the liver tissue.
It's still early, though. Organovo expects additional studies that suggest advantages for using bioprinted liver tissues in drug testing could help drive higher adoption. The company continues to educate potential customers about 3D bioprinting. Organovo CEO Keith Murphy recently noted that customers don't usually say no but insteadsay, "Come back when you can show me more."
A second product should be on the market soon. Organovo developed a bioprinted human kidney tissue that is on track for commercialization in the third quarter of 2016.
Organovo's executive team thinks annual revenue of over $100 million is achievable in the future. No one knows for sure, though, how long it might take for that future to arrive. In the meantime, the company is losing upwards of $10 million per quarter. Organovo reported $70 million in cash and cash equivalents as of the end of 2015. It's likely that the company will have to generate more cash not too far down the road.
Robot dreamsYou wouldn't have to go back too many years for any talk about robotic surgical systems to be laughed off as the stuff of science fiction. However, over 3 million procedures have been performed across the world using Intuitive Surgical's da Vinci robot-assisted surgical systems.
Unlike Organovo, Intuitive Surgical has been profitable for quite a while. The company made nearly $589 million in earnings last year on $2.38 billion in revenue. Not everything has been rosy for Intuitive Surgical, though.
The stock plunged in 2013 over concerns that the benefits of using robotic surgery didn't justify the higher costs. It took three years for Intuitive's shares to climb back to early 2013 levels. So what are the prospects now for the company?
Probably the best sign for Intuitive Surgical is that the number of procedures using its da Vinci systems is growing at a solid double-digit annual percentage. The company is expanding its focus from hysterectomies and prostatectomies to also includecolorectal surgery and hernia repair. And Intuitive appears to be doing a pretty good job of making the case that its solutions are cost-effective.
From a financial perspective, Intuitive Surgical appears to be in great shape. It reported $3.3 billionin cash, cash equivalents, and investments as of the end of 2015. It also has no debt.
Better buyAlthough Organovo's bioprinting technology is intriguing, there's no doubt at all which of these stocks is the better pick. Intuitive Surgical stands out as the clear winner.
One comparison tells the tale. Organovo hopes to someday reach annual sales of $100 million. Intuitive Surgical grew its cash stockpile by more than twice that amount in just the fourth quarter of 2015.
Intuitive Surgical's stock isn't exactly cheap, currently trading at nearly 27 times forward earnings. With that kind of premium valuation, any big missteps could cause shares to fall hard. Still, though, the future appears to be bright for the company. Intuitive Surgical CEO Gary Guthart thinks thatrobotic assisted surgery "is in its infancy."If he's right, Intuitive should continue to play a role in revolutionizing healthcare for years to come.
The article Better Buy: Organovo Holdings, Inc. vs. Intuitive Surgical originally appeared on Fool.com.
Keith Speights has no position in any stocks mentioned. The Motley Fool owns shares of and recommends Intuitive Surgical. Try any of our Foolish newsletter services free for 30 days. We Fools may not all hold the same opinions, but we all believe that considering a diverse range of insights makes us better investors. The Motley Fool has a disclosure policy.
Copyright 1995 - 2016 The Motley Fool, LLC. All rights reserved. The Motley Fool has a disclosure policy.