Better Buy: Organovo Holdings, Inc. vs. Akebia Therapeutics, Inc.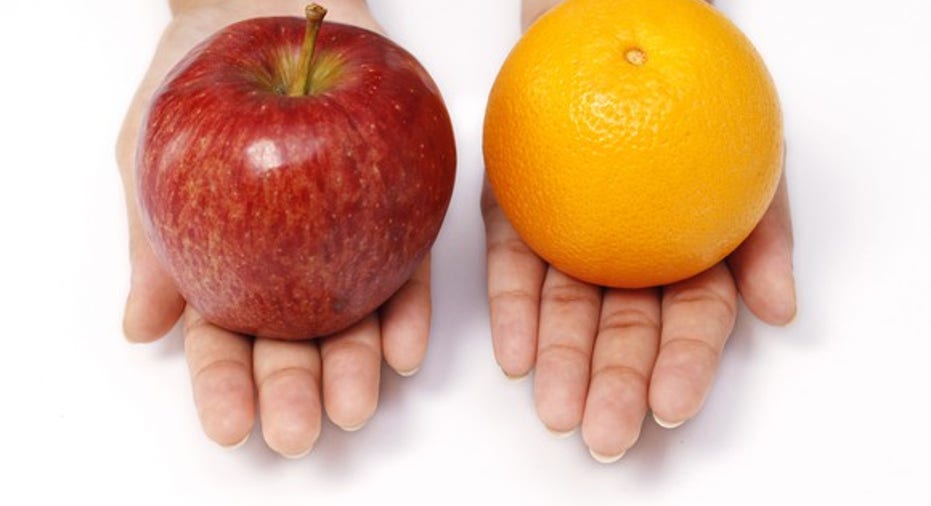 At first glance, Organovo Holdings (NASDAQ: ONVO) versus Akebia Therapeutics (NASDAQ: AKBA) might seem like an apples-and-oranges comparison. Organovo develops 3D bioprinted human tissues, while Akebia has a promising anemia drug in its pipeline.
There are similarities, though. The two companies' market caps are nearly exactly the same -- around $400 million. Wall Street analysts expect both stocks to perform well in 2017. Which stock is the better buy right now? Let's see how Organovo and Akebia stack up against each other.
Image source: Getty Images.
The case for Organovo
The argument for why investors should consider buying Organovo's stock is one word: growth. Shares of the 3D bioprinting leader have soared more than 50% over the last 12 months. Organovo's revenue more than quadrupled in its most recent reported quarter compared to the prior year period. CEO Keith Murphy predicts triple-digit percentage growth for the next several years. Organovo is racking up this kind of growth in a couple of ways.
First, the company is driving increased adoption of its 3D human tissues through a concerted effort to educate prospective customers about the benefits of its products. Organovo has enlisted the help of several large customers to highlight the capabilities of 3D tissues to detect toxicity levels very early in the development process through conference presentations and scientific publications.
Second, Organovo is rolling out new products and services. The company launched its second product, 3D human kidney tissue, in September, following success for its 3D liver tissue. Organovo plans to offer metabolism studies to customers in the near future, a move that could double its annual revenue potential. In October, the company also announced plans to develop bioprinted human liver tissue for direct transplantation to patients.
Although Organovo's revenue is growing rapidly, it's still really low. In its last quarter, the company reported revenue of less than $1.4 million. Over one-fourth of that revenue came from collaborations and grants rather than sales of its products and services. However, Organovo's management team believes the company could ultimately generate annual revenue of more than $200 million.
The case for Akebia Therapeutics
Akebia, on the other hand, hasn't experienced real growth. Its stock dropped 17% in 2016. The biotech hasn't generated any product revenue yet. So what's the investment case for Akebia? Potential.
The company currently has two late-stage clinical studies in progress evaluating experimental drugvadadustat in treatinganemia related to chronic kidney disease (CKD). Around 30 million Americans suffer from CKD, with approximately 1.8 million of them experiencing anemia related to the disease.Erythropoiesis-stimulating agents (ESAs) are currently used to treat this anemia, but they can cause hemoglobin levels to increase too much.
Vadadustat holds the potential to treat anemia related to CKD and keep hemoglobin levels within a desired range. Even better, the drug should be able to be used in treating both dialysis and non-dialysis patients. Japanese drugmaker Otsuka Pharmaceutical likedvadadustat's prospects enough to shell out $125 million up front for marketing rights and commit to potential milestone payments of up to $765 million.
Analysts project that Akebia's share price will increase by more than 50% over the next 12 months in anticipation of late-stage study results forvadadustat. The first study (for non-dialysis CKD) should wrap up in late 2018 with the second study concluding in the third quarter of 2019.
Better buy
Which of these stocks is the better pick for investors? It's a question of risk versus reward.
Organovo probably has less risk. The company already has two products on the market and doesn't face any large competitors with 3D tissue offerings. However, Organovo's revenue ceiling is lower than Akebia's, so the potential rewards are also less.
Akebia faces three primary risks. One is thatvadadustat fails to win regulatory approval. Another risk is that Akebia's drug gets beaten by a rival product. Fibrogen (NASDAQ: FGEN) is developing its own drug, roxadustat,to treat anemia in CKD patients using a similar approach as Akebia. The biotech has several late-stage clinical studies in progress forroxadustat that are scheduled to complete later this year. Akebia also has a risk that it will lose in patent litigation against Fibrogen.
Despite these risks, I think Akebia has a good shot at success over the long run -- with a significantly higher peak revenue potential than Organovo. I like Organovo, but the better buy in this case appears to be Akebia.
10 stocks we like better than Akebia Therapeutics When investing geniuses David and Tom Gardner have a stock tip, it can pay to listen. After all, the newsletter they have run for over a decade, Motley Fool Stock Advisor, has tripled the market.*
David and Tom just revealed what they believe are the 10 best stocks for investors to buy right now... and Akebia Therapeutics wasn't one of them! That's right -- they think these 10 stocks are even better buys.
Click here to learn about these picks!
*Stock Advisor returns as of January 4, 2017
Keith Speights has no position in any stocks mentioned. The Motley Fool has no position in any of the stocks mentioned. The Motley Fool has a disclosure policy.