Better Buy: Novavax, Inc. vs. Inovio Pharmaceuticals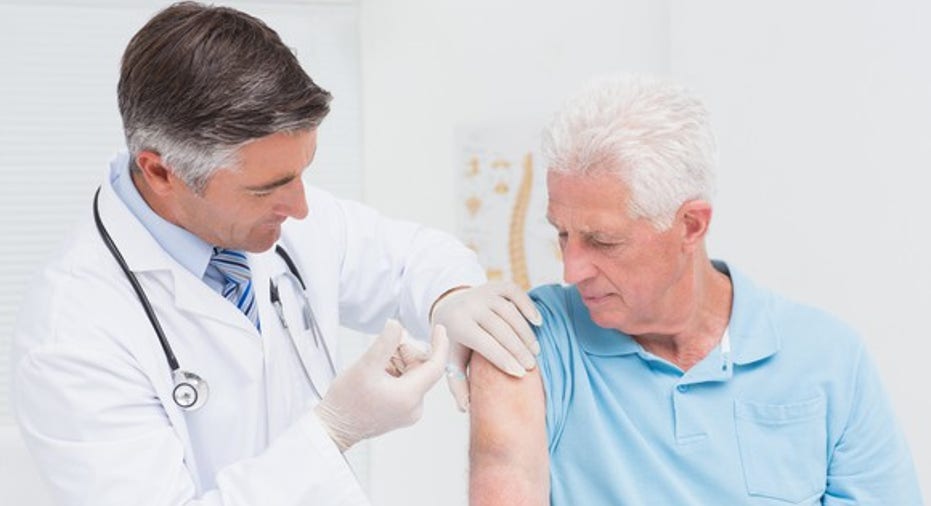 According to the United Nations, the global population is expected to rise by another 1 billion people by 2030, with the fastest-growing segment being individuals aged 60 or older. As a result, the biopharmaceutical industry will need to come up with novel ways to prevent a concomitant rise in chronic illnesses in order to lower the impact of this demographic shift on global healthcare systems.
Synthetic DNA and/orrecombinant nanoparticle vaccines may provide a powerful solution to this problem because each technology can be quickly manufactured to target a wide diversity of diseases. Armed with this insight, let's consider whether Inovio Pharmaceuticals (NASDAQ: INO) or Novavax (NASDAQ: NVAX) is the better cutting-edge vaccine-maker to invest in right now.
Image source: Getty Images.
Novavax is hoping to redeem its RSV-F vaccine
Nanoparticle vaccine-maker Novavax took a major step backward last year with the late-stage failure of its respiratory syncytial virus (RSV) F vaccine in older adults. Although the vaccine produced a respectable safety and efficacy profile in earlier studies, it failed to meet the primary or secondary endpoints in this pivotal study -- and by a wide margin.
Novavax still decided to sally forth with its development by launching another mid-stage trial in older adults last month. The ultimate goal of this latest trial is to identify a dosing regimen that produces higher levels of immunogenicity in people aged 60 or older, and by extension, heightened levels of efficacy. Novavax expects this mid-stage trial to read out in the third quarter of this year, which could be a make-or-break moment for the company.
The bottom line is that this experimental RSV-F vaccine has the potential to be a mega-blockbuster product, given that its target market exceeds 65 million just for the elderly adult indication. Novavax is also assessing the vaccine in pregnant women, where it could conceivably tack on an additional billion in sales down the road.
Having said that, this once-promising RSV vaccine is now a clear long shot for ever reaching the market, which is reflected in Novavax's present valuation. Put simply, the company's current market cap of $452 million pales in comparison to the multibillion-dollar commercial opportunity afforded by the largely untapped RSV market.
Inovio is in a holding pattern
Over the past seven months, synthetic DNA vaccine-maker Inovio has lost its immunotherapy research partnership with Roche,and its lead product candidate, VGX-3100, was placed on a clinical hold by the FDA.
As an added piece of bad news, the company's immuno-oncology partnership with AstraZeneca's MedImmune has progressed far slower than expected since the deal was first signed way back in August 2015. The two companies, after all, are only now gearing up to explore possible combination therapies between Astra's immuno-oncology drugs and Inovio's DNA vaccines.
The big-picture issue is that these various setbacks have significantly delayed Inovio's ascension to the ranks of a cash-flow-positive commercial operation. In fact, the company doesn't expect to have a product on the market until 2020 at the earliest. A deeper dive, though, suggests that even this lengthy, three-year timeline might be overly optimistic.
The core problem facing Inovio is that DNA vaccines have exhibited fairly weak efficacy results across a wide swath of diseases in humans. Even Inovio's VGX-3100 forpre-cancers caused by human papillomavirus didn't exactly produce overwhelmingly strong levels of efficacy in its mid-stage trial, although the company has repeatedly suggested otherwise in its investor presentations and press releases over the years.
Bottom line: Inovio is a speculative bet at best. That's not to say VGX-3100 is a surefire failure, but the company's best chance at becoming a commercial entity probably lies in its collaborative work with MedImmune.
The industry, after all, has largely accepted the fact that cancer vaccines of any type simply don't work as monotherapies in most circumstances. Rather, immune-stimulating vaccines like those being developed by Inovio are probably going to play supportive roles in the battle against cancer as part of a combo therapy.
Which stock is the better buy?
All things considered, I think this match-up of clinical-stage vaccine-makers is almost a toss-up. Novavax may get lucky with its RSV-F vaccine in elderly adults, or perhaps its pediatric indication, but the cold, hard truth is that the odds simply don't favor a positive outcome in either case. Inovio, for its part, hasn't exactly inspired confidence with its painfully slow approach to vaccine development that was frankly amplified by Roche's decision to hit the exits late last year.
When the rubber meets the road, though, Inovio is probably the safer bet right now based on the prospects of its development deal with Astra. After all, combination therapies are the wave of the future in immuno-oncology, and DNA vaccines may end playing a pivotal role in this emerging field.
Novavax, on the other hand, seems to be throwing good money after bad at this point with its RSV-F vaccine. I could easily be wrong, but then again, those last results in elderly adults were about as bad it gets when it comes to a late-stage product.
10 stocks we like better than Inovio PharmaceuticalsWhen investing geniuses David and Tom Gardner have a stock tip, it can pay to listen. After all, the newsletter they have run for over a decade, Motley Fool Stock Advisor, has tripled the market.*
David and Tom just revealed what they believe are the 10 best stocks for investors to buy right now and Inovio Pharmaceuticals wasn't one of them! That's right -- they think these 10 stocks are even better buys.
Click here to learn about these picks!
*Stock Advisor returns as of February 6, 2017
George Budwell has no position in any stocks mentioned. The Motley Fool has no position in any of the stocks mentioned. The Motley Fool has a disclosure policy.