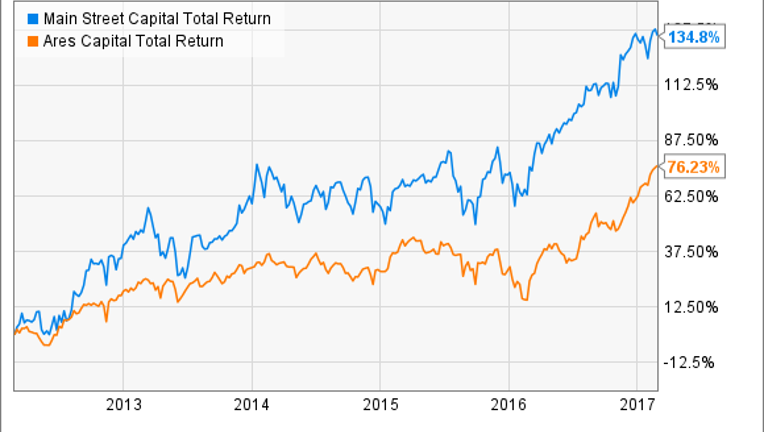 Main Street Capital Corporation (NYSE: MAIN) and Ares Capital Corporation (NASDAQ: ARCC) are two well-regarded business development companies, or BDCs, which lend to and invest in small and medium-sized businesses under laws established by the Investment Company Act of 1940. Both companies generate impressive investment income while offering attractive dividend yields to investors. Neither would be out of place in a diversified stock portfolio, but one has proven to be the "better buy" over time. Let's walk through a brief comparison to determine which company you should favor in your own investment account.
Similar business models
Both corporations provide capital to middle marketcompanies.Ares Capital believes that as traditional commercial and investment banks have reduced their lending exposure to the middle market after the Great Recession, a lack of heavy competition translates to market opportunity in this space.
Business development companies like Main Street Capital and Ares Capital provide debt and equity capital to middle market companies across a broad range of industries. Image source: Getty Images.
Main Street Capital specializes in the "lower middle market," or LMM. As you might infer, LMM companies tend to be smaller than those in the general middle market. Main Street's typical LMM investment candidates exhibit annual revenue ranging between $10 million and $150 million.As of Dec. 31, 2016, LMM investments accounted for 45% of Main Street Capital's total investments (at fair value), followed by middle market investments, which represented 32% of total investments.
Similar business models notwithstanding, Ares Capital dwarfs Main Street Capital in asset size. Already the largest direct middle market lender, Ares closed on the acquisition of competitor American Capital, Ltd.in January 2017. The merged entity boasts total assets of $12.3 billion. In contrast, Main Street Capital recorded $2.1 billion of total assets as of Dec. 31, 2016.
Both companies derive an advantage from their size. An extremely large capital base gives Ares the ability to hold on to a good portion of the loans it originates, which is more profitable than selling the loans to syndicates and other lenders soon after origination. Having more capital at hand also allows Ares to participate in the upper end of the middle market, which is comprised of higher-EBITDAcompanies, which tend to be more stable and credit-worthy than their LMM brethren.
Conversely, Main Street Capital's specialization in LMM companies allows it to frequently enhance its lending with equity participation. At the end of 2016, equity investments accounted for nearly a third of Main Street's LMM investments at cost, or $235 million out of a total LMM portfolio of $704 million.Owning stock, options, and warrants in the companies it lends to -- and to a greater degree than competitors -- helps Main Street add healthy investment appreciation to its investment income.
Slightly different cost structures
Since investment portfolio acquisition and management can be one of a BDC's largest expenses, the companies' respective cost structures are also worth comparing. Ares Capital's investments are managed by an external advisor, Ares Capital Management, LLC, which in turn is owned by publicly tradedAres Management, LP(NYSE: ARES). Ares Management promotes a structure of affiliated companies which seek the benefits of working closely together. Ares Capital describes its own relationship with Ares Capital Management this way:
"We believe that our investment adviser, Ares Capital Management, is able to leverage the current investment platform, resources and existing relationships of Ares Management with financial sponsors, financial institutions, hedge funds and other investment firms to provide us with attractive investment opportunities."
Main Street Capital, by contrast, is primarily internally managed: Deals are scouted and maintained by teams directly on its own payroll. This helps keep expenses down in what is already a pretty efficient cost structure. Main Street's management is fond of pointing out that its "operating expense to assets ratio" leads the BDC industry. Indeed, Main Street's 2016 operating expense ratio of 1.5% is less than half of Ares' 2016 ratio of 3.3%.
This relative cost advantage versus peers is one of the primary reasons investors should prefer Main Street to Ares. Let's review 12-month performance for both companies, in condensed format:
| Metric (2016) | Main Street Capital | Ares Capital |
| --- | --- | --- |
| Investment income | $132 | $752 |
| Interest expense | ($25) | ($139) |
| Other expenses | ($21) | ($245) |
| Net investment income | $85 | $368 |
| Net realized gains / (losses) | $33 | $79 |
| Net unrealized gains / (losses) | ($29) | ($35) |
| Income tax (expense) / benefit | $1 | ($13) |
| Net increase in net assets | $91 | $399 |
Data source: Main Street Capital and Ares Capital. Table by author. All dollar figures in millions.
Main Street's net increase in net assets of $91 million is roughly one-fifth the size of Ares Capital's 2016 increase. But as a percentage of investment income, Main Street is the more profitable company, achieving a net increase in net assets of 78% of investment income in 2016, versus 47% for Ares Capital.
The greater efficiency that Main Street enjoys over its competition, coupled with its higher equity participation, means that it often commands a premium over other BDC corporations. Currently, Main Street sells at 1.70 times book value, while Ares is priced at 1.47 times book value.
Yet Main Street Capital has been able to maintain this valuation premium over comparable companies -- and Ares in particular -- for quite some time. Comparing total return over the last five years, you can see that even though Ares pays the greater of two handsome dividends, at 8.5% to Main's 5.9%, Main has proven the better investment:
MAIN Total Return Price data by YCharts.
Sometimes a simple chart can speak volumes. Ares certainly looks poised to continue to benefit shareholders with its recent acquisition of American Capital and its middle market dominance. Yet an extremely lean cost structure and higher equity participation have proven to be profit drivers for Main Street that negate Ares' size advantage and make the smaller BDC the better buy.
10 stocks we like better than Main Street CapitalWhen investing geniuses David and Tom Gardner have a stock tip, it can pay to listen. After all, the newsletter they have run for over a decade, Motley Fool Stock Advisor, has tripled the market.*
David and Tom just revealed what they believe are the 10 best stocks for investors to buy right now and Main Street Capital wasn't one of them! That's right -- they think these 10 stocks are even better buys.
Click here to learn about these picks!
*Stock Advisor returns as of February 6, 2017
Asit Sharma has no position in any stocks mentioned. The Motley Fool has no position in any of the stocks mentioned. The Motley Fool has a disclosure policy.