Better Buy: Las Vegas Sands Corp. vs. MGM Resorts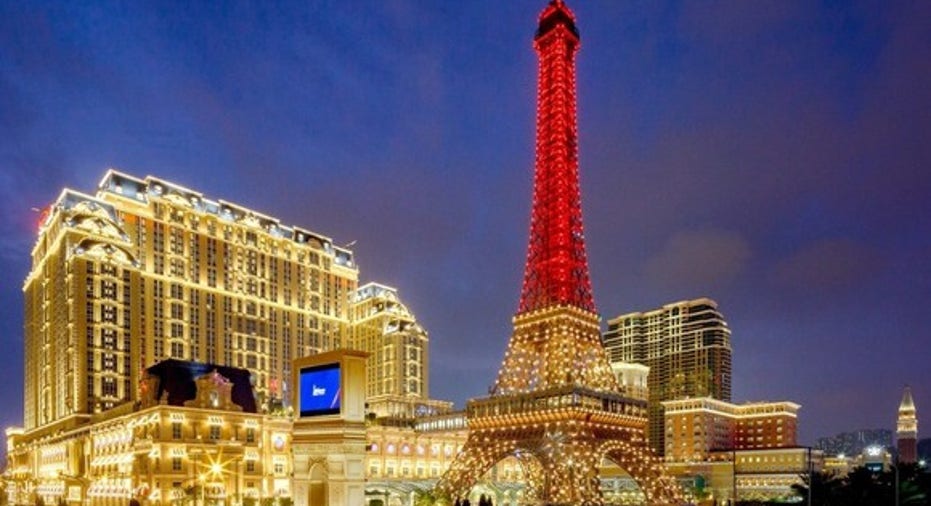 There may be evidence that Macau's casinos industry is actually finallyrecovering. After five months of rising gaming revenues that had externaleventsaccounting for at least part of the gain, the Chinese gambling district posted numbers for February that indicate the rally is real.
Even better for the major global casino operators, Nevada also put up some robust growth last month, so let's take a look at Las Vegas Sands(NYSE: LVS)andMGM Resorts International(NYSE: MGM) as both resort ownershave their feet firmly planted in each market. Because theyoffer different plays on the two gambling regions, one might be a better bet than the other.
Image source: Getty Images.
High-stakes wager on Macau
Las Vegas Sands has piled the chips high on Macau, generating 59% of its $11.4 billion in revenues last year and 54% of its adjusted property earnings before interest, taxes, depreciation, and amortization. That's second only to Wynn Resorts (NASDAQ: WYNN), which derives almost 64% of its revenues and 62% of its adjusted property EBITDA.
MGM, on the other hand, generates just 20% of its $9.5 billion in revenues from Macau through its 56% ownership of MGM China, which also represents less than 17% of its adjusted property EBITDA. Even after MGM opens its new MGM Cotai resort later this year, the distribution of revenues and profits won't be appreciably altered.
A focus on domestic resorts
Instead, Las Vegas is where it's at for MGM as its nine properties there generated over $5.5 billion in revenues last year, or 59% of the total. It also has properties in Maryland, Michigan, Missouri, and New Jersey that account for another 16% of revenues, a percentage that ought to rise in 2017 as MGM only enjoyed partial-year revenues from the Borgata in Atlantic City after purchasing the other half from Boyd Gaming, and National Harbor in Baltimore that opened in mid-December.
Image source: The Borgata.
It is also developing a new resort in Springfield, Mass., that should be completed by late 2018 andhas a 76% stake inMGM Growth Properties, a triple-net lease real estate investment trust it created to hold properties like Mandalay Bay, The Mirage, Luxor, and Excalibur.
Sands, for its part, has but two casinos in Vegas -- the Venetian and the Palazzo -- that, along with its expo center, generated just $1.5 billion in 2016, or 13% of its total revenues. At $2.8 billion, Sands' Singapore resort, the Marina Bay Sands, delivered more revenues than its Vegas operations.
Still, with both Macau and Vegas seeing gaming revenues on the rise, they should each benefit, though by how much remains to be seen because there are lots of factors that could undermine both locales.
A slow boat in China
The problems with Macau are well known, stemming from Beijing's crackdown on luxury, gift-giving, and corruption that precipitated the 26-month decline the region is only now just clawing its way back from.
It does appear the mandate to rely less upon VIP gambling is gaining traction, though, as Macau's Statistics and Census Service says visitors who stay at least a night in Macau -- typically considered tourists -- rose 18.9% in January and accounted for 47% of total arrivals.We won't know February's numbers until later this month, but considering the big jump in last month's gaming revenues on the peninsula, up 18% year over year and one of the biggest hauls for a February, it looks solid, even if we need to wait until next month to see whether it was due to VIP baccarat or other mass-market games of chance.
The problem is, the Chinese government remains only tolerant of the wealth passing through Macau, and it occasionally flexes its regulatory muscle to show it still has an eye on the region. Recent changes to ATM withdrawals, arrests of foreign casino executives for allegedly advertising gambling on the mainland, and the new policy of fingerprinting all foreign visitors coming into the country may still make tourists and VIPs alike skittish about laying down bets here.
Image source: Las Vegas Sands.
A desert fault line
Not that Las Vegas' rebound is built on bedrock, either. While statewide revenues were up 12% in January (the latest data available), helped along by a 14% increase from the Strip, it was the downtown casinos that enjoyed the greatest growth, with a 32% year-over-year gain followed by a 25% increase in north Las Vegas. Yet the Vegas area saw declines across the board in November and December, suggesting it's a recovery still trying to get its balance and may continue to come in fits and starts.
Both operators, as well as rivals like Wynnand even Macau-based Melco Crown Entertainment, are planning to spend big in Japan when that market finally opens to casino development. Everyone has said they're willing to spend around $10 billion or more to build up their operations in what could become the biggest, and maybe the most expensive global casino market.
Although Asian markets seemingly having the greatest catalysts for growth, because of the ongoing risks inherent in Macau and Las Vegas Sands' big bet there, I'd say the odds tilt in favor of MGM Resorts for having the biggest advantages where an investor can lay his bets down.
10 stocks we like better than Las Vegas SandsWhen investing geniuses David and Tom Gardner have a stock tip, it can pay to listen. After all, the newsletter they have run for over a decade, Motley Fool Stock Advisor, has tripled the market.*
David and Tom just revealed what they believe are the 10 best stocks for investors to buy right now... and Las Vegas Sands wasn't one of them! That's right -- they think these 10 stocks are even better buys.
Click here to learn about these picks!
*Stock Advisor returns as of February 6, 2017
Rich Duprey has no position in any stocks mentioned. The Motley Fool has no position in any of the stocks mentioned. The Motley Fool has a disclosure policy.