Better Buy: Johnson & Johnson vs. Eli Lilly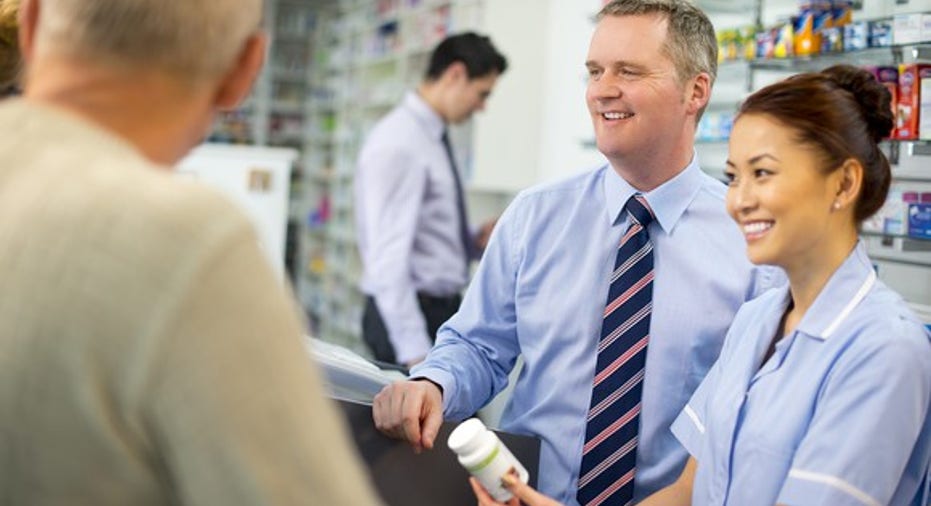 Just ahead of the Thanksgiving holiday, Eli Lilly (NYSE: LLY) announced the third late-stage clinical failure for its Alzheimer's disease candidate. The stock had given up some ground this year, and following the flop, it's down about 20% in 2016. Meanwhile, it's hardly been a banner year for Johnson & Johnson (NYSE: JNJ), but its stock is up about 10.2% this year.
Image source: Getty Images.
Although the drug's success seemed highly unlikely, the market has since cleaved around $10 billion from Eli Lilly's market cap, and the market thumping has driven the big pharma's dividend yield higher than Johnson & Johnson's. Let's have a closer look at both companies to see which is better positioned to reward investors over the long term.
Arguments for Johnson & Johnson
J&J has a leading medical-device presence and a consumer-goods segment stuffed with iconic brands, so its prescription-drug sales made up less than half of its total revenue during first nine months of the year. This diversification provides a great deal of stability, but it has also limited growth lately. In the first nine months of the year, medical-device and consumer sales grew slightly on an operational basis, but unfavorable currency fluctuations led to revenue contractions in both segments.
Fortunately for J&J, 8% growth in pharmaceutical sales pulled total revenue 2.9% higher during the first nine months over the prior-year period. Branded drugs enjoy wider profit margins, which helped the bottom line grow by a slightly more encouraging 4.4% over the same time frame.
Although prescription drugs aren't J&J's largest segment by revenue, the company's research and development budget outshined every drugmaker on the planet except Roche last year. Its efforts have been well rewarded. In the third quarter, year-on-year sales of seven branded drugs in its lineup grew by more than 10%. Leading the charge was Imbruvica, which bounded forward 89.7% to an annualized run rate of $3.4 billion. Earlier this year, it became the first chemotherapy-free treatment option for newly diagnosed patients with the most common form of leukemia, and several late-stage trials under way could expand its use even further.
Johnson & Johnson chairman and CEO Alex Gorsky. Image source: Johnson & Johnson.
While J&J's share of annual Imbruvica sales rolls toward peak estimates north of $7 billion, a handful of candidates coming through the pipeline could keep things moving. For example, sirukumab, developed in partnership with GlaxoSmithKline, significantly reduced pain and joint damage for rheumatoid-arthritis patients who don't respond well to existing treatments. In September, the partners submitted applications to U.S. and EU regulators just before manufacturing concerns upended the FDA's review of a potential competitor from Regeneron and Sanofi, called sarilumab. Further out, 28 late-stage studies under way should produce a steady stream of drug applications and new revenue streams.
Arguments for Eli Lilly & Co.
While the market has pounded Lilly's stock following the third late-stage trial failure of its troubled Alzheimer's disease candidate, solanezumab, investors should be much more concerned with its aging product lineup. The main U.S. patent for its largest revenue stream, Humalog, expired years ago. The next two in line, Cialis and Alimta, face exclusivity losses in major markets next year. Combined, these three products accounted for about 35% of the $5.19 billion in total third-quarter sales.
With a bit of luck, a trio of recently launched drugs might be able to stem losses from its current leading products. Lilly's next-generation type-2 diabetes products, Trulicity and Jardiance, look promising, as does psoriasis treatment Taltz. Trulicity beat out Novo Nordisk's Victoza again for a spot on its preferred formulary, and Jardiance is the first of its class to prove it can significantly reduce patients' risk of heart attack and stroke. Taltz is expected to generate more than $5 billion in peak annual sales. One in 10 U.S. adults has diabetes now, and its prevalence is rising quickly, which suggests that annual sales of Trulicity and Jardiance could climb to several billion dollars each.
Image source: Eli Lilly & Co.
Lilly's late-stage development pipeline isn't as robust as J&J's, but given the company's total trailing-12-month revenue of just $20.8 billion, expanding the top line isn't as much of a challenge, either. In the long run, five phase 3 trials with new entities, plus 10 studies that could expand the use of commercial-stage drugs, might be enough to return the pharma's top line to a peak reached in 2012.
Running the numbers
Following its Alzheimer's meltdown, Eli Lilly shares have fallen to about 18.9 times this year's earnings estimates. That's pricier than J&J's stock, which is trading at about 16.8 times its 2016 earnings forecast.
In return for a higher price, Lilly shares offer a larger dividend of about 3.1% versus just 2.8% for J&J's stock. But after only two consecutive annual increases, Lilly's dividend track record doesn't hold a candle to J&J's 54-year streak.
If your main concern is safety and stability, Johnson & Johnson stock is well worth the extra expense. If you're willing to accept some risk, though, Eli Lilly looks like the better stock to buy right now.
10 stocks we like better than Eli Lilly and Co. When investing geniuses David and Tom Gardner have a stock tip, it can pay to listen. After all, the newsletter they have run for over a decade, Motley Fool Stock Advisor, has tripled the market.*
David and Tom just revealed what they believe are the 10 best stocks for investors to buy right now... and Eli Lilly and Co. wasn't one of them! That's right -- they think these 10 stocks are even better buys.
Click here to learn about these picks!
*Stock Advisor returns as of November 7, 2016
Cory Renauer owns shares of Johnson and Johnson. You can follow Cory on Twitter, @TMFang4apples, or LinkedIn for more healthcare industry insight.
The Motley Fool recommends Johnson and Johnson. Try any of our Foolish newsletter services free for 30 days. We Fools may not all hold the same opinions, but we all believe that considering a diverse range of insights makes us better investors. The Motley Fool has a disclosure policy.