Better Buy: Ionis Pharmaceuticals, Inc. vs. Juno Therapeutics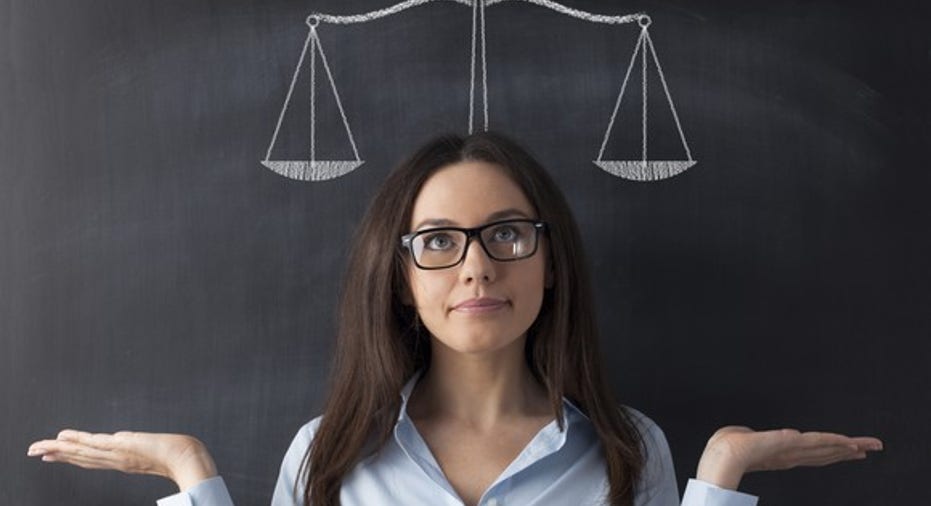 If you enjoy cutting-edge medicine, Ionis Pharmaceuticals Inc (NASDAQ: IONS) and Juno Therapeutics Inc (NASDAQ: JUNO) are two biotech stocks that belong on your radar. Both develop groundbreaking therapies for serious diseases, albeit with very different approaches.
They've also experienced varying degrees of success recently, leaving Ionis with a market value roughly twice the size of Juno's. Investors are right to wonder which of these stocks is the better buy right now. Let's have a look at both so see which comes out on top.
Image source: Getty Images.
Ionis Pharmaceuticals Inc.: Making antisense
This biotech's drug-discovery platform uses specific antisense RNA strands to regulate gene expression, and it's attracted a great deal of attention and capital from deep-pocketed drugmakers. All eyes are on its latest drug to earn FDA approval -- Spinraza for the treatment of a rare, often fatal muscle-wasting disease caused by a mutated gene.
Spinal muscular atrophy is the leading genetic cause of infant mortality in America, but Ionis and its partner Biogencould change that soon. The big biotech's global salesforce has already begun marketing Spinraza, which is expected to generate more than $1.2 billion in annual sales at its peak. Ionis has already received about $320 million from Biogen for the drug, and it remains eligible for another $346 million plus a tiered royalty percentage up to the mid-teens.
Image source: Getty Images.
Ionis won't have any trouble finding a use for the high-margin revenue stream it expects to receive from Biogen. Its pipeline is bursting with clinical-stage hopefuls, several of which are approaching the finish line. Volanesorsen is a candidate for the treatment of two rare lipid metabolism disorders with unmet need, and recently reported trial data should make an upcoming application for its approval a slam dunk. Peak annual sales for volanesorsen are expected to top out around $820 million. Ionis won't have to share the revenue with any partners, though, as it still owns this drug outright.
Next up for Ionis is IONIS-TTRrx, a candidate for the treatment of heart and nerve damage caused by buildup of faulty transthyretin, a protein that normally transports vitamin A and thyroid hormone. There is no shortage of concern that reducing production of transthyretin causes more problems than it solves. This is why its partner, GlaxoSmithKline, is waiting for results from a nerve-damage study expected in the second quarter before taking the reins on the program. If the safety profile for IONIS-TTRrx holds up, it could generate more than $1 billion in sales each year.
Beyond TTRrx, and volanesorsen, the Ionis Pharmaceuticals pipeline sports over three dozen drugs in clinical-stage development, about a third of which are in midstage clinical trials.
Juno Therapeutics: Comeback kid?
This biotech's past year hasn't been nearly as positive. It recently closed the door on its former lead program, JCAR015 for the treatment of an extremely difficult-to-treat form of leukemia. The experimental treatment, which involved reprogramming immune cells to attack cancer, was highly effective in heavily pretreated patients who had run out of options. Sadly, it seems the responses it generated were too robust, leading to several cases of fatal brain swelling.
Juno's experimental CAR-T treatments involve removing and reprogramming a patient's own immune cells to attack specific blood-cancer targets. The company's new lead candidate, JCAR017, zeroes in on CD19 as its ill-fated predecessor did, but Juno's testing it in patients with a different disease.
Image source: Getty Images.
So far, JCAR017's efficacy and safety profile has been highly positive among advanced-stage lymphoma patients in midstage studies. A late-stage study designed to support a new drug application for the treatment of a form of lymphoma is slated for later this year. If all goes well, Juno could have a product to sell in 2018, which would probably send the stock soaring.
Investors will want to watch Juno's main rival, Kite Pharma, and its similar lead candidate, Axi-Cel. It's already begun submitting an application to the FDA, and the drug could launch by the end of the year.
Although Juno might launch its first drug into a space with an entrenched competitor, it has more CAR-T hopefuls in its pipeline. The company began March with nine candidates in clinical trials aimed at eight different targets.
Image source: Getty Images.
The better buy
It's not easy choosing a winner among these two great companies, and in the end it comes down to risk-adjusted value. At recent prices, Juno's enterprise value of $1.6 billion suggests it has a lot of room to run, if one of its CAR-T treatments succeeds. However, it has yet to submit its first new drug application. Even if it earns an approval, removing, reprogramming, and reintroducing patients' cells presents a such a hairy logistical challenge that its odds of commercial success are even harder to predict than clinical trial results.
At recent prices, Ionis Pharmaceuticals' enterprise value of around $4.9 billion is a much higher perch to fall from, but chances of heavy losses look far lower. I doubt Biogen will have much trouble commercializing injectable Spinraza. Also, pivotal trials for Volanesorsen and IONIS-TTRrx are wrapping up soon, and both have a solid chance of generating revenue for Ionis in 2018.
Although Ionis might not have Juno's explosive upside potential, it looks far more likely to provide market-beating gains over the long-run. That makes it the better buy today.
10 stocks we like better than Ionis PharmaceuticalsWhen investing geniuses David and Tom Gardner have a stock tip, it can pay to listen. After all, the newsletter they have run for over a decade, Motley Fool Stock Advisor, has tripled the market.*
David and Tom just revealed what they believe are the 10 best stocks for investors to buy right now... and Ionis Pharmaceuticals wasn't one of them! That's right -- they think these 10 stocks are even better buys.
Click here to learn about these picks!
*Stock Advisor returns as of February 6, 2017
Cory Renauer has no position in any stocks mentioned. The Motley Fool owns shares of and recommends Biogen and Ionis Pharmaceuticals. The Motley Fool recommends Juno Therapeutics. The Motley Fool has a disclosure policy.