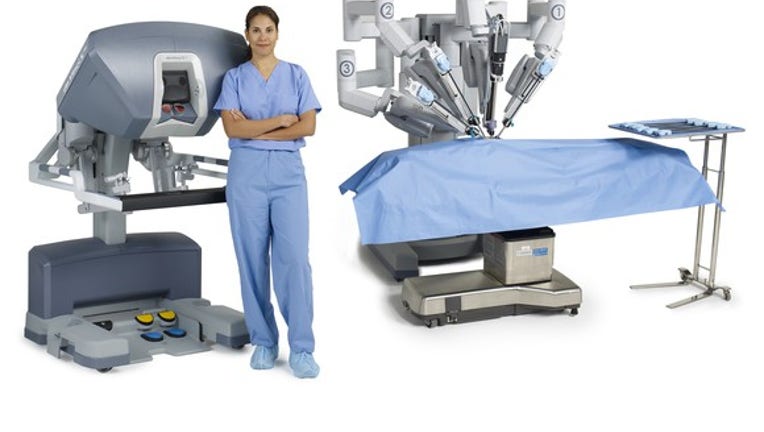 Intuitive Surgical (NASDAQ: ISRG) and Accuray (NASDAQ: ARAY) are both medical device companies that sell expensive systems to hospitals, but the similarities between the two end right there. Intuitive has been a multibagger for shareholders who got in at the initial public offering and has produced a string of healthy earnings reports recently.Accuray, on the other hand, has been a massive long-term loser and has fallen shortof the market's expectations in recent quarters.
Understandably, shares of the twomedical-device companies have headed in opposite directionsin 2016.
Of course, investors who are looking to get in today should only care about which company has a brighter future, solet's run through the bull case for both companies to see which is the better buy today.
The case for Accuray
Accuray is adeveloper of radiosurgery and radiation therapy systems that are used to detect and remove cancerous tumors.Accuray's flagship product, the CyberKnife, uses lasers to deliver concentrated doses of radiation into the body to destroy cancerous cells. The process is pain-free and minimally invasive, and it alsospares healthy cells. That makes it a great choice for tumors that would otherwise be inoperable.
Beyond CyberKnife, Accuray's other major product is the TomoTherapy system. This device produces advanced imagery that can precisely locate tumors in the body prior to initiating radiation therapy.
Image source: Accuray.
As you'd expect, neither of these devices is cheap. Various news reports suggestthat both devices are multimillion-dollar purchases for hospitals, which is one of the reasons that the company has had a hard time gaining rapid adoption.
Still, Accuray's sales have grown significantly over the years as providers have gradually warmed up to the products. However, the company's costs have largely kept pace with sales gains, so Accuray has struggled to turn those gains into profits.
ARAY Revenue (TTM) data by YCharts.
More recently, investors have seen signs that demand for Accuray's products might be picking up. Last quarter net orders grew 19% year over year, and backlog grew by 8%. The company is getting a lot of buzz about the upcoming launch of its new product, called Radixact, which combines treatment planning, treatment delivery, and data management.
That all sounds promising, but management still isn't exactly expecting growth to take off. Next year the company is projectingtop-line growth between 3% and 5%, which likely won't be enough to turn the company profitable. Those are not exactly inspiring numbers for a company that is unprofitable, so it's hard to believe that the stock will be able to bounce out of its current funk.
The case for Intuitive Surgical
Intuitive's claim to fame is developing the da Vincirobotic surgical system. This device offers patients and doctors numerous benefits over traditional surgery, including smaller incisions and less blood loss during surgery. That leads to faster recovery times,less pain, and generally better health outcomes.
Image source: Intuitive Surgical.
The device has largely been embraced by the medical community since it was first launchedin 2000. As of the third quarter, the company counted aworldwide installed base of 3,803 da Vinci systems, with two-thirds of those residing in the U.S.
That install base growth is impressive, but what has turned Intuitive into such a financial powerhouse is its razor-and-razor-blade business model. Each procedure that is performed on a da Vinci requires the use of disposable products, which creates a recurring revenue stream for the company. In addition, each system requires the signing of an annual service contract, which further builds out the company's revenue. In total, roughly 70% of the company's sales are recurring, which has helped to makeits revenue and profits quite predictable.
Looking ahead, Intuitive has a number of initiatives in place that should lead to growth.For one, the company continues to find new surgical procedures that can be performed on its systems. Two types of operations that should drive growth in the near term are colorectal surgeries and hernia repairs, but there are other areas that Intuitiveis exploring. In addition, the companycontinues to expand its geographic reach, with Europe and Asia being the primary growth-drivers.
When adding these opportunities together, Wall Street is projecting that Intuitive's bottom line will grow at nearly 13% annually over the next five years. That's a solid growth rate for a company that's trading at roughly 26 times next year's earnings estimates.
Which is the better buy?
While it is entirely possible that Accuray might turn into a growth stock from here, I believe that Intuitive Surgical is the better bet. The company is growing quickly, holds a dominant market position, and has a business model that kicks off boatloads of cash each year that can be used to reward shareholders. Those factors have turned me into a happy shareholder, so I can't help but feel that it is the better bet for new money today.
Forget the 2016 Election: 10 stocks we like better than Intuitive Surgical Donald Trump was just elected president, and volatility is up. But here's why you should ignore the election:
Investing geniuses Tom and David Gardner have spent a long time beating the market no matter who's in the White House. In fact, the newsletter they have run for over a decade, Motley Fool Stock Advisor, has tripled the market.*
David and Tom just revealed what they believe are the ten best stocks for investors to buy right now... and Intuitive Surgical wasn't one of them! That's right -- they think these 10 stocks are even better buys.
Click here to learn about these picks!
*Stock Advisor returns as of November 7, 2016
Brian Feroldi owns shares of Intuitive Surgical.Like this article? Follow him onTwitter where he goes by the handle@Longtermmindsetor connect with him on LinkedIn to see more articles like this.
The Motley Fool owns shares of and recommends Intuitive Surgical. Try any of our Foolish newsletter services free for 30 days. We Fools may not all hold the same opinions, but we all believe that considering a diverse range of insights makes us better investors. The Motley Fool has a disclosure policy.