Better Buy: Intrexon Corporation vs. Inovio Pharmaceuticals Inc.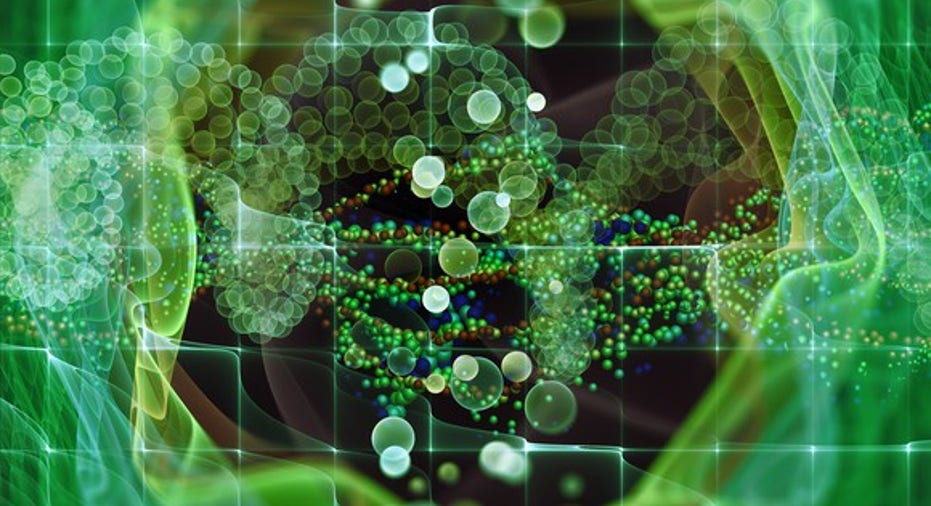 DNA. Image source: Getty Images.
Using DNA-based technology to battle Zika virus? That's what two companies are doing -- but in very different ways. Intrexon's approach is to genetically modify mosquitoes that can carry the Zika virus. Inovio is working on a DNA-based vaccine for the virus. While it's too early to know which company will emerge as the bigger winner in the battle against Zika, one of the stocks looks like the better pick for investors. Here's how Intrexon and Inovio stack up.
The case for Intrexon
There are several things investors might like about Intrexon. The biotech is pulling in plenty of money, with 2015 revenue of $173.6 million. That revenue is growing rapidly as well: Last year's results reflected a hefty jump of 141% compared to 2014.
Intrexon uses its synthetic biology technology in multiple ways. It develops targeted gene therapies to battle several diseases. Intrexon uses DNA technology to increase the productivity and quality of crops and livestock. The company isdeveloping microbial cell lines for bioconversion of methane to compounds with higher carbon content that could be more efficient and cost-effective energy sources. Intrexon also uses its technology toreduce the use of natural resources that are being rapidly depleted.
If that sounds like a lot for a relatively small company to tackle, you're right. Intrexon doesn't try to go solo on all these efforts, though. The company has several joint ventures and what it calls exclusive channel collaborations (ECCs) to partner with other organizations. With the ECCs, Intrexon provides the biotechnology expertise while the partners receive an exclusive license and supply market and product development know-how.
All this sounds great, but what are the drawbacks with Intrexon? The biggest negative is that the company is still losing a lot of money -- $84.5 million last year. And that figure is more than the $81.8 million loss from 2014. What's even worse is that Intrexon started out 2016 by losing a whopping $64.4 million in the first quarter alone.
And serious questions have been raised about whether Intrexon's core technology is really contributing to the company's revenue at all. Most (if not all) of Intrexon's revenue appears to be coming from acquisitions rather than its own technology.
Despite the controversy, Wall Street analysts have generally positive takes on the stock's growth potential.Intrexon's shares are more than 40% lower than their Aug. 2015 levels, thanks in no small part to concerns about the company's core technology. If it can overcome these worries, even a modest rebound could produce nice returns for investors.
The case for Inovio
Like Intrexon, Inovio has seen its revenue grow tremendously. The biotech reported total revenue of $40.5 million in 2015, a year-over-year increase of almost 290%. Practically all of the revenue, though, stemmed from collaborative development agreements and grants rather than products on the market.
Inovio's Zika virus vaccine has received plenty of attention lately even though the vaccine is still in pre-clinical testing. The company's lead product is cervical dysplasia vaccine VGX-3100. Inovio plans to begin a phase 3 pivotal trial this year. Analysts think that VGX-3100 could hit peak annual sales of around $500 million if approved.
The biotech also claims multiple candidates in its pipeline, although they're all in early-stage development. INO-3112, acombination of VGX-3100 and a DNA-based immune activator, caught the attention of AstraZeneca's MedImmune division. MedImmune is collaborating with Inovio on a couple of phase 1 studies of INO-3112 focusing oncervical cancer and head and neck cancer.
Inovio's pipeline could provide some positive catalysts in 2016. The company expects to report interim data froma phase I study of INO-5150 in treating prostate cancer as well as interim data from a phase 1 study of INO-1400 in treating breast, lung, and pancreatic cancer later this year.
Losses continue to be the story for Inovio, but the situation is improving. It lost $29.2 million in 2015, but that was better than the $36.1 million loss from the prior year.
Analysts in general have a brighter outlook for Inovio than they do for Intrexon. That optimism likely comes largely from the prospects for VGX-3100 and Inovio's position as a leader in the race to develop a Zika virus vaccine.
Better buy
Inovio's stock is up big year to date, while Intrexon's is down. Over 29% of Intrexon's float has been sold short compared to 16% for Inovio. Following the crowd isn't always the best strategy, but in this case, I agree with the apparent market consensus that Inovio is the better pick.
VGX-3100 is promising, as are several other candidates in Inovio's pipeline. The biotech appears to be in pretty good shape to fund operations long enough to wrap up the phase 3 study of its lead product. My hunch is that Inovio's stock could get more boosts from results to be announced later this year.
As mentioned at the beginning of this article, it's too early to know for sure which company will be the big winner in the fight against the Zika virus. However, if I had to place a bet right now, my money would be on Inovio.
Inovio, like Intrexon, isn't without its risks. VGX-3100 might run into problems in phase 3. Early-stage results for other vaccines might be disappointing. Issues could emerge with the Zika vaccine. All that being said, I still like Inovio's chances and think this could be a good pick for long-term investors.
The article Better Buy: Intrexon Corporation vs. Inovio Pharmaceuticals Inc. originally appeared on Fool.com.
Keith Speights has no position in any stocks mentioned. The Motley Fool has no position in any of the stocks mentioned. Try any of our Foolish newsletter services free for 30 days. We Fools may not all hold the same opinions, but we all believe that considering a diverse range of insights makes us better investors. The Motley Fool has a disclosure policy.
Copyright 1995 - 2016 The Motley Fool, LLC. All rights reserved. The Motley Fool has a disclosure policy.