Better Buy: Infinera Corporation vs. Oclaro Inc.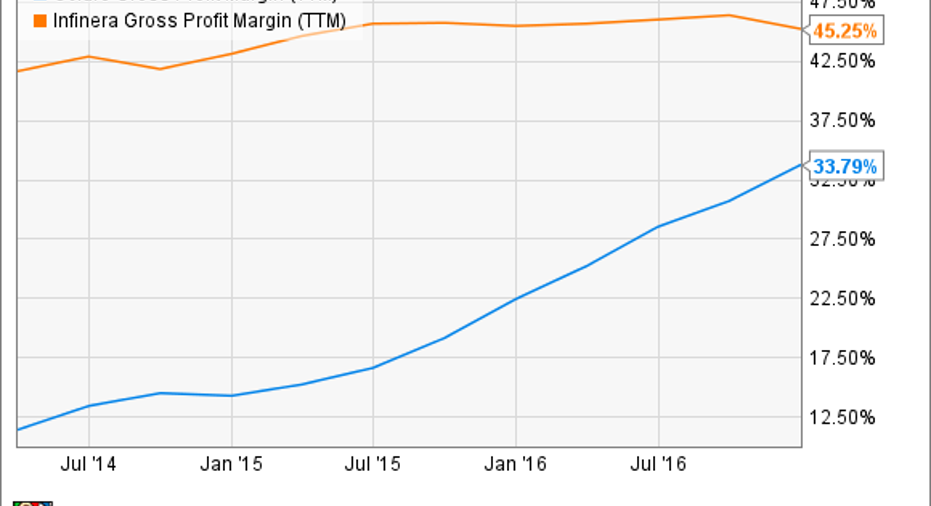 The optical equipment market is a cyclical one characterized by periods of aggressive upgrades followed by slower growth. The industry has been an unloved one over the past few years, but a "super cycle" recently kicked off due to the soaring usage of streaming media, cloud-based apps, application virtualization, and other data-intensive tasks.
The resulting bandwidth bottlenecks pushed service providers, enterprise customers, and data centers to boost their spending on higher-speed optical products. Research firm Markets and Markets expects the optical networking and communications market tomore than double from $12.6 billion in 2013 to nearly $26 billion in 2020.
Image source: Getty Images.
Two closely watched stocks in that industry are Oclaro (NASDAQ: OCLR), which sells optical components, modules, and subsystems, and Infinera (NASDAQ: INFN), which provides optical network transport systems to service providers.
While those two businesses sound similar, shares of Oclaro have surged over 130% over the past 12 months, while shares of Infinera have fallen nearly 20%. Let's take a closer look at the differences between these two companies and see which is a better long-term play on the "super cycle" in the optical market.
What do Oclaro and Infinera do?
The heart of Oclaro's business is its "100G and beyond" portfolio of high-speed optical components. Revenue from that portfolio rose60% annually and accounted for 74% of its total sales last quarter. That portfolio includes a wide variety of components that service providers and other customers use on infrastructure upgrades. Demand for its 10G tunable products also rose on robust demand from telco and data center customers. Booming demand for infrastructure upgrades across China, its largest market, has been a major tailwind for the company.
Infinera's core business mainly provides Long Haul Wave Division Multiplexing (WDM) optical transmission for telcos. WDM systems let telcos expand the capacity of their network over long distances without laying more fiber or overhauling their networks. Drexel Hamilton analyst Greg Mesniaeff recently noted that Infinera's proprietary PIC (photonic integrated circuit) manufacturing process gaveit a "significant cost advantage" over many of its industry peers. Infinera also recently expanded into the metro WDM and DCI (data center interconnect) markets which cover shorter distances. Like Oclaro, Infinera is highly dependent on infrastructure upgrades across China for future growth.
How fast are Oclaro and Infinera growing?
Oclaro's revenue has risen year over year for five straight quarters, and jumped 64% annually last quarter. Analysts expect its full-year revenue to increase 51% -- compared to20% growth in 2016. Oclaro attributed that strong top-line growth to robust demand for its components across multiple industries, boosted by its "strong execution, a richer product mix, and favorable exchange rates."
Needham analyst Alex Henderson believes that Oclaro shares could surge another 40% to $14, as its diversified customer base makes it "an optical super cycle darling." MKM Partners analyst Michael Genovese, who believes the stock could rise to $11, claims that Oclaro has "the best management team and execution capabilities in the optical components industry."
Infinera's revenue, on the other hand, has declined for two straight quarters. Its revenue dropped 31% annually last quarter, and analysts expect its full-year revenue to fall 7% -- compared to a 2% decrease in 2016. Infinera blames that ongoing decline to a "historical overexposure" to the long haul market, whichexperienced tepid demand as carriers and companies focused on upgrading connections over shorter distances. It also blamed that slowdown on a "significant consolidation" in its customer base and "technological insertion that lagged market opportunity."
Infinera boosted its investments in metro WDM and DCI to counter those weaknesses, but that transition hasn't significantly lifted its top-line growth. But looking further ahead, analysts expect this shift in business strategies to lift its revenue by 15% in fiscal 2018. Drexel's Mesniaeff is notably more optimistic, suggesting that Infinera's top line can grow more than 25% in 2017 on its "superior competitive position."
Which company is more profitable?
Infinera has traditionally had higher gross margins than Oclaro, but the former's margin growth has stalled due to the aforementioned slowdown in the long-haul market. Meanwhile, Oclaro's margins have been rising on its surging orders, growing scale, and pricing power.
Data source:YCharts.
As a result, Infinera posted a non-GAAP net loss last quarter, and analysts expect its losses towiden this year before returning to profitability in fiscal 2018. Meanwhile, Oclaro's non-GAAP earnings of $0.21 last quarter marked a big jump from its earnings of $0.03 in the prior year quarter, and analysts expect its bottom line to rise nearly 350% this year and about 8% next year.
Infinera has a negative P/E ratio, due to its previous quarters of losses. Oclaro trades at 31 times earnings, which looks fairly reasonable relative to its earnings growth estimates.
The winner: Oclaro
Oclaro's well-diversified customer base, industry-leading position in 100G components, stable top- and bottom-line growth, and more reasonable forward valuations all make it a better long-term buy than Infinera at current prices. Infinera's prospects might brighten as it reduces its dependence on the long-haul business, but I believe that the risks still outweigh the rewards for now.
10 stocks we like better than InfineraWhen investing geniuses David and Tom Gardner have a stock tip, it can pay to listen. After all, the newsletter they have run for over a decade, Motley Fool Stock Advisor, has tripled the market.*
David and Tom just revealed what they believe are the 10 best stocks for investors to buy right now... and Infinera wasn't one of them! That's right -- they think these 10 stocks are even better buys.
Click here to learn about these picks!
*Stock Advisor returns as of February 6, 2017
Leo Sun has no position in any stocks mentioned. The Motley Fool owns shares of and recommends Infinera. The Motley Fool has a disclosure policy.