Better Buy: Helmerich & Payne, Inc. vs. Transocean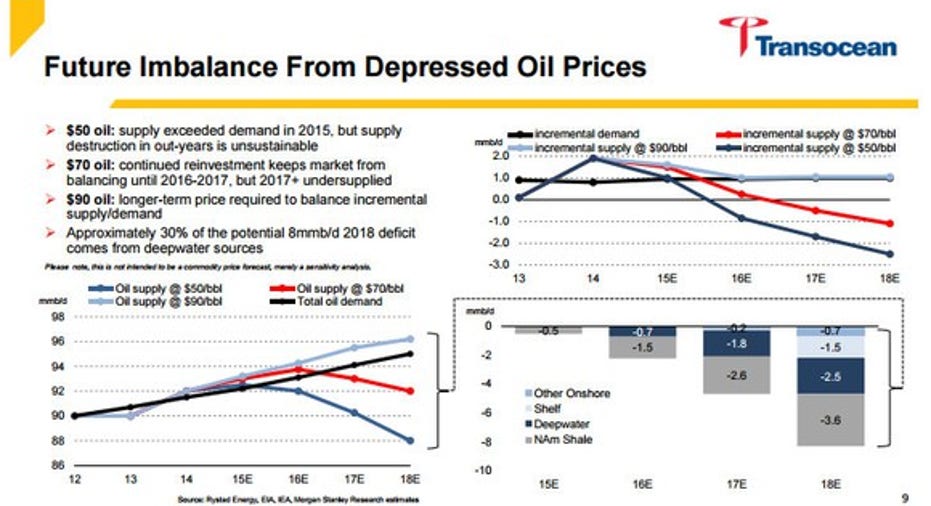 Image source: Getty Images.
Of all the parts of the oil and gas industry that have suffered throughout this downturn, you could easily argue that rig contractors have been hurt harder than anyone else. The land rig count in North America over the past few months has likely been at its lowest point since we started drilling for the stuff 150 years ago, and demand for offshore drilling rigs has all but evaporated over the past year. This has put rig owners Helmerich & Payne and Transocean in tough spots as they both try to generate some sort of profit while not compromising the integrity of their equipment.
Still, the lack of investment today will catch up to the oil and gas industry down the road, and it's very likely that these two companies have much better days ahead of them. As an investor, which one is the better investment for you? Here are two Foolish contributors to size up the two companies and make the case for each.
: While there will come a time when Transocean's fleet of rigs will be in demand again, and I'm sure that it will be able to reap profits in the future, Helmerich & Payne just has a couple of things working in its favor right now that make it a better buy. One is a major shift in the way producers want to spend money, and the other is how Helmerich & Payne's management has handled the business over the long term.
The ability to produce oil and gas from shale reservoirs has almost completely thrown out the traditional model for oil and gas production. Rather than oil producers relying solely on massive development projects that are built to last decades and cost mountains of money, a new shale well can be brought on with much less capital up front and can take only a few days from the drill bit hitting the ground to production. With such a short investment cycle, capital spending for producers can be much more flexible and less likely to be tied up with big spending projects when commodity prices hit the skids.
We're already starting to see this, as many producers have said their capital spending over the next couple of years will focus more on shale development rather than longer-tail investments like deepwater production. This plays extremely well into Helmerich & Payne's hands, as it has one of the largest fleets of land rigs that are designed to handle the complex drilling tasks associated with shale reservoirs. As producers start to open up their wallets for new production, chances are their first phone call will be to Helmerich & Payne rather than Transocean.
While a market trend can help, it takes a well-run business to capitalize on it. This is also where Helmerich & Payne stands out. Management has built out that fleet of new rigs without taking on an onerous debt load, which will help drive better results to the bottom line. Helmerich & Payne also has a great history of being a shareholder-friendly company, with more than 43 consecutive years of dividend increases -- a fact that has helped the company generate much stronger returns than Transocean over the past 20-plus years.
HP Total Return Price data by YCharts.
Considering all of this, it looks pretty clear that Helmerich & Payne is the better buy to capture the shorter-term trend in the oil and gas industry as well as to grow your wealth over the long term.
Matt DiLallo: Tyler is right: Times are tough in the offshore drilling sector, and it could be years before it fully recovers. A vastly oversupplied oil market is weighing on oil prices, forcing oil producers to cut investments. This lack of investment is causing rig utilization to slump, which is taking dayrates down with it.
That said, while the world does not need any incremental oil supply right now, it will require more oil in the future. Two years of underinvestment is projected to cause a growing supply shortfall starting as early as 2017. While shale is expected to play a prominent role in overcoming that deficit, it is not projected to be able to satisfy future supply needs entirely. According to multiple analysts, at least 30% of the expected supply deficit in 2018 will need to be met with deepwater sources:
Image source: Transocean investor presentation.
This projection suggests that there are better days ahead for Transocean. As the industry's leading offshore driller, Transocean has the fleet, experience, and strong customer relationships to capture these new opportunities as soon as they emerge.
In the meantime, the company does have the largest revenue backlog in its peer group, at $14.6 billion, to help keep it afloat until conditions improve. That backlog will supply it with $3.4 billion in revenue this year and over $2 billion in 2017 and 2018. While that is a far cry from the $6.8 billion in revenue the company earned last year, it is at least something to tide it over until conditions improve.
Bottom line: An investment in Transocean is a bet on the long-term recovery of the offshore drilling market. However, it is one with real compelling upside given how far the industry sank during the downturn.
The article Better Buy: Helmerich & Payne, Inc. vs. Transocean originally appeared on Fool.com.
Matt DiLallo has no position in any stocks mentioned. Tyler Crowe has no position in any stocks mentioned. The Motley Fool has no position in any of the stocks mentioned. Try any of our Foolish newsletter services free for 30 days. We Fools may not all hold the same opinions, but we all believe that considering a diverse range of insights makes us better investors. The Motley Fool has a disclosure policy.
Copyright 1995 - 2016 The Motley Fool, LLC. All rights reserved. The Motley Fool has a disclosure policy.